Recently Matt and I have been way bogged down with builds and prepping for iHobby/Clodapalooza and wrapping up the outdoor race season. We've been so busy that we decided we needed to bring on some help. I reached out to fellow R/C lover Joseph Chuhak from Michigan, that I've known for a few years from RCMT.net. I knew he had a passion for the hobby, and was able to string sentences together in a coherent manner.. at least as well as myself haha. We're happy to announce he's jumped on board, and you've probably already seen a bunch of the press releases he's helped us with. He'll be covering other things as well, especially out in the Michigan area.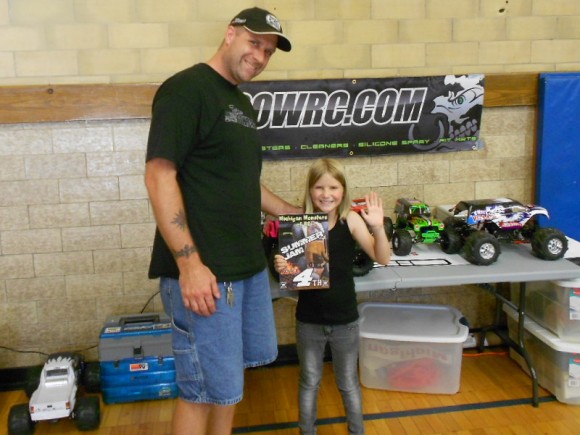 Below is a note he wanted us to share to introduce himself.
Hello RC Soup!!  Nice to meet everyone here and all of the followers that Team Soup has. It is a pleasure to be working with you all and getting my name out on the net a bit more and helping with RC Soup is great. I have been working with Kevin for some time now since starting my club in the fall of 2009. He has done many vinyl projects for my club and has always been a great guy to work with so accepting the position at RC Soup was a easy thing to consider. I am President and founder of the Michigan MONSTERS of RC Replica Monster Jam race club. http://michiganmonstersofrc.net/
I have been involved in RC since the late 80's with my first kit being a Tamiya Monster Beetle. Went through the years owning many cars until my first son was born and then I was on a mission to find a hobby for him to enjoy because he was diagnosed with SMA. RC's were a natural thing for me to try and introduce him into and we started with a Tamiya Wild Willy build and then a new Stampede. Now I was hooked again just like I was with the first Monster Beetle.
Then the Traxxas EMaxx came out and the TMaxx. Right off the bat I was hooked and had 3 new EMaxx's being delivered off the truck. We played with those trucks for hours on end and had a couple stock TMaxx we beat on as well. We were just having a ball. Went into flying RC Airplanes and I took part on the Board of Directors for the C.A.R.D.S. airplane club. I flew for a few years but the ground vehicles drew us back in so we once again focused on MT's. I am a huge Unlimited Engineering Maxx collector now and have many project trucks in the works and have a couple completed and one that just made RC Car Action Readers Rides Truck of the Month in September which was pretty dang cool. I have been reading that mag since I started in RC and that was really cool to get my RC in there. My love for the UE brand of Maxx trucks started when my son received a prize truck built solely from the members of the UE Forum and that truck has been his pride and joy and that sparked my love and addiction to the brand.
I will be starting to expand my racing experience this winter going to Hillsdale RC and joining another one of my club racers while trying out Mod SC and 17.5 2WD Buggy. I have Associated rigs for that. I exclusively race Pro Modified Clods for ZRP Racing with the Diablo chassis and will have 4 competing at iHobby and in our Michigan MONSTERS of RC Points series. I have a full UE Lightning SuperMaxx with Towered VBS and Racer X suspension build going on for MT racing next summer. This truck will be sporting a RC Monster center diff mount and a RC Monster Slipperential and 8 Spiders F/R. This will be my main off road race rig and I plan to hold MT racing once I get my outdoor track built which I am hoping will be complete next summer. That is a work in progress but would like to hold Revo/Maxx/Savage competition once again like the early to mid 2000's.
I will be starting to cover Michigan RC racing more and posting it on RC Soup and will also be doing product reviews as I purchase parts for my RC's and will do build ups of certain vehicles I am building. I have 3 more complete UE projects that are not started yet and will be pretty cool as those builds progress over the next couple years. One in particular I am very excited about is one that will be focused around the HPI 1/8 scale Gas engine. Once that is released anyways…..
I appreciate the support and invitation to RC Soup. Do not hesitate to contact me with anything I might be able to help with. I love RC, all aspects of it!
Joe 🙂