The date was November 10, 2012. Team Soup got up at 3AM and made the 4 hour drive to Waterbury, CT. This is where the 3rd annual Northeast Off-Road Grand Prix was held, at Radio Control Hobbies & Raceway (RCHR). To be honest, I hadn't heard of this track before it was mentioned to me by Jason Punty of T-RCE (who helped me plan our trip out there, since it's his area- Thanks again!). We still have a lot to learn as a race team, especially when it comes to what tracks are the ones to hit outside of upstate NY. RCHR, after this weekend, is definitely on my list of "Must Return To Tracks". We had a great time here.
I don't have the official race results for this event, but Matt did well. He took home the B Main Win in 17.5 Short Course, and 3rd in the B Main of 4wd SCT. As we've said in the past, we aren't necessarily the fastest dudes at the track.. but we still try to race clean, and respect the faster guys. Sometimes we take home hardware.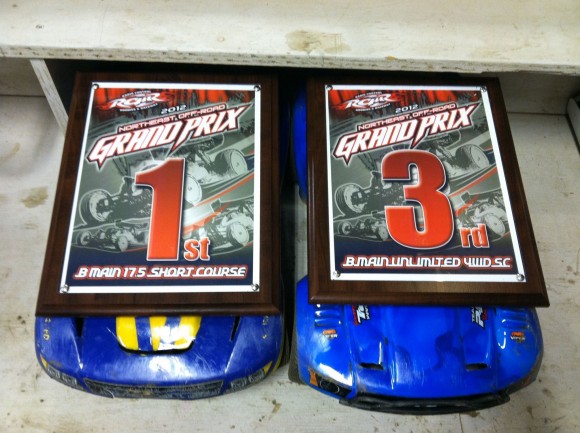 Here is the official race info that was posted on RCTech:
Friday, November 9th – Open practice night
Saturday, November 10th race day!
Racing Classes:
17.5 2wd Buggy
17.5 Short Course Truck
Modified 2wd Buggy
Modified 4wd Buggy
Modified Stadium Truck
Modified 2wd Short Course Truck
Modified 4wd Short Course Truck
Sportsman
6 Minute Qualifiers, 8 Minute Mains
Top Three awards in all mains
Event T-shirt with entry
$35 first class, $20 each additional
Friday open practice, 5pm to 10pm
Saturday event, Doors open at 7am, racing starts at 10am.
Radio Control Hobbies & Raceway
1258 South Main Street
Waterbury, CT. 06706
203-575-9757
rchr@att.net
www.rchr.biz
We went here on the 10th, and followed it up with RC Madness the next day (about an hour away). It was a LONG, exhausting weekend of racing. It was great to meet new people, and visit a new track though. Well worth the exhaustion. This was technically our 2nd out of town stop on our 2012 Children's Miracle Network Benefit tour.. where we are raising money for CMN and visiting all the local, and some non-local tracks to raise awareness.
The track is indoor dirt/clay off-road. The layout they had was challenging and fun.
Below are some videos from this event, followed by a ton of photos I took throughout the day.
[youtube]https://www.youtube.com/watch?v=1iB0kZIq9Is[/youtube]
[youtube]https://www.youtube.com/watch?v=3YBTIp9uRKk[/youtube]
The Team Soup pit area when we first arrived.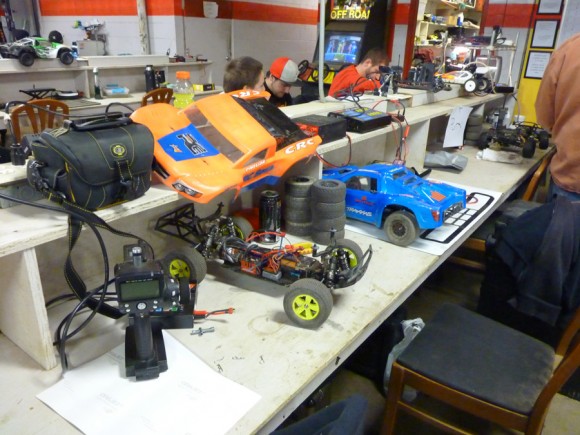 A shot of the driver's stand.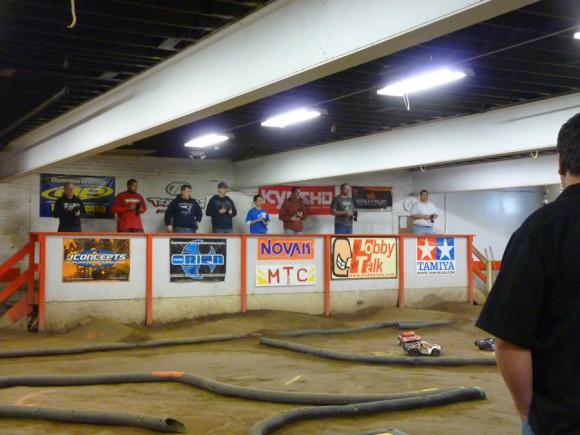 Matt Peterson looks on, to see which lines work best since we missed all practice time due to our long commute.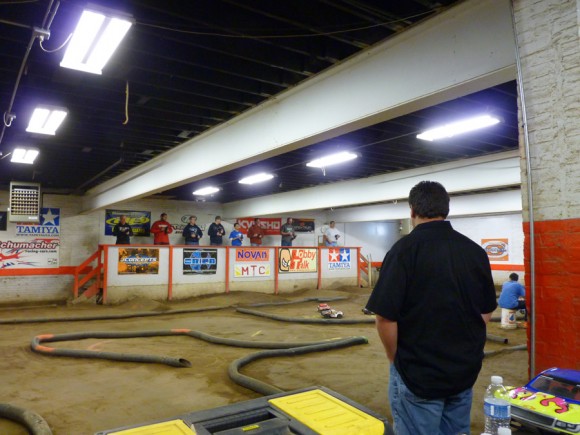 The T-RCE Slash 4×4 ready for the track.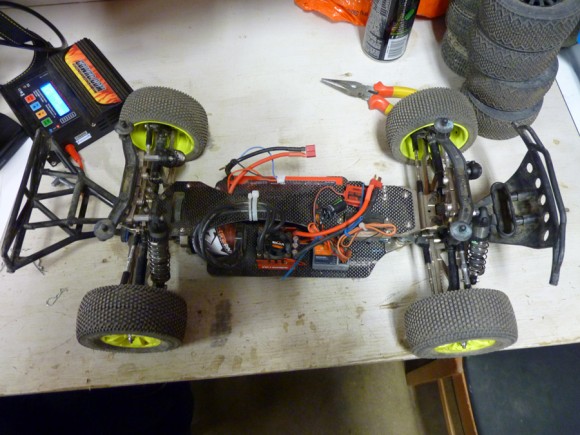 I got to see Jason Punty, owner of the company (T-RCE) that makes this Slash 4×4 conversion, school the field of 4×4's at RCHR. He took the TQ and A-Main win at this event. T-RCE teammate Joe Villar was right behind him in 3rd, also running the Slash 4×4 conversion.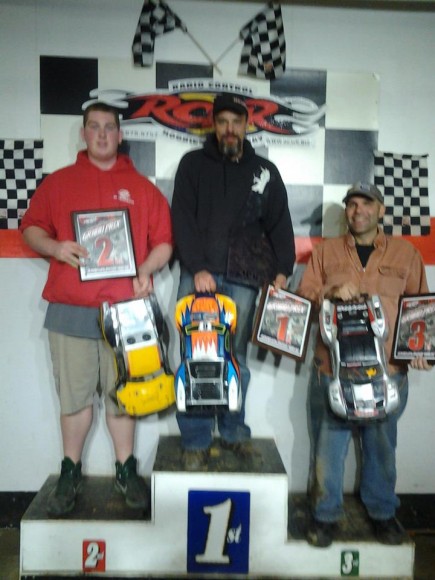 Speaking of awards.. RCHR had the coolest TQ awards I've ever seen.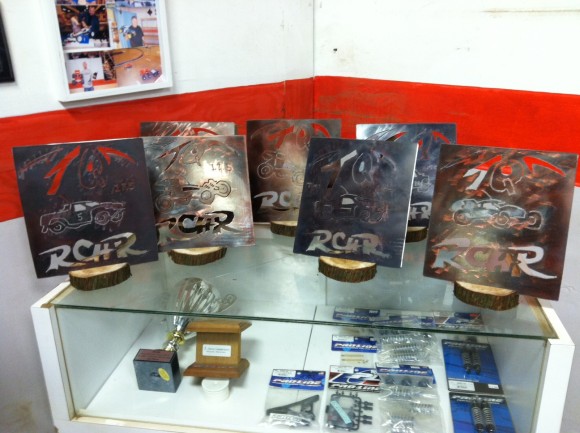 A shot of some of the pit area. They have nice padded chairs and top shelves with power boxes. You really couldn't ask for a better pit area..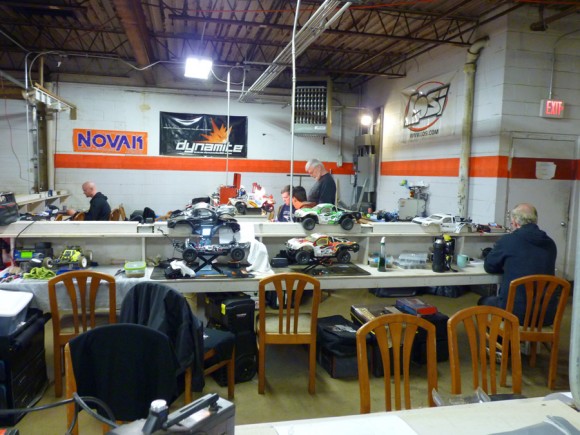 Heat board off to the right.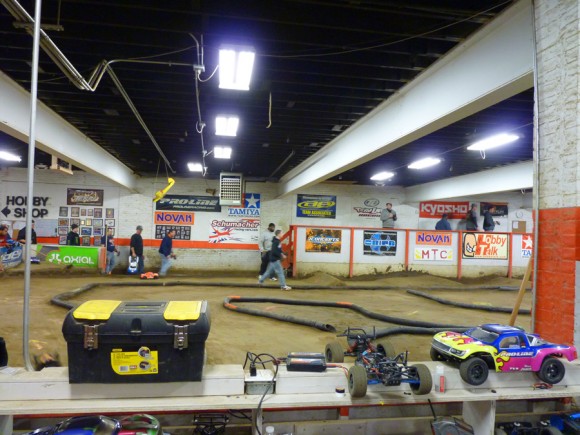 I have to admit, the one thing that caught me off guard was the request of the race director for all marshalls to grab a broom and start sweeping. This happens every heat. RCHR has a clay compound that builds up a film of dust/loam throughout a run, and doing this only takes 2 minutes between rounds and gives everyone the same clean track to run on. It makes sense.
One thing I'd like to note, is the marshalling experience. When your race is over, you put your truck on the stand on the EXIT side of the drivers stand. You then grab a broom and sweep and get to your spot when you are finished. Anyone caught running their truck to the pits first was to be docked an entire lap off their Main. This was strictly enforced, and it was a way to ensure they had things running smoothly and quickly. All tracks should do this. Waiting for mashalls sucks.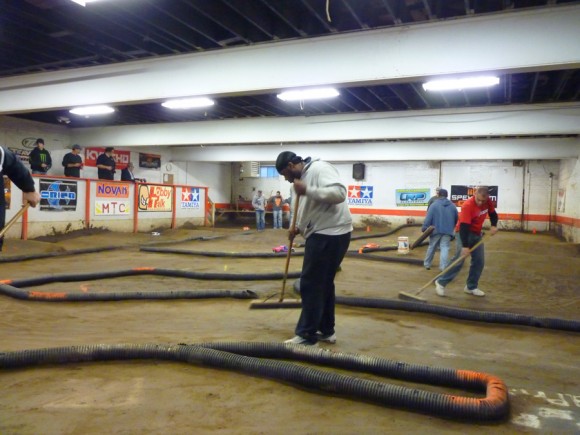 Mr. Peterson running a hot lap during check-in. Notice his shiny new Futaba 4PL radio.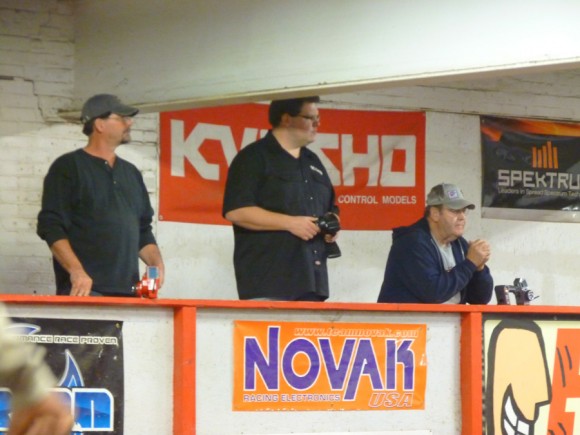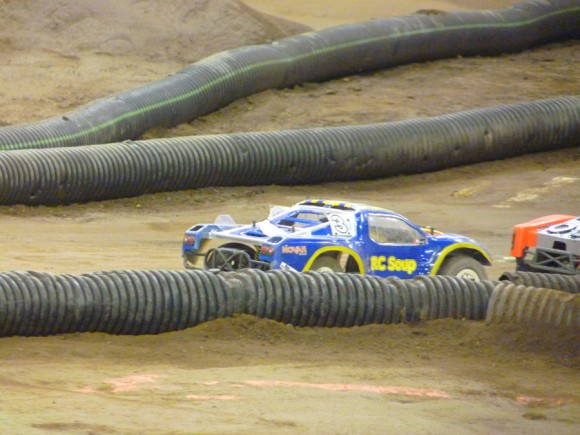 Spectators look on from outside the race track.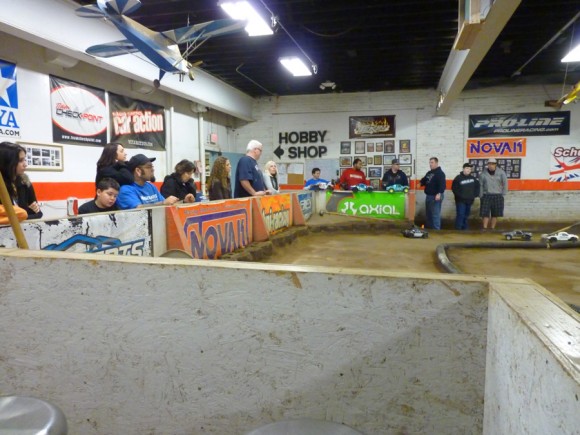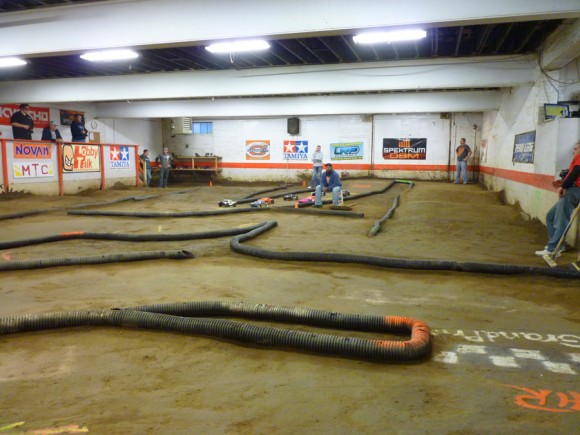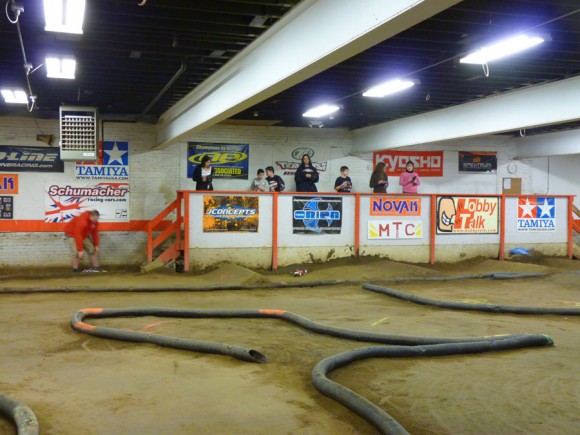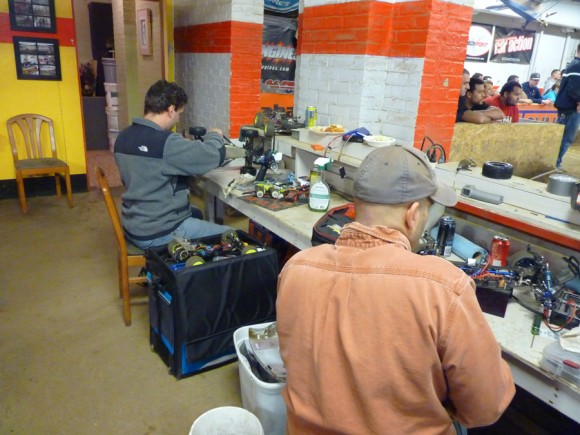 I wish Stadium Truck would make a come back.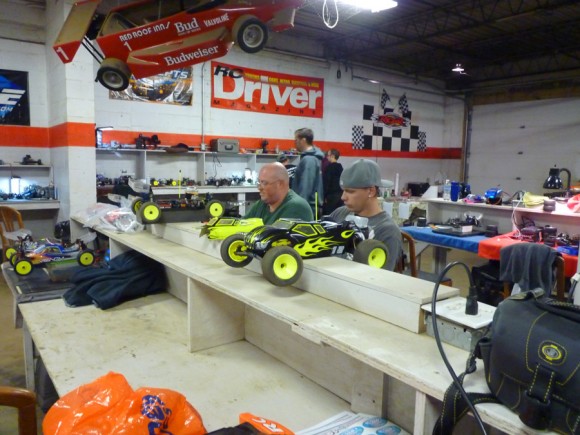 Between rounds, track co-owner John took the power sweeper out on the track.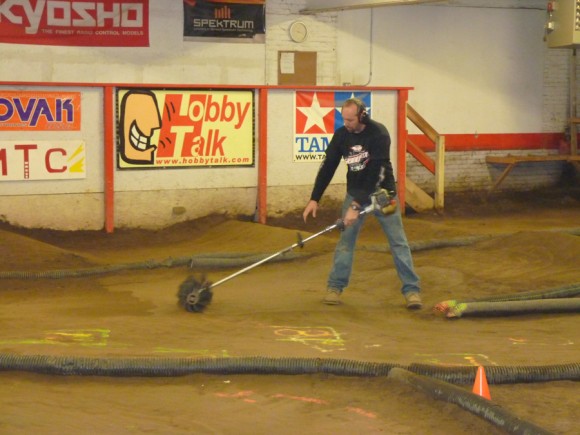 RCHR is the home track of Team Associated driver, Alex Kosciuszek (aka Alex K.). He put on a great performance in 2wd Mod Buggy and 4wd Buggy that day.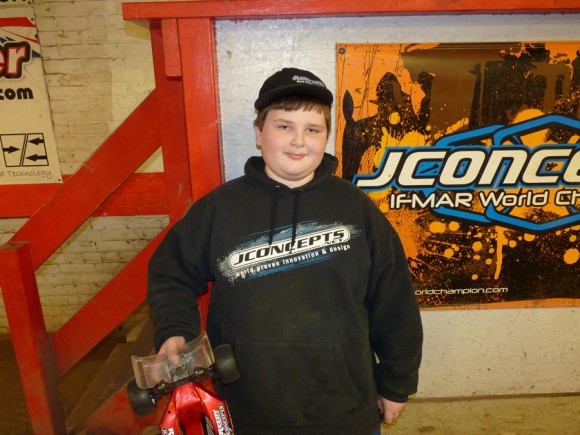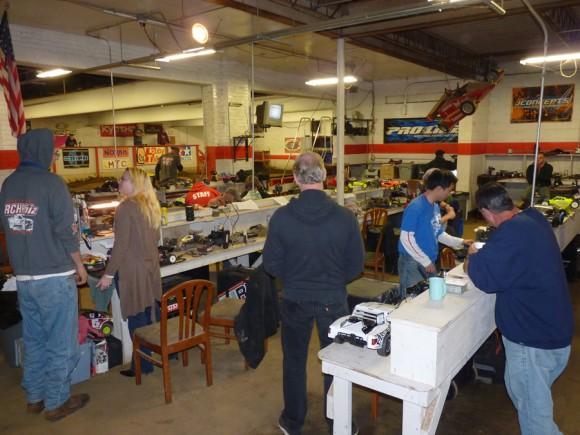 More on the next page.