Our friend EgyptSean of EgyptSean Productions is putting together one heck of a race. As some of you may know, Sean lost his daughter (Ashley) in a tragic car accident in June 2012. This race is in memory of her and will benefit a wonderful charity, St. Jude Children's Hospital.
Ashley was always into fundraisers for St Jude's. All proceeds from the race will be donated in to St. Jude's in Ashley's name.
The race is all 1/5 scale stuff, which we (RC Soup) are not into (yet). If you have one, and are in the area, you should definitely hit this race. I'd love to go to this if it wasn't for the $400 plane ticket cost. If I win the lotto between now and then, maybe RC Soup will cover our first West Coast event.
The race is Saturday, February 23, 2013. It's being held at the Irvine Lake R/C Park in Silverado, CA.
Classes are:
Buggy Sportsman
Buggy Expert
Truck 2wd Sportsman
Truck 2wd Expert
Truck 4wd Sportsman
Truck 4wd Expert
Entry fee is $40 for the first class, $15 for a second. There are Trophies for the Top 3 placements in all classes.
They will also be having an Opportunity Drawing for a bunch of awesome prizes.
All proceeds will go to St. Jude's. Even if you aren't into 1/5, you can still be a part of the Opportunity Drawing at the event. You will also get to see an awesome race at what looks to be a great facility.
If you can't make it, but still want to make a donation to the event, you can do so HERE.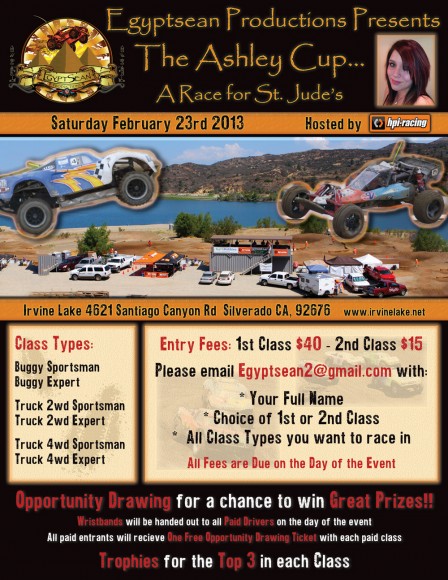 For more info, go to their Event Page on Facebook or LIKE their regular Facebook Page. To learn more about EgyptSean, visit their section on the CowRC site.