Well, it's last minute, but we have finally lined up a date that the Children's Miracle Network's "Miracle Child" can pick our winners. That date is next Tuesday, December 11th. Winners will be drawn and contacted via phone or email (whatever they provided). The announcement post will be published later Tuesday evening.
This is 6 SHORT days away.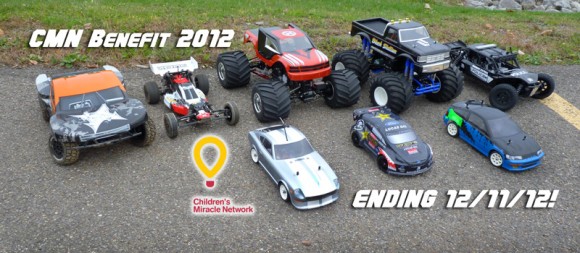 To find out more info, please see the original post. Basically we are giving away 8 of our test vehicles from this year to raise money for Children's Miracle Network. The total retail value of these trucks totals over $4,500. ALL PROCEEDS go to Children's Miracle Network. This is our way of giving back.
Original post:
http://www.rcsoup.com/2012/10/rc-soups-2012-benefit-for-childrens-miracle-network/
Details:
In order to track donations, we are selling tickets to those we see in person. Online donators will be purchasing custom printed Benefit Decals, generously printed by Gary's Precision Graphix. These will actually ship to you, and you can put them on your truck, pit box, wherever to show your support for the cause. Each decal purchased gains you one entry into the Benefit drawing.
Ticket Info:
Tickets/decals are no longer available.
Contact us at rcsoupdotcom@gmail.com if you have specific questions or need further assistance.