This article has been a year in the making.. not because of the rarity of the parts or the time involved, but because when we fixed to do this last year, we never had enough snow! Who'd have thought you could say that about Central New York? Well, we've had plenty this year already and it looks like we might have a January thaw this week so I pulled out all stops and made sure I could get this project done and at least one run in with it before it melts.
This project starts with the stock Traxxas 2wd Slash Short Course Truck. This is the 12t Titan / XL5 brushed rig. I also ran it with a 6 cell Pro-Match nimh pack (GASP!). Seems like only yesterday that was actually a hot setup. I think the VXL system would be beneficial in this instance. Maybe we'll post an update if we get more time with this project over the winter.
Anyways, lets get started. This truck has Pro-Line beadlock wheels on it, so we won't be needing new wheels which is nice.
We are adding Pro-Line Sling Shot Short Course tires for snow throwing roost action! The other major component of this project is the Integy Front Sled Attachment Set for Traxxas 2wd. These fit the Slash, Stampede, Rustler, and Bandit vehicles. According to the site, the item number is Item# TOP T8552SILVER. I probably would have called them a Ski Conversion instead of a "sled attachment", but what do I know.. They retail for around $50.
Let's install them. Here's the truck with the 2 major components we're installing.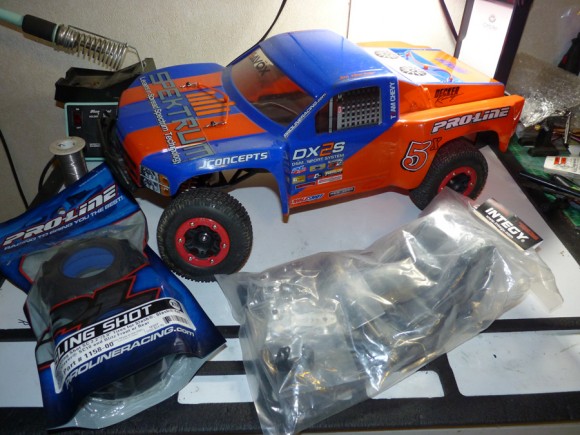 These sat around for a year waiting for snow remember.. hence the label is a little faded. Skis in the package.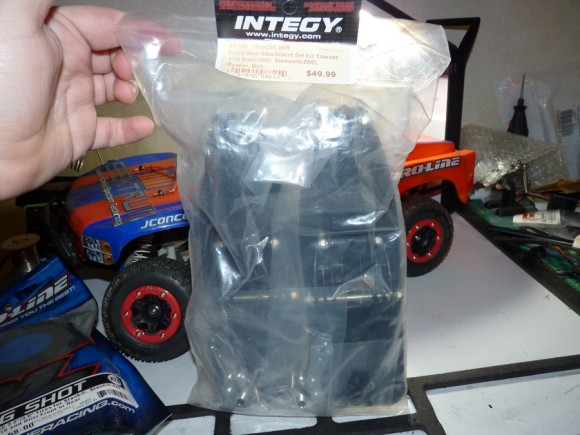 Pro-Line Sling Shot tires.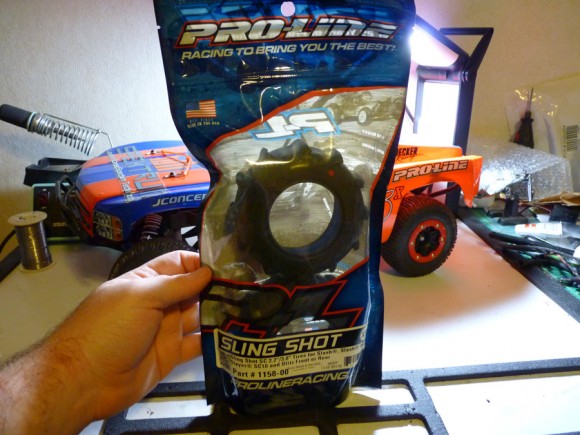 Here's the stock slash. It has some misc. upgrades like RPM blue arms and Integy rear shocks. All of the electronics are stock though.