Last weekend was the 3rd Annual Buddyboys Northeast Nationals. This is the one big race they host each year on their indoor carpet track. It's a temporary track where they roll out carpet in an old gym on Sundays and run oval and short course. They run from October to March at this track. In years past they ran two 10-12 week seasons with the Northeast Nationals in the middle (in Jan). This year they decided to change it up and run a long 20 week season and have the Northeast Nationals at the end. It seems to have been a good plan because it got them out of the time frame of the CRC New Years Dash and the Snow Birds. It pretty much marked the end of carpet season and ends it with a bang. I imagine this is where we'll see it on the calendar next year as well.
This year they brought back Short Course to the Northeast Nationals. They changed the track for them real quick between rounds and set up the Figure 8 style offroad track. Total they had 94 entries for the event, and they brought in some fresh faces this year like Johnny Whopper from CRC, and the Pemberton Raceworks team. Was nice to see them out for this.
Classes for the event:
2WD SCT
Novice Truck
Legends
Mini (1/18) EDM
Mini (1/18) Open
Small Block Stadium Truck
13.5 (Blinky) COT Pan Car
Sportsman truck (17.5)
17.5 Open Pan Car
1/12 Nascar
That's a lot of classes, but the race crew kept the event moving with little delay. We ran 2 qualifiers and then the mains for the event and were out of there by 7 or 8pm. The mains for the pan car classes were all 100 laps, not the traditional 4 or 5 minutes, which made for some exciting racing. It's like a real racing event, and it's part of what sets this race apart from other oval races.
Let's see some pics! Here's a shot of the drivers meeting.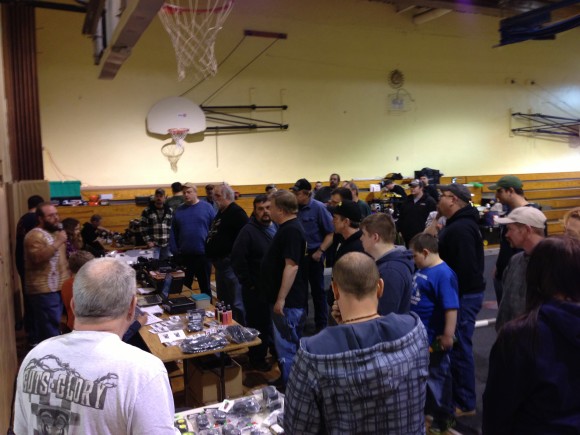 There were a few sponsors of the race, they donated door prizes to give away throughout the day. They were Pemberton Raceworks, Calandra Racing Concepts (CRC), RJ Speed, and Labatt Blue. Thanks guys!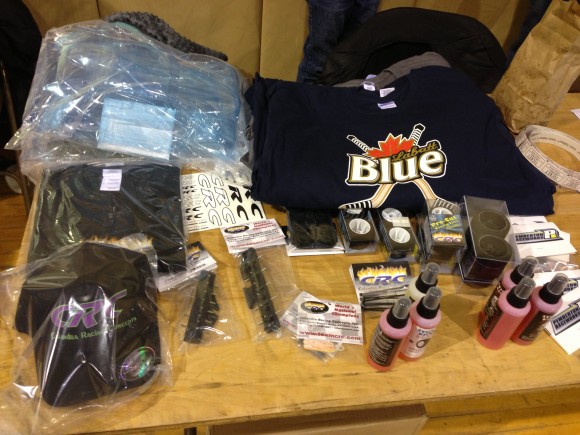 More pics, videos, and coverage on the following pages!