Our good friend Sean Garcia over at EgyptSean Productions just released info for the Ashley Cup 2! Check out his release below.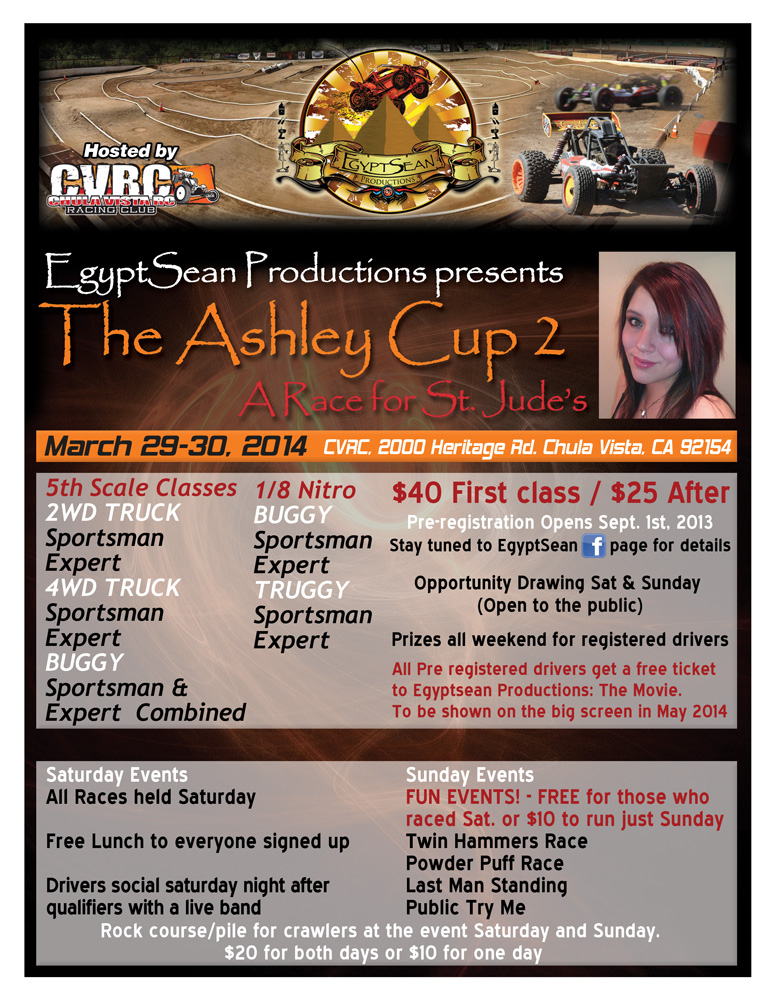 I am proud to announce the Ashley Cup 2 will be at CVRC in Chula vista on March 29th and 30th. It is a 2 day event with racing on Saturday and a family fun day on Sunday. If you pay for Saturday you get Sunday free, otherwise it is $10 per person for Sunday. YOU can choose to attend both days or just one. Registered drivers on saturday will receive a free lunch ticket. We will have an OPPORTUNITY DRAWING that is open to the public on BOTH DAYS. There will be a drivers social on saturday night following racing with a LIVE BAND. Sunday will include a twin hammers race, last man standing, powder puff, try me cars for the public and MORE. Vulcan Material Company will be donating rocks so we can set up a course and/or pile for the rock crawlers. Cost for scalers and crawlers is $20 for 2 days or $10 for 1 day. COW RC WILL BE BACK AS A SPONSOR AND DONATING PIT MATS FOR WINNERS AND WE ARE CURRENTLY WORKING ON TROPHIES. (STAY TUNED IN FOR UPDATES ON TROPHIES).
Gates will open at 6 am and track will open for practice at 7 am. Ashley's friends will be back to help with registration. SOMETIME IN THE NEXT COUPLE OF DAYS I WILL HAVE THE ST JUDES PAGE SET UP FOR THOSE WHO WOULD LIKE TO DONATE DIRECTLY TO ST JUDES IN ASHLEY'S NAME. I WILL POST AS SOON AS IT IS UP AND RUNNING.
All pre-registered Drivers will receive a FREE ticket to the Egyptsean Productions movie that will be filmed at the event and shown on a big screen in May 2014 at the Center For the Arts in Escondido. WHO WANTS TO SEE THEMSELVES AND/OR THEIR RIDE IN ACTION ON A BIG SCREEN? The movie will be a documentary about EgyptSean Productions mixed with videos including both Ashley cup races. I am currently in the process of organizing an rc event the day of the moving showing at the Center For The Arts (try me cars for the public. vendor booths, helis, planes, boats, and cars) and I will keep everyone updated about the movie event. The movie will also be available on DVD the same day as the movie release for $20. We will be taking pre orders for the DVD at the Ashley Cup 2 for a discounted price.
Classes for the Ashley cup are as follows:
5th scale
2WD TRUCK
4WD TRUCK
BUGGY
sportsman and expert together.
(could change depending on entries at event)
1/8 nitro
BUGGY
TRUGGY
ALL classes are $40 for first class and $25 for second
Anyone who who would like to sponsor the event or would like to donate items for drawing, can contact me for a breakdown of sponsorship levels at this email…. egyptsean2@gmail.com
THE CUTOFF DATE FOR THE SPONSOR FLYER IS NOVEMBER 1ST. After that date we will not be able to add your logo to flyer. The cut off date for you logo or name to be on t-shirts will be March 15.
JOIN US FOR A FUN DAY OF RACING WITH GREAT PEOPLE, GREAT PRIZES, GOOD OL FASHION FAMILY FUN AND HELP US RAISE MONEY FOR ST JUDES CHILDRENS RESEARCH HOSPITAL. LAST YEAR WE RAISED OVER $7,400 ……LETS SEE IF WE CAN BEAT IT. :O)