It has been a long time coming, but TLR has finally announced the new 1/10 4×4 buggy, the 22-4
(Twenty Two – Four)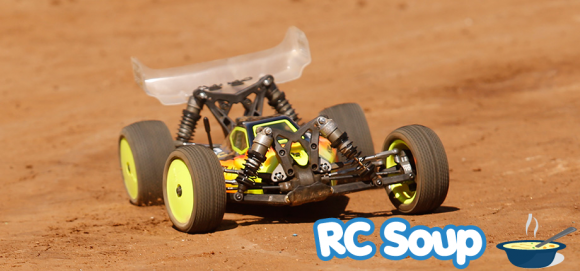 TLR03005 1:10 22-4 4WD Buggy Race Kit
All good things come to those who wait.
The Team Losi Racing Twenty Two-Four (22-4) heralds the return of the marque to the 1:10 scale 4WD electric Off-Road arena and is set to re-invent the class expectations and reinvigorate interest all around the globe.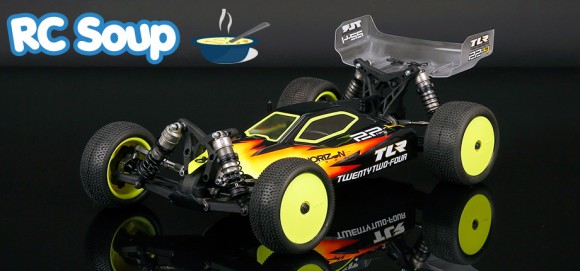 A spiritual successor to the all-conquering XX-4; a buggy that defined expectations and changed the course of RC history in the 1990s, the Team Losi Racing 22-4 is ready, just as it's ancestor did, to redefine standards and set new levels of performance in the 1:10 Off Road 4WD race class.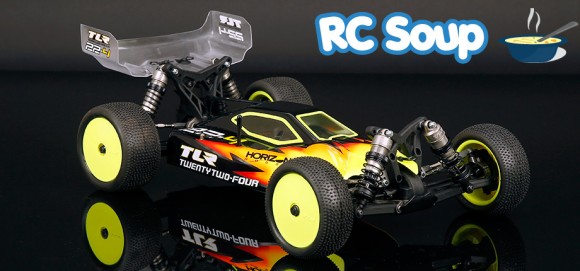 To finish first, first you have to finish. There's nothing more frustrating for a racer than to have a great run halted by a component failure and so the ground-up design of the 22-4 follows the robust ethos of the Twenty Two 2WD series to help ensure that it will withstand the rigours and stresses that today's modern power systems and track designs impart to the R/C cars and that can often otherwise result in DNFs and failure.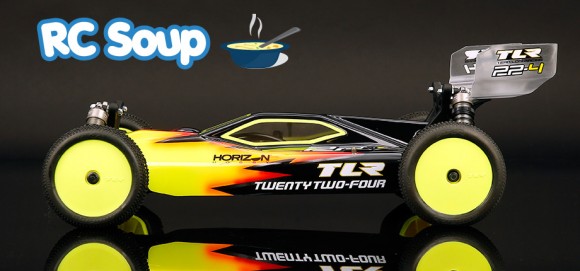 The 2.5mm 7075 Aluminum alloy main chassis yields strength and rigidity whilst also providing the basis for the sealed, modular multi-belt transmission system. A system that unlike the XX-4 can now be independently maintained or removed, as a whole from the chassis leaving the suspension in-situ. Strategically milled to reduce weight, improve flex and to provide the all-important but often forgotten wire routing for the ESC or Servo to the RX, the 22-4 has been carefully thought out and detailed by racers for racers.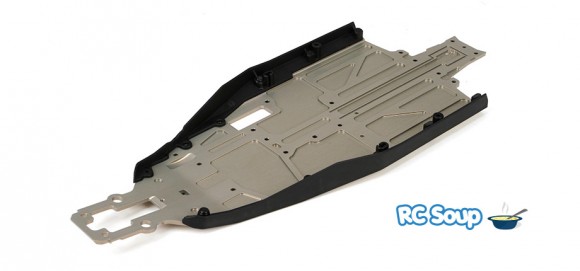 Ball-type differentials nestle within the front and rear gearboxes, protected by the HD slipper clutch whilst drive can be adjusted to the front wheels thus providing tunability to suit track conditions. As an Off-Road Buggy, the 22-4 has to be able to take the rough with the smooth and so it's been specified out of the box with universal style drive shafts that transmit power to all four wheels unfettered by transmission bind to provide a bump response that's as pure as it gets so you can tune it to perform to exacting requirements under all conditions.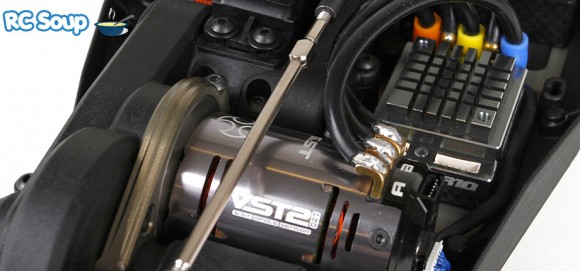 Large 12mm bore dampers adorn each corner and feature the 'Gen 2' machined internals and X-ring seals as found in the 22 2.0 2WD Buggy which, along with the TiCN coated shafts and machined pistons provide an ultra-smooth action that's both good looking and durable. The TiCN treatment doesn't stop there either; hinge pins are similarly coated to ensure a hard –wearing yet incredibly lush suspension movement.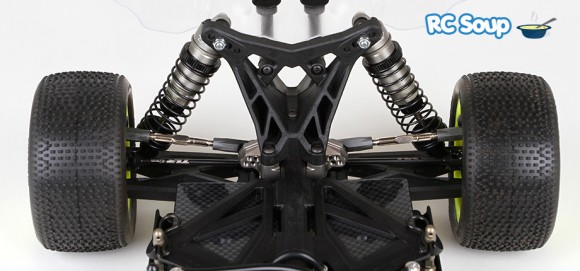 As with the 22 2WD before it, the 22-4 4WD Buggy has been designed with durability in mind. Aluminum alloy camber blocks are included as standard along with aluminum alloy front caster blocks for the ultimate in ease of mind and race-toughness. High quality rubber shielded bearings are used throughout the transmission and driveline to help ensure the greatest longevity in the harsh off-road conditions and racing environment.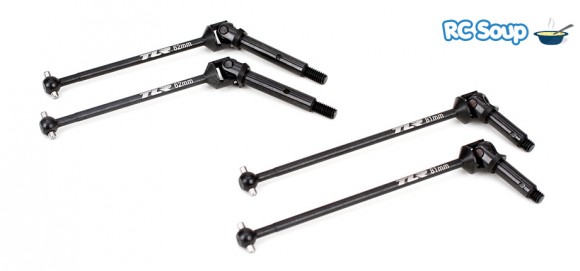 Because it's a Team Losi Racing kit, we've left the tyre choice down to you but instead, we've included two sets of wheels. Twenty-Two 2WD owners will no doubt be pleased to know that the 22-4 4WD buggy shares the same rear wheel as their existing 2WD, thus helping to cut down on racing costs when competing in 2 classes.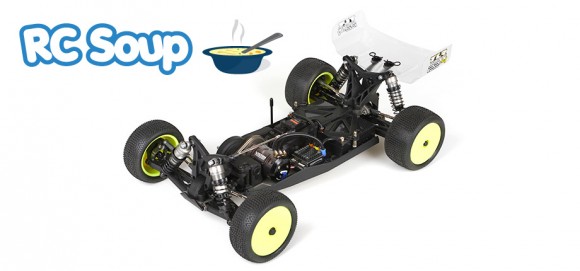 A 1.2mm thick 6.5 inch wide rear wing is included along with the new 'mid-cab' design bodyshell that retains the Team Losi Racing family look and feel as much as possible.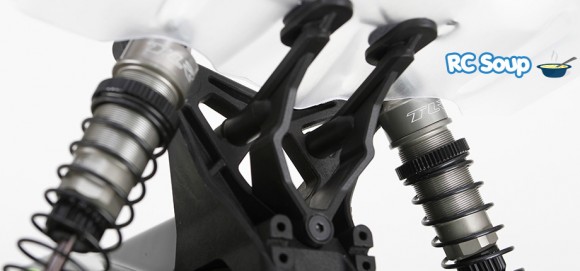 We could go on but the reality is that you already know just how good the 22-4 is because if, like the Team Losi Racing designers and engineers, you too have Off-Road R/C coursing through your veins, then you can already sense the expectation and anticipation that the 22-4 is about to usher in a new era of 1:10 EP Off-Road race worthiness and competitiveness.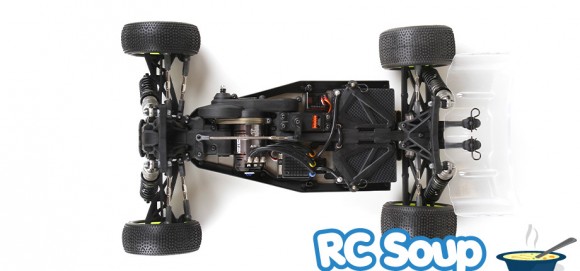 Ever since the release of the innovative Twenty-Two 2WD platform racers and enthusiasts around the globe have been clamoring for a 4WD stablemate to accompany their 2WD. It may have been a long time coming but because it's a Team Losi Racing product, we knew it had to be right and as they say, "All good things come to those who wait."
Specifications
Type: 4wd Off-Road Buggy Kit
Completion Level: Kit
Scale: 10th Scale
Length/Width/Height: 419.1mm / 239.0mm / 165.1mm
Weight: 1871g (66.0 oz)
Ground Clearance: Adjustable
Wheelbase: 282.3mm (11.10 in)
Front Track: 239.0mm (9.41 in)
Rear Track: 236.0mm (9.29 in)
Chassis: 2.5mm Plate, 7075-T6 Aluminum
Suspension: Four Wheel Independent
Shock Type: Coilover, Oil Filled
Drivetrain: 4WD
Differential: Ball Differential
Wheel Diameter: 55.9mm
Wheel Width: Front: 26.0mm (1.04 in) /Rear: 38.0mm (1.50 in)
Spur Gear: 84T
Gear Pitch: 48-pitch
Internal Gear Ratio: 2.30:1
Body: Clear Polycarbonate
Ball Bearings: Full Set
Features
2.5mm thick Hard Anodised 7075 T-6 Aluminium Chassis
Belt Drivetrain
Centralised Forward Motor
Gen II Hard Anodised 12mm Big Bore Emulsion Shocks
Revised Slipper System
Improved Differentials
Universal Driveshafts front and rear
Small Diameter Outdrives
Tungsten Carbide Diff and thrust balls included
Ball Bearing Steering
Full Ball Bearings
Ti-CN (Titanium-CarbonNitride) Hinge Pins
Included Aluminium Parts
Adjustable Anti-squat
Metric Hardware
Integrated Battery Hold Down System
One set of Yellow and White wheels included
Mid-Cab Body
New 6.5in 1.2mm thick lexan wing included
Compact Wing Mount
Various hop ups already included in the box adding to the durability and strength of the platform
Horizon already released a nice product video with Todd Hodge and Gary Katzer. Check it out!
[youtube]http://www.youtube.com/watch?v=bDADoEXdVZ4[/youtube]