Last year, we reviewed the Arrma ADX-10. At that time, the entire Arrma line was only available with brushed motors and speed controls. Now they've released brushless versions of each of the vehicles, so we just had to try one again. I loved the looks of the Arrma Raider and decided to give it a try. Here are some pictures from the unboxing as well as some specs. Be sure to check out the video towards the bottom.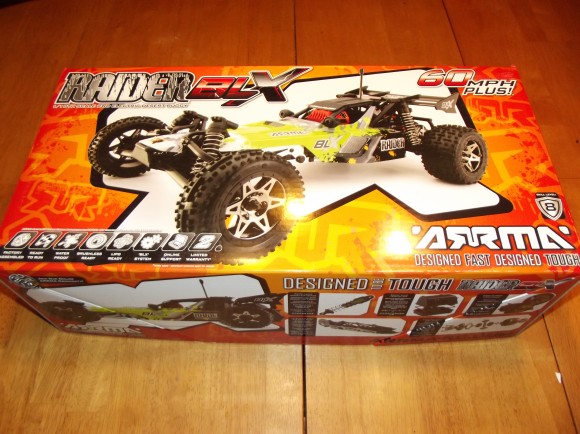 Below you will find the video of the unboxing, as well as the specs for the car. Be sure to stay tuned to our Youtube channel for running videos, and watch RCSoup.com for the review in the coming weeks.
The Arrma Raider BLX comes Ready-to-Run. It includes a 2.4 ghz radio, 80 Amp Waterproof ESC, 3600kv 4 pole brushless motor, and a 6 cell 5000 maH NiMH battery. It even comees with a trickle wall charger for the NiMH. You'll need to provide 4 AA batteries for the radio, and you're off and running.
FEATURES:
Chassis: Aluminum 0.08″ (2mm) thick natural finish with double chassis rails and alloy front chassis plate, batteries fit under chassis-no need to remove body to change batteries
Drive: Rear wheel with steel driveshafts and axles
Motor: 4-pole, 3600kV brushless motor
Radio: ATX100 2.4GHz 3-channel with lightweight ARX100 receiver, with trims, servo reversing & dual-rate steering
Electronic Speed Control: Waterproof BLX 80 ESC with LiPo cutoff
Receiver Box: Water proof and dust proof
Battery: 5000mAh NiMH
Battery Charger: Wall type charger
Body: Trimmed and painted
Transmission: Metal gear, brushless ready
Slipper Clutch: Machined alloy gears, adjustable for different track conditions
Differential: Metal planetary gear, oil filled
Suspension: Fully independent
Shocks: Composite body, oil-filled
Tires: dBoots Dunerunner with dBoots foam inserts – Front, 1.2″ (30mm) wide, 3.3″ (85mm) diameter – Rear, 1.6″ (40.5mm) wide, 3.3″ (85mm) diameter
Wheels: Six spoke gun metal gray, 12mm hex – Front, 1.1″ (29mm) wide, 2.2″ (56mm) diameter – Rear, 1.6″ (41mm) wide, 2.2″ (56mm) diameter
Caster: Adjustable – caster/toe-in refers to the angle of the front suspension when viewed from the side of the car in relation to the chassis
Camber: Adjustable, camber refers to the angle of the tops of the tires from vertical when viewed from front or behind vehicle
Steering: Bellcrank type with servo saver
Warranty: Two year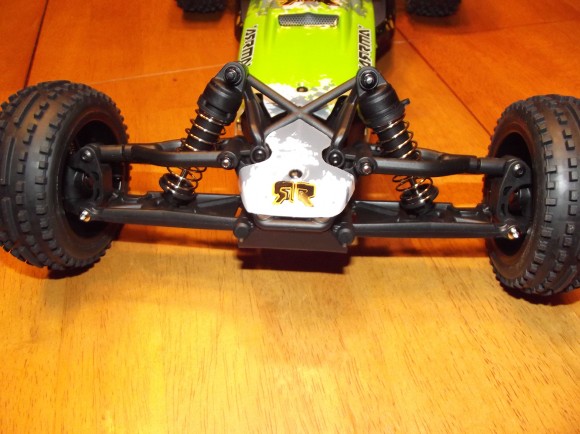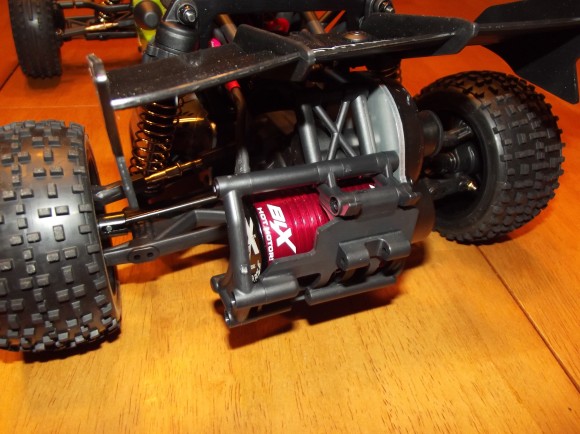 The Included radio is a step up from the previous version that was available with the brushed Arrma's last year.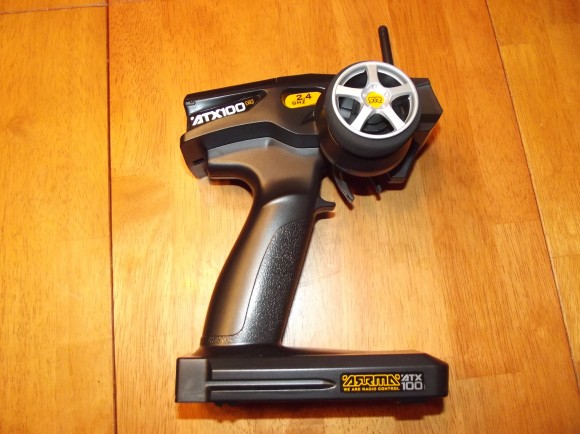 The wheel has a slight drop down which makes for a more comfortable feel in my opinion.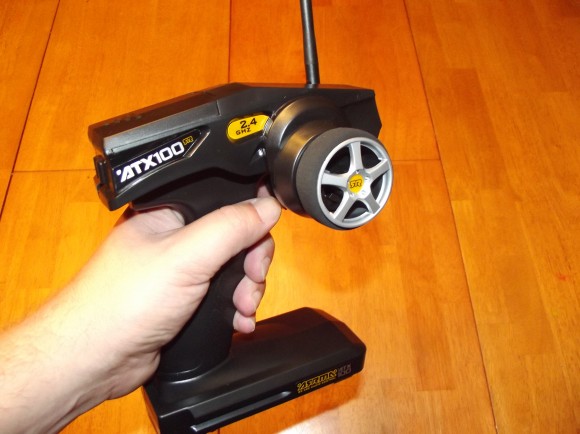 Steering Dual Rate, Throttle trim, Steering trim, and Throttle/Steering reversing are all reachable under a little flap on top of the radio. There is also a power indicator light under there which shines through the cover.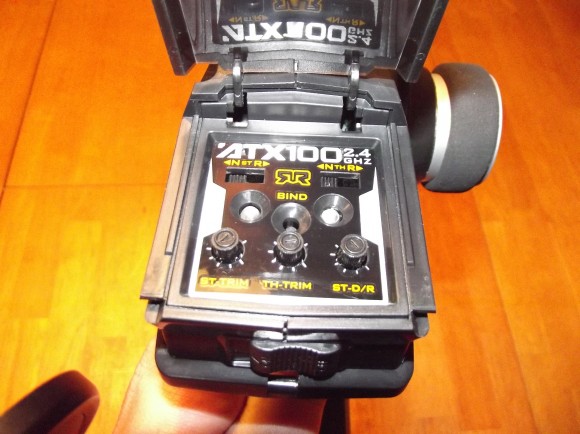 The radio takes 4 AA's which are not included.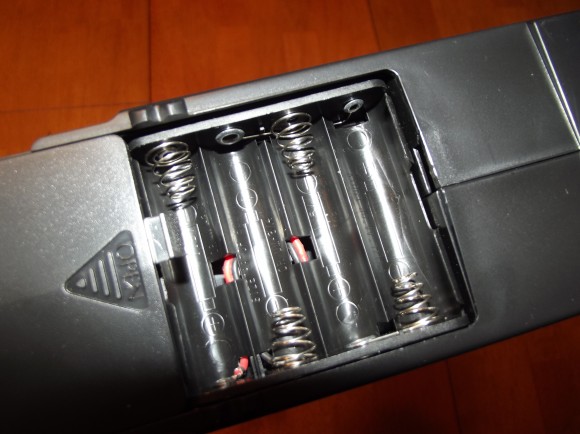 A 6 cell NiMh pack and wall charger are included. We will run the car at first with the NiMH.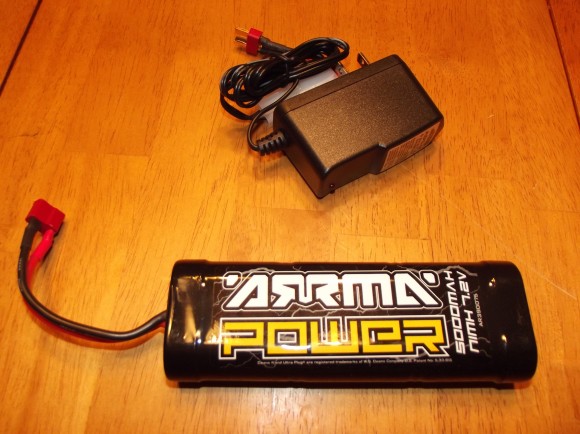 Then we are going to try it with this Trakpower 2S Lipo.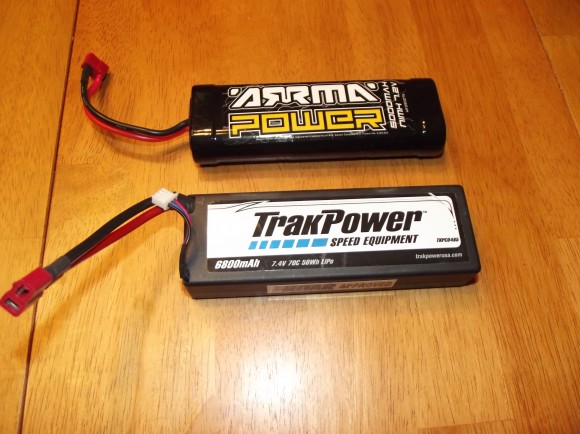 One of the nicest surprises I found when I was looking at the car for the first time is that the ESC comes with an authentic Deans connector. Another nice feature is that you don't have to remove the body to get to the battery. It is accessible through a door on the bottom of the chassis.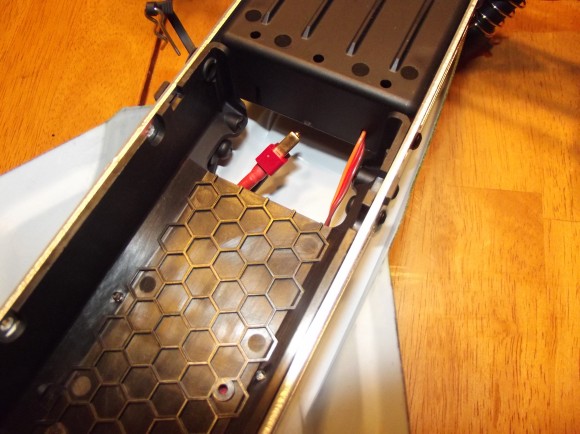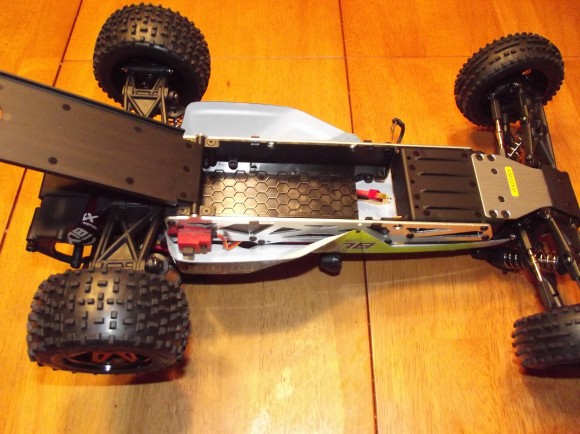 Here's the unboxing video!
[youtube]http://www.youtube.com/watch?v=kdh8E_5HRDI[/youtube]