ARRMA RC was founded in 2009 with a goal of bringing out cool and interesting models, aimed at bringing new folks to the hobby by offering great products at an attractive price.  Earlier this year, ARRMA was acquired by Hobbico, which greatly spread the company's reach and is now carried at most local hobby shops. They offer everything from short course trucks to desert buggies, and all of them (at time of writing) can be bought for under $200 RTR. If you have not heard of ARRMA, check them out, based on what you'll read below, we think they're here to stay.
Hobbico was nice enough to send us this ARRMA ADX-10 1/10 scale 2wd off-road buggy to review. The buggy you see in these pictures will be a part of our Children's Miracle Network raffle in the coming months as one of the many prizes. We have also given away a couple different ARRMA models in our 12 Week Mystery Giveaway. Enter that, and maybe you might win one of these?
This buggy comes RTR with a 15T brushed motor, waterproof ESC, and ARRMA's own ATX300 Transmitter. You only need 4 AA's for the radio, and either a 6 cell NIMH or 2S Lipo battery and a charger for that battery. That's pretty much standard with all RTR's these days. You'll see the test equipment we used as you read on.
Lets crack this baby open and see what she looks like.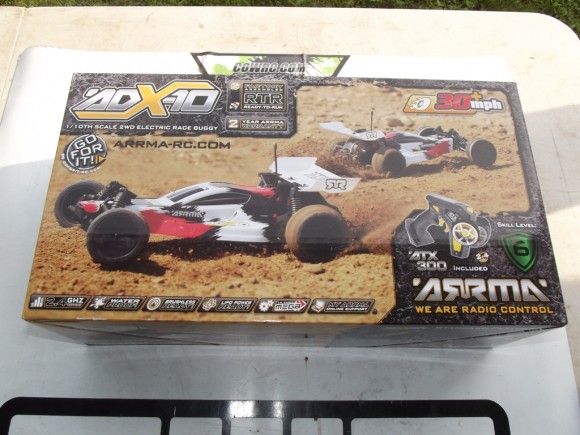 This is how it is packaged. There is a cardboard divider which keeps the buggy in place in the box, as well as having a side compartment for the radio.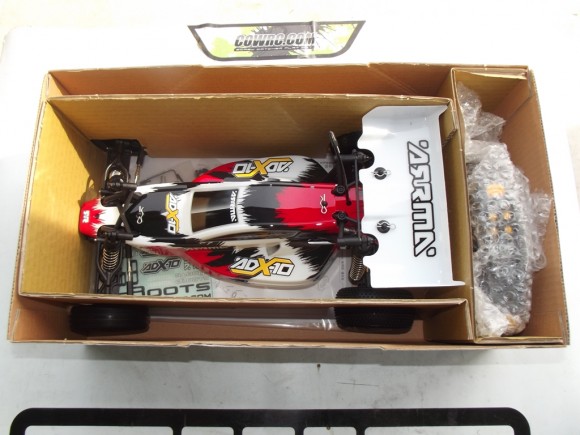 The tires that come on this buggy actually worked very well on our track. They are a ribbed front tire, and dBoots Terrabytes rear tires. They have a small pin which had plenty of bite.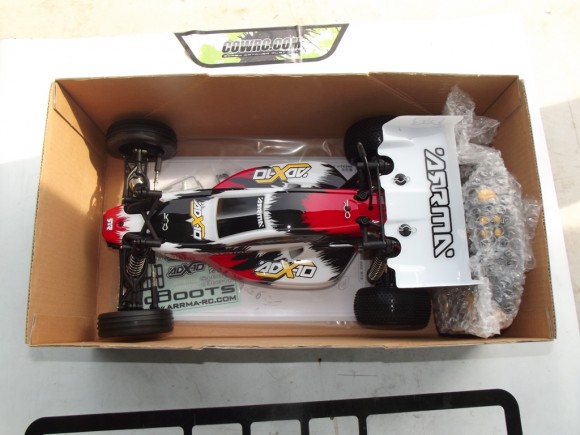 The ARRMA ATX300 transmitter features a steering wheel that you can swivel to make this a left handed radio. I tried it for a goof, yea it didn't work out to well for me :), but it's a great option for those that hold their transmitter differently. That little yellow wheel in front of the trigger is the dual  rate steering adjustment. Trigger pressure was a little stiff, but manageable.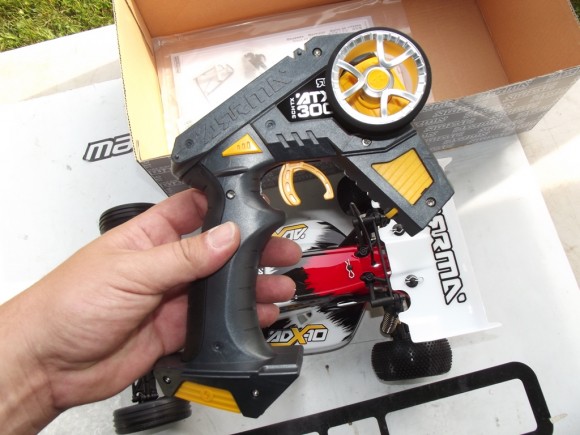 Last thing in the box is the manual & decals, along with some shock spacers and wrenches.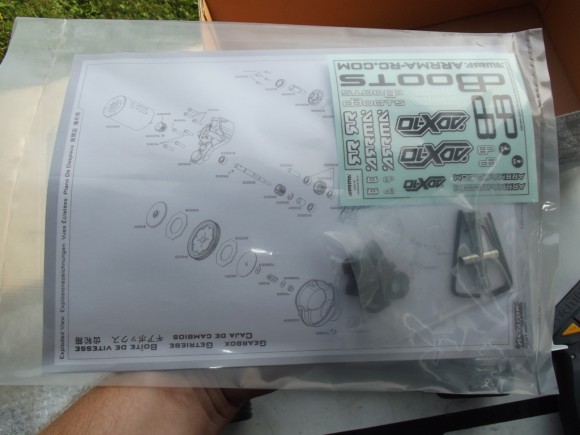 Hobbico sent along their Duratrax Power Kit (DTXP4615). This includes a 1500 Mah NIMH battery, 8 AA's, and a wall trickle charger for the NiMH. This is a great way to get started on a budget. It retails for around $20.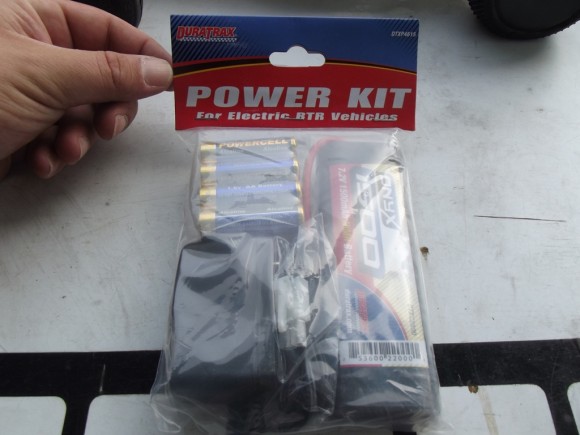 The AA's are inserted into a magazine style cartridge in the handle of the radio.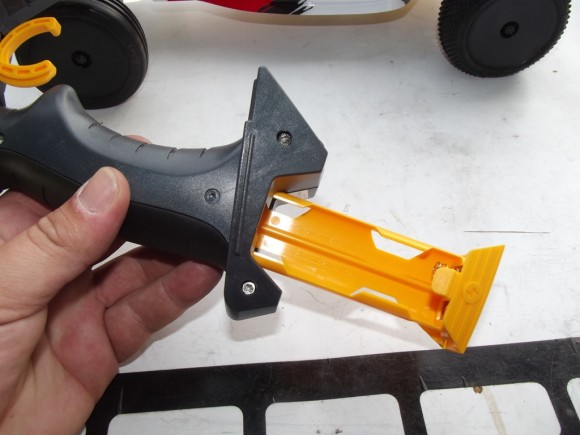 These are some of the AA's that are included in the Duratrax Power kit. Time will tell how long they last.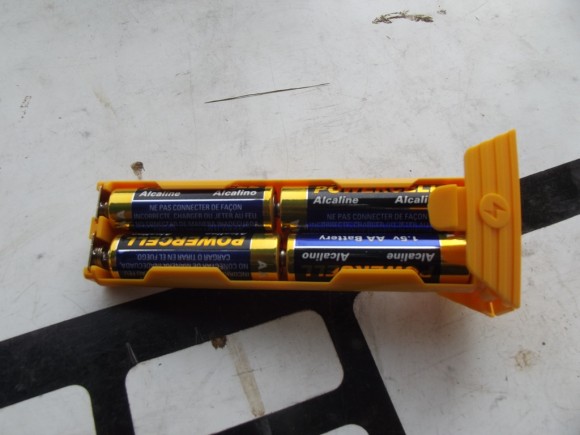 To adjust steering and throttle trim, there are buttons on the top of the radio. There is also a knob under the steering wheel to adjust dual rate for the steering.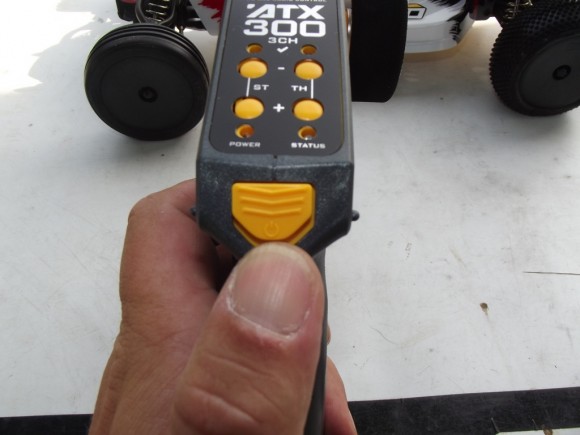 Body off, the buggy features two parallel alloy metal plates as the main structure of the chassis. This is a common feature to the other ARRMA RTR's on the market. You'll also notice in this picture the adjustable turnbuckles, and the waterproof ESC. The black box behind the ESC is a "splash proof" receiver box. Behind that is an all metal gear box that is "brushless ready".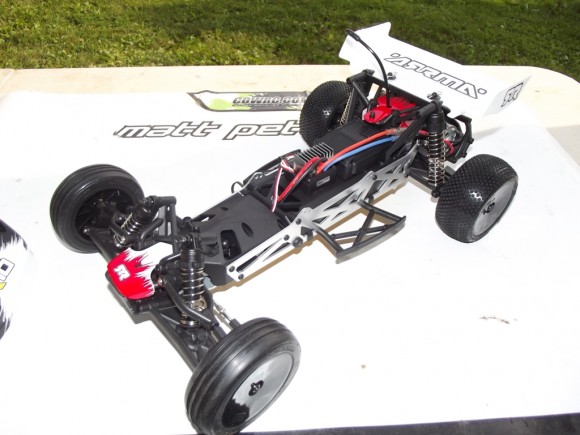 Before we can get to the battery compartment on the belly of the buggy, we read the rather large warning sticker.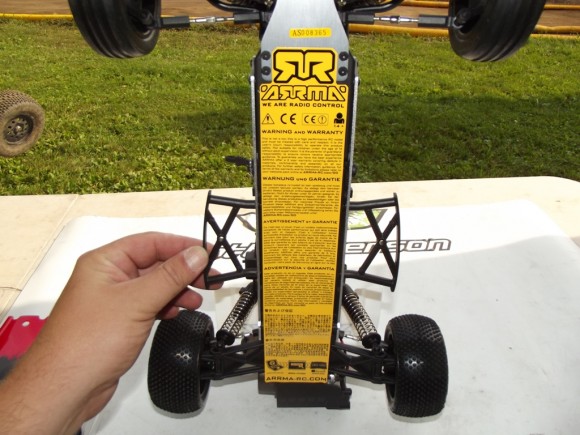 The battery gets inserted into the belly of the chassis, there is  a lateral pin that holds it closed.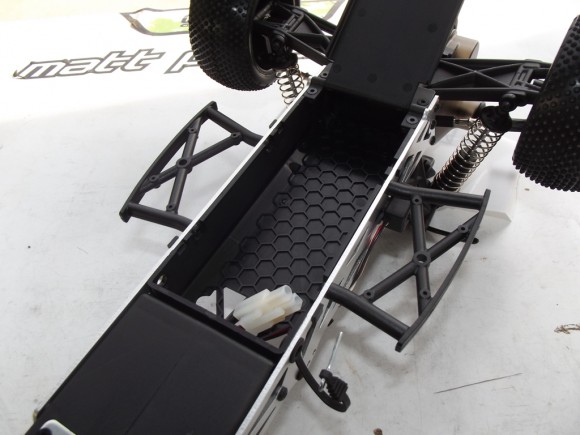 On our initial test drive, we used the 6 cell, 1500 Mah NiMH battery from the Duratrax Power kit. It worked great and we used it for a quite a while during practice (Sorry we forgot to time the runtime). You could get a larger capacity NiMH for more runtime.