Customer demand led RPM RC Products to the creation of front A-arms for the Associated line of B44 vehicles. These A-arms fit the original B44 as well as both the B44.1 & B44.2 versions.
Our first objective with our version of these A-arms was to improve strength and durability without sacrificing rigidity to keep these race-bred machines at the front of the pack. Our design changes still retain all stock suspension geometry yet have been improved structurally to eliminate potential breakage points. We've also eliminated slop at the hinge pins and caster blocks. Our box-stock B44.2 FT came with hinge pin holes with .005" (.13mm) of clearance in each hinge pin hole! That's a total of .01" (.26mm) of slop (inside and outside hinge pins combined) before the vehicle ever ran! By tightening up these "loose" areas with our A-arms, the B44's camber, caster and toe angles are locked in place while improving suspension performance and consistency at the same time.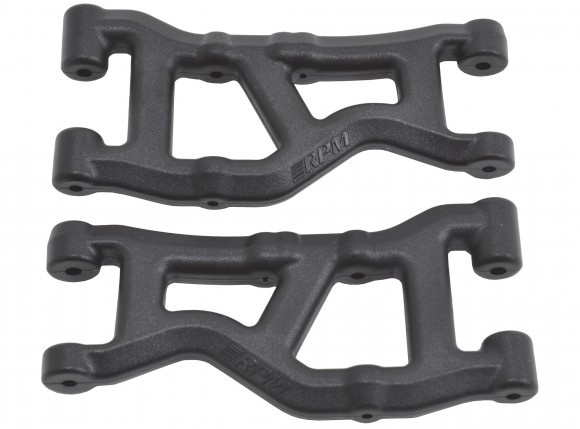 We also found that the stock anti-sway bar pivot balls molded in the A-arms are .005" (.13mm) undersized. That leads to inadequate performance of the sway-bar system. We rectified that by eliminating the molded ball entirely and replaced it with a more stout, machined pivot ball (not included – see "tech notes" below), with closer tolerances on the ball diameter.
Each RPM A-arm for the B44 is molded in black and comes with our limited lifetime warranty against breakage. When performance counts and the goal is to get across the finish line, you can count on RPM to get you there!
Suggested Retail Price
$11.95 / pair
Tech Notes: RPM A-arms for the B44 fit the B44, B44.1 & B44.2. Individuals wanting to run a sway bar system must use any standard 4.3mm ball stud such as Associated #6276. We recommend Associated balls studs for the most consistent diameter but any 4.3mm ball stud with a 4-40 x ¼" thread will work.