Last weekend we attended the 18th Annual New Year Dash Oval Challenge –
presented by Hyperdrive / MSA / www.rchobbiestn.com. This is the race that CRC hosts in Oneida, NY @ the Kallet Theater. I believe this is the biggest oval race anywhere in the world with 300 entries. Snowbirds may have more, but it's a week-long race and they also do road course. Here we are talking a simple 2 day event.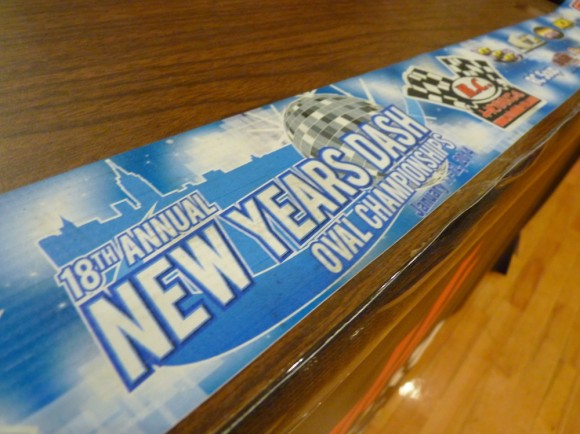 This was the first year that CRC took entries via RCSignup.com. They set an entry limit of 250 cars when registration opened and they filled that quota within a week! Once heats were arranged they were able see what they had for empty spots (small heats, etc) and were able to take more entries. I believe they got to 300, and then had a waiting list beyond that. Nuts!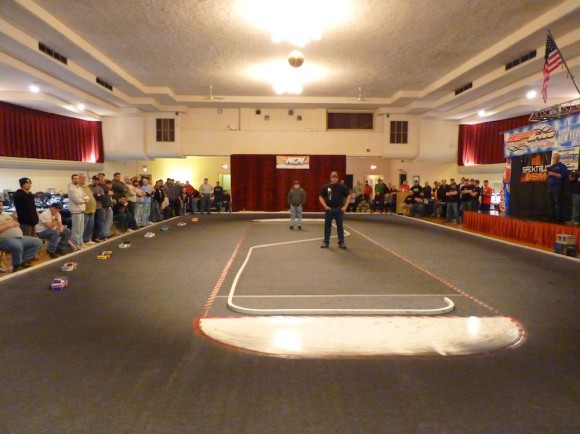 So as you may or may not know, CRC is our home track, operated by Frank Calandra and crew. They have a small carpet track in their facility where they hold club racing for road course and oval. This particular race is held at the Kallet because it simply outgrew the facility. It's almost even outgrown the Kallet in my opinion. With time restraints and pit space, I don't think they can make this race any bigger than it was this year without making a race format (drop a round of qualifying) or venue change (would make the race even more expensive). If kept at the current 300ish entry cap I think they will do fine going forward. All I know is next year, if you plan to attend, get your signups in EARLY! I have no doubt it will sell out again.
Let's talk about the event shall we? Here are the classes that were run:
Super Truck 17.5 – John's BSR Racing Tires
Stock 17.5 – Gary's Precision Graphix
Stock Spec COT 13.5 – Redneck R/C
Super Stock 13.5 – KCM Race Cars
10.5 Mod – Pemberton Raceworks
1/12 Super Stock 13.5 – Power Push
1/12 Truck 17.5 – CRC
SK Modifieds – RC Soup (Ya! That's right, we sponsored a class!)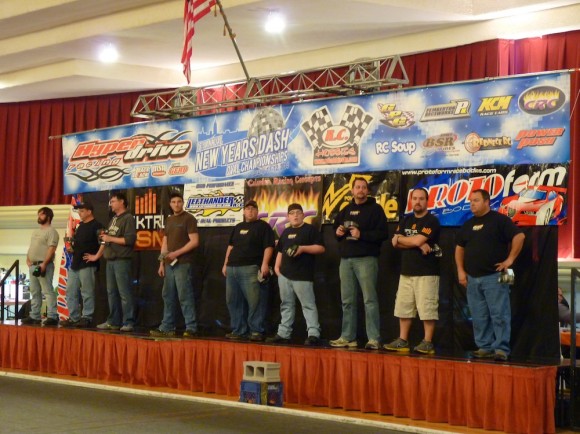 They are all carpet oval classes if you haven't figured out that this is a carpet oval event by now. The Super Truck and Spec COT classes were the biggest of the weekend, with both pushing around 80 entries!! There was some very stiff competition across all classes. Local fast A-Main drivers found themselves in the C Mains, not because they were slow, but because the competition was so fiercely competitive and close. One mistake or wreck could set you back multiple positions in qualifying. You had to be on your A-Game to make a perfect run. This is one of the reasons that CRC runs "seeding rounds". They are essentially practice rounds that set you up for qualifying. They take your fastest 4 consecutive laps, and with that data they set you up in qualifying heats with cars of a similar speed. This is so that A main cars aren't stuck running with J main cars in qualifying and having to lap them 4 or 5 times. It works well, but it's time consuming with so many heats.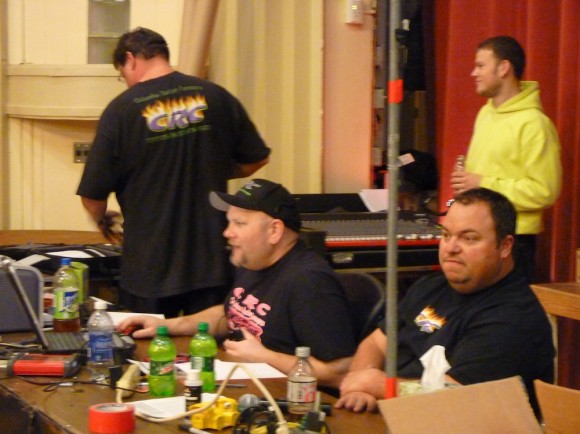 Calling out the racing action all weekend were CRC's Brian "Dumper" Wynn, and Colorado driver Mario Ficco. They did an excellent job of moving the show along all weekend and calling out the races.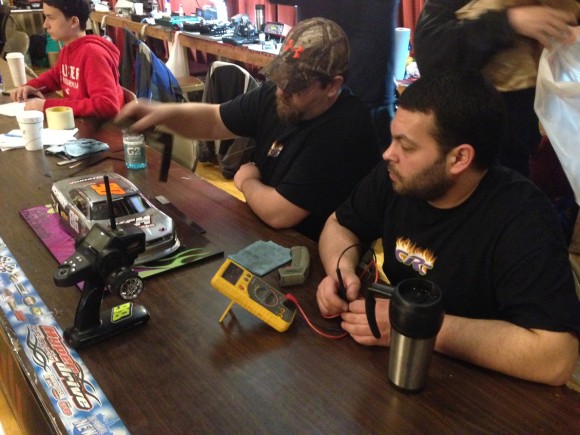 CRC as usual ran a very stringent tech program. Local volunteer racers Rob Barrone, Dan Holcomb, Zachary Sypolt, Tom Firsching and a few others (sorry if I forgot anyone) checked for a number of things to keep everyone on a level playing field. They looked for Battery and Motor temp, Battery Voltage, Ride Height, Roof Height, Car Weight, Spec Battery Weight, Stator Resistance, Rotor Measurement, Blinky ESC mode (for those classes). TQ cars were teched again after the run. They also had a impound area where you had to put your car on a table without touching it before your heat. Race staff also walked around the pits checking for artificial heating/cooling of batteries/motors. They had a zero-tolerance rule on this and anyone caught explicitly trying to cheat were to be ejected from the race. It was all very strict, and as it should be. To my knowledge everyone played fair and nobody was removed from the race.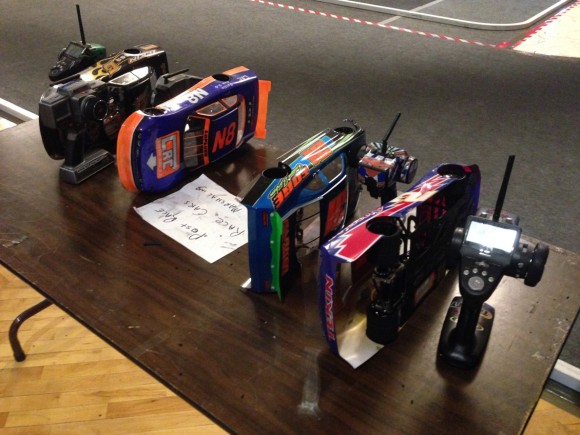 After your race was finished, you were to put your car and radio on the post race car table and get out to marshall. There wasn't a whole lot of time to waste, so every second counts. Worked out well.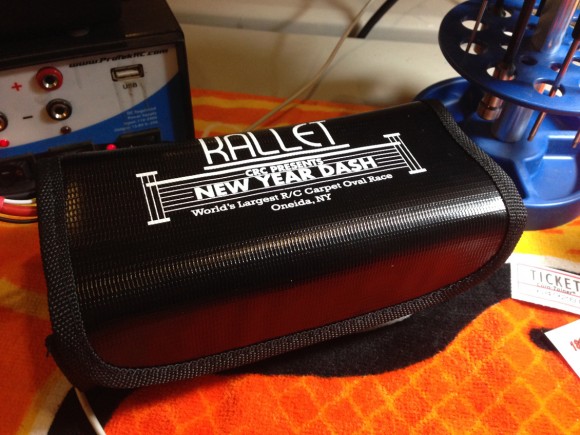 This was also the first year that lipo bags were 100% required. Not charging in a lipo sack would get you immediately removed from the building. Oval guys like to charge at high amperage to gain every bit of speed they can from their battery, and with that comes a slightly increased risk of fire. Being the Kallet is an old building, there was to be no chances taken and risk burning the building down. Frank told everyone a story how he almost burnt down CRC by not using a bag, and that a software glitch with his GFX charger put his lipo charge cycle into Nimh mode causing a fire. Luckily they got it under control at the shop. If it can happen to Frank, it can happen to anyone. Frank knows his batteries (seeing as how he has his own Lipo line, and from our experience, they are excellent).
To help guys who aren't used to bag charging, CRC handed out lipo bags (printed with the event name on it) to every racer in the building. They had absolutely no excuse to not charge in a bag (laziness doesn't count). Taping/untaping a battery from a chassis can be a pain, but with 3+ hours between rounds, there's plenty of time to retape.
Enough of my ramblings, you guys probably want to see pics..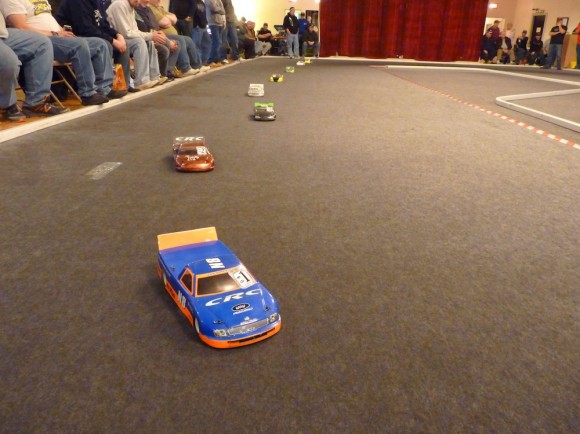 TOUR introduced a new class to their list this year, 1/12 Truck. This class runs similar to it's 1/10 counterpart with a spec Nastruck body, 17.5 Blinky motor/esc setup, Spec purple stripe tires. It is however open battery. I found this to be a fun class for me. I hope it catches on and returns next year!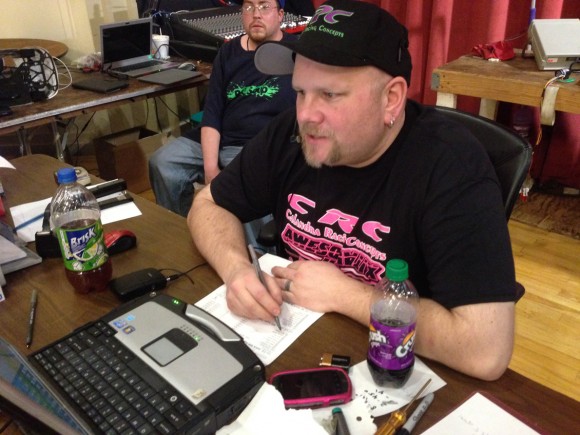 Dumper calling out some racing. Behind him you'll see Jonathan Bishop aka "Lunchbox". He busted ass all weekend making sure facilities were clean, taking out trash, cleaning the ice, and more. Huge thanks to him from all the racers for helping out!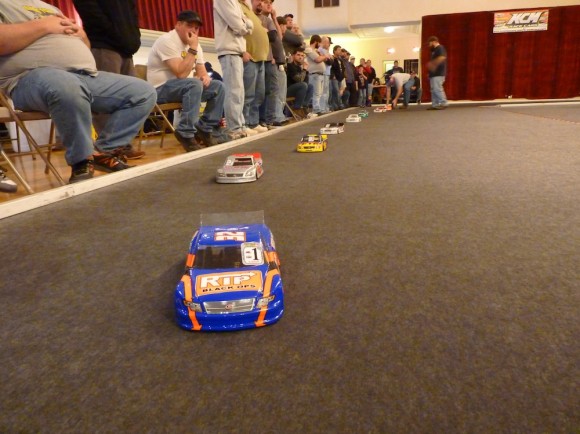 All right race fans.. let's get into these pics.. there's a bunch! Sorry DSL guys, I feel your pain.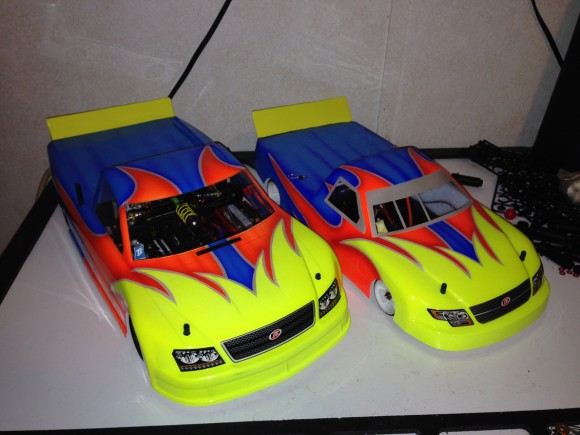 My weekend started with the usual last minute prep of my trucks. I mounted up both bodies (painted by Tom's Custom Paint Werks). They certainly look sharp. Below are my rides.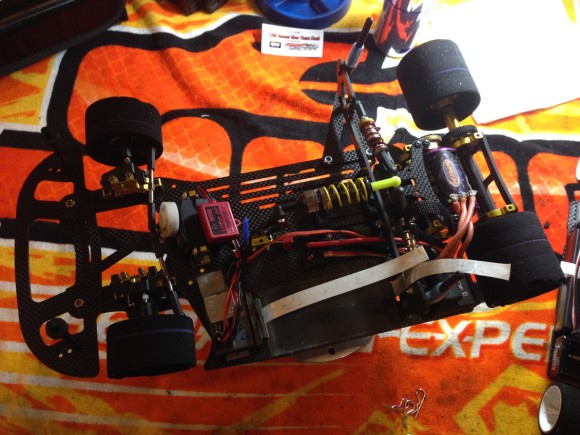 Pemberton Raceworks SJ10 Chief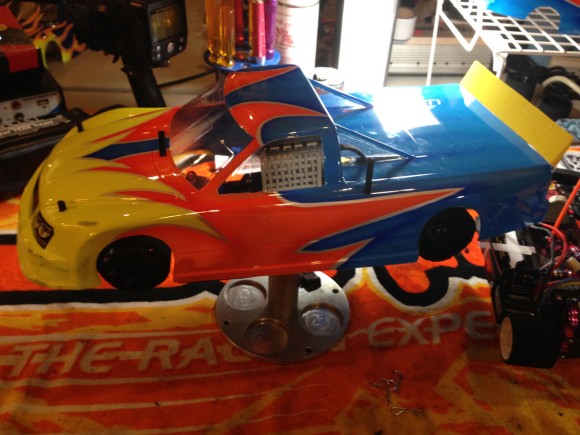 CRC Razor 3 that was used for 1/12 truck.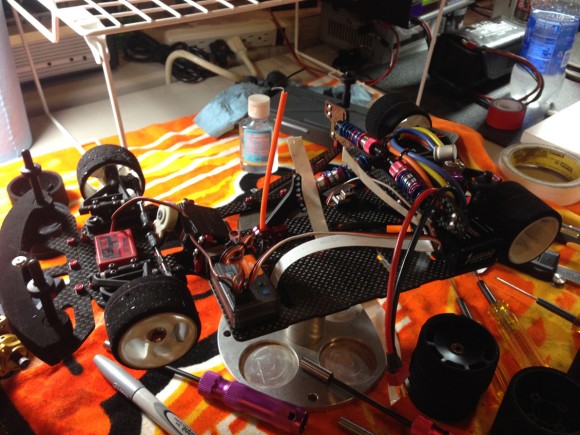 Pitted next to me was teammate Jarodd Goedel.
He ran the same 2 classes (Nastruck and 1/12 truck). His 1/12 was a CRC Razor 2 borrowed from Jim Decker. Jarodd built the Battle Axe 3.0 for this racing season.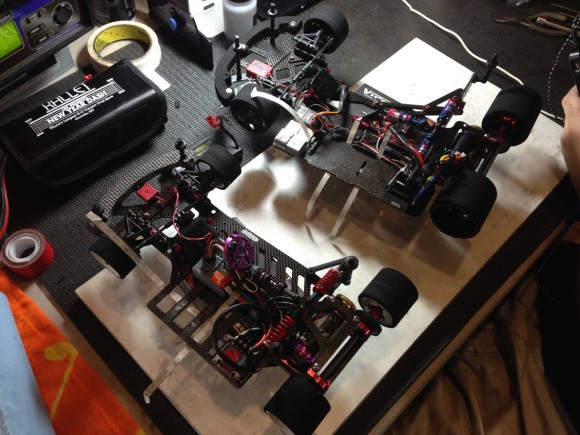 Jarodd won the B main for 1/12 Truck and bumped to the A.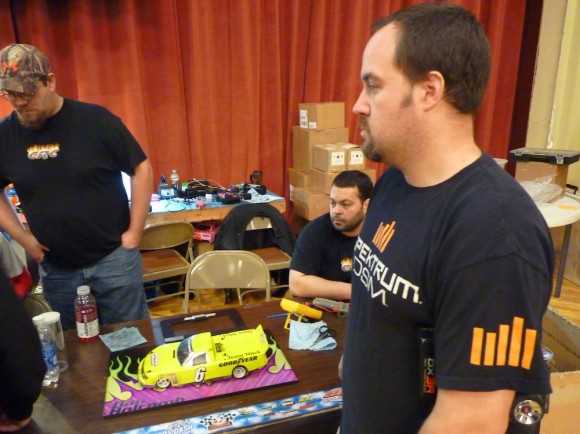 Next we have a more random group of pics. They are of the track/various drivers on the awesome drivers stand. Gary's Precision Graphix did a bang up job on that huge 30 foot banner!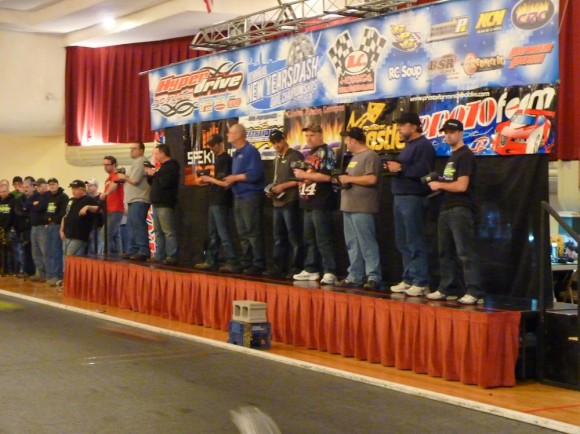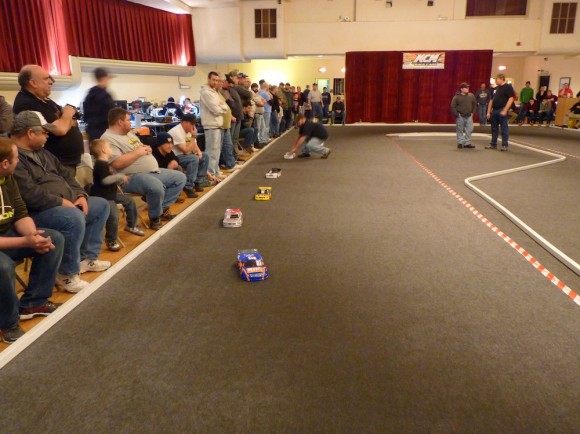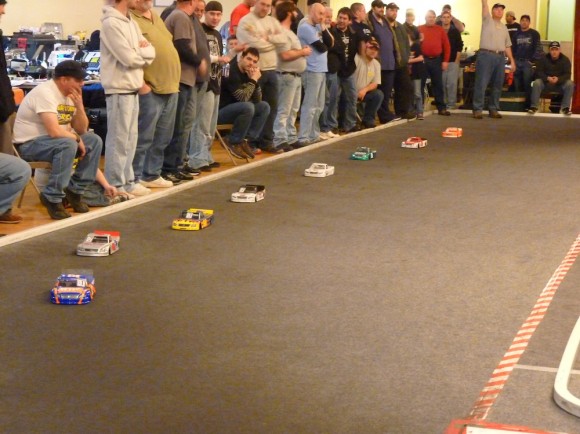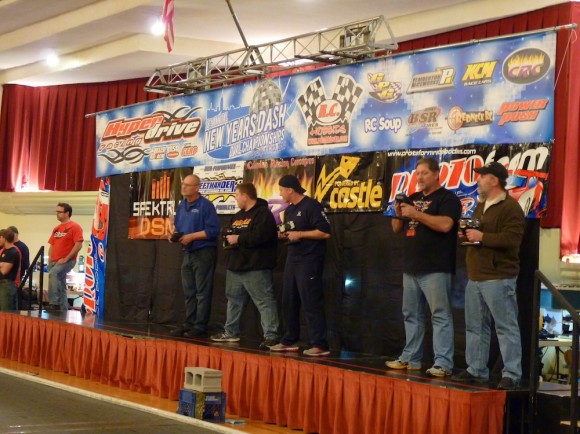 I got a few more pics of the SK Car class than any other seeing as they were the "RC Soup" sponsored class at this event. They certainly are cool looking.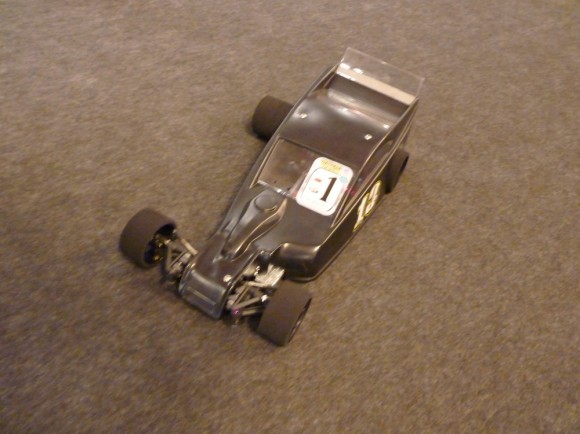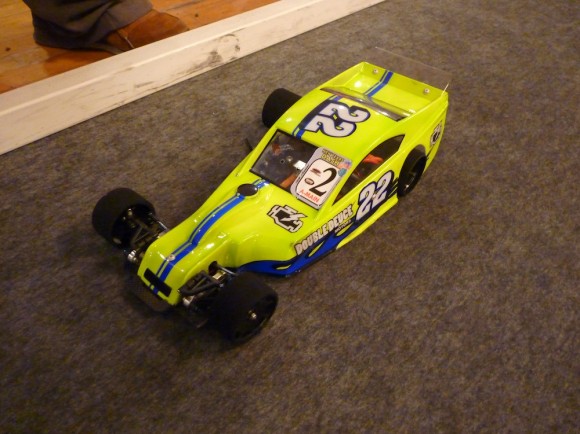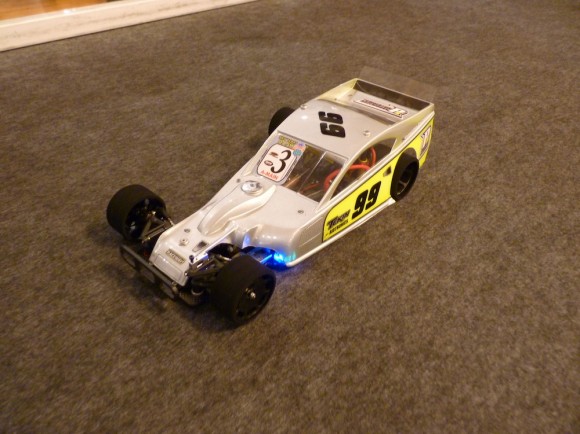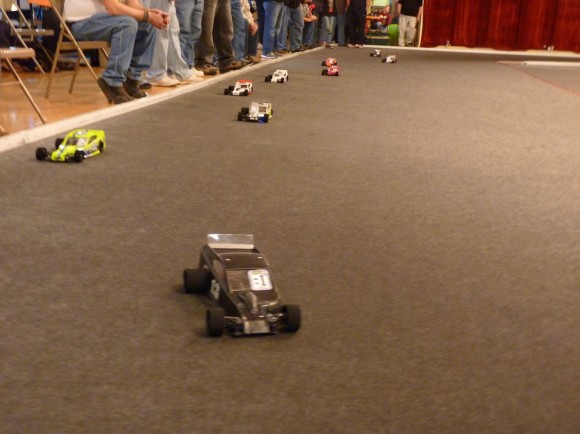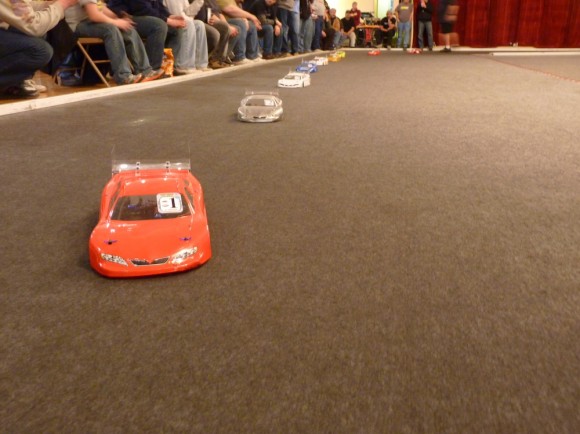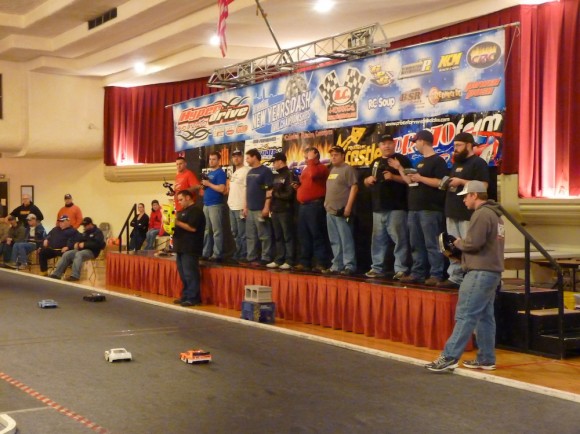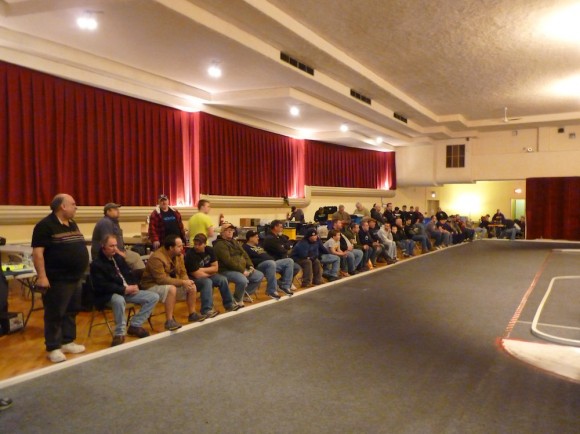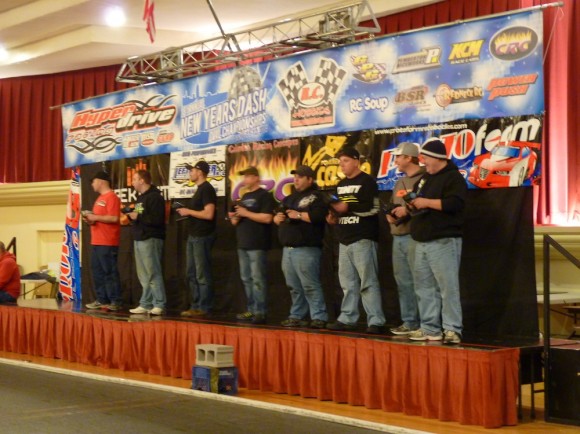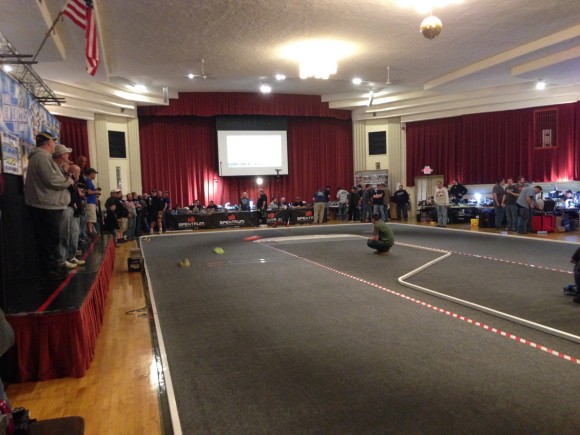 The "scrub in" procedure of the faster classes looked a little something like this.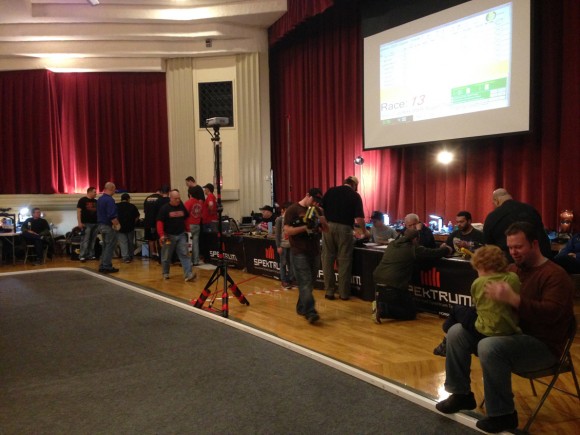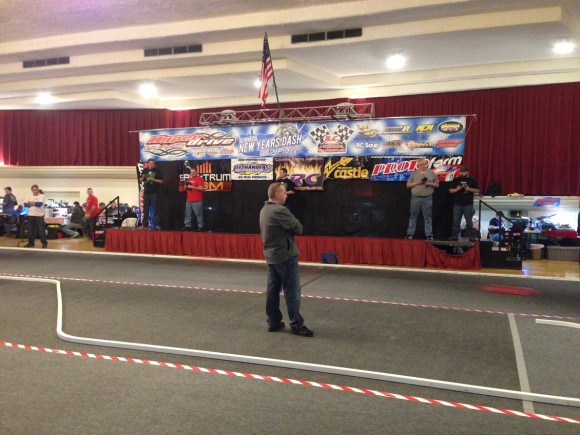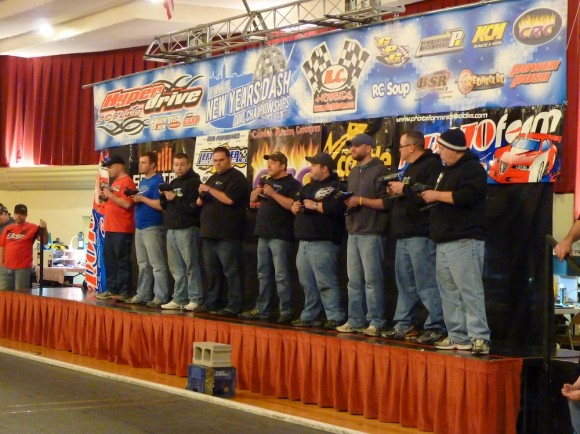 Look at all those fast drivers on the stand in one race!
Next we have some pit pictures.
The photo below was staged, however I do think it reflects the thoughts of several racers over the weekend. This one happens to be Jim Decker's KSG Gen 1? Gen2? car. I heard he's taking donations to buy a more modern chassis, at least something made in this decade haha.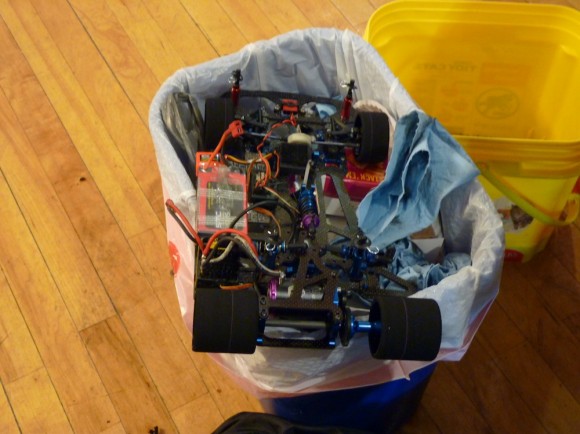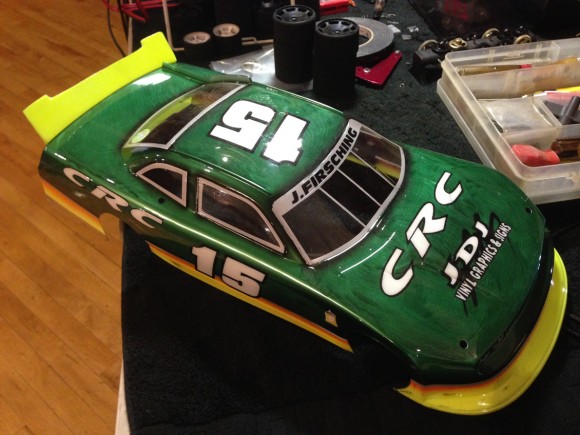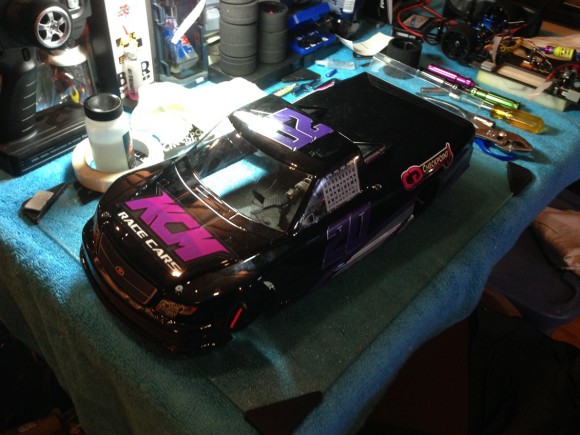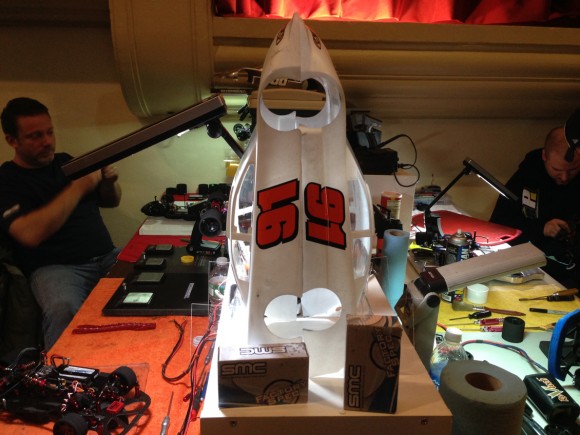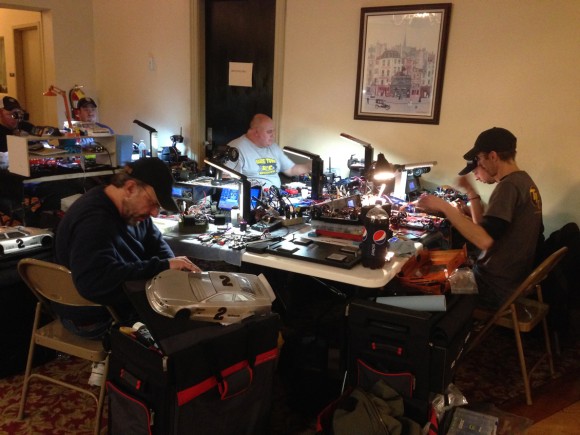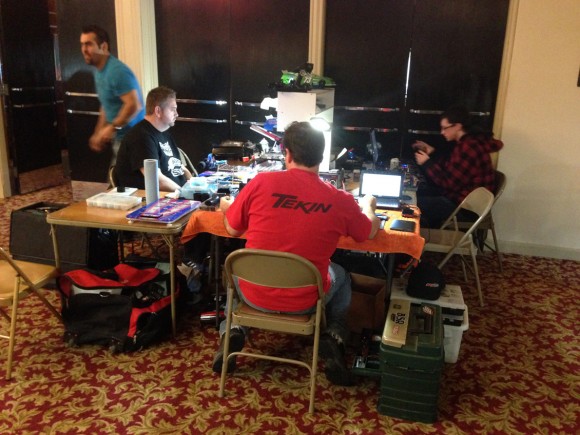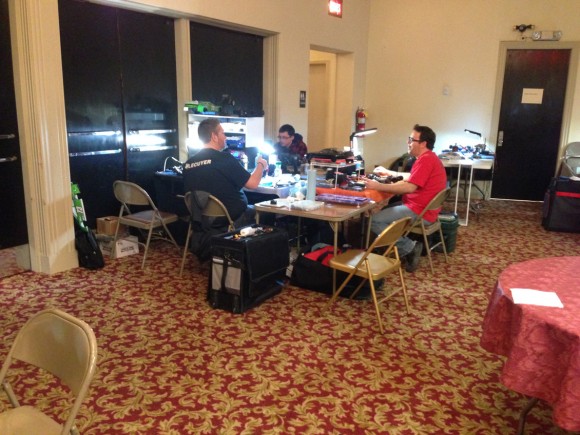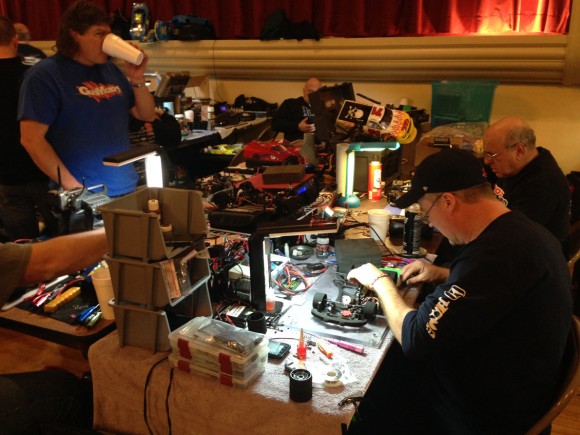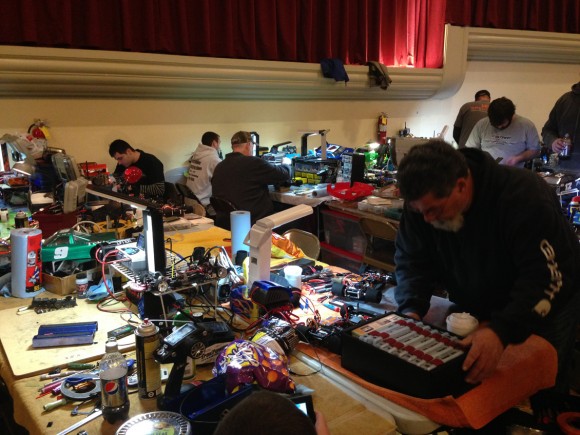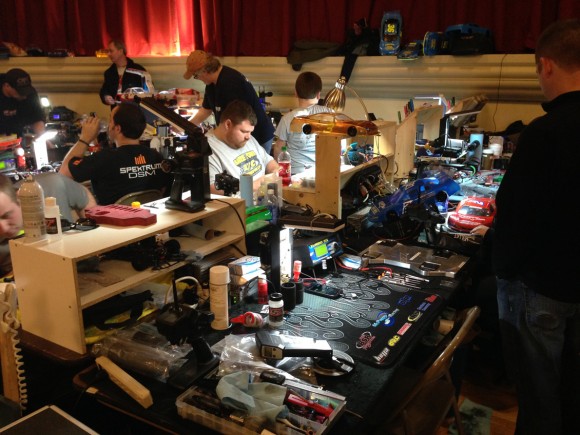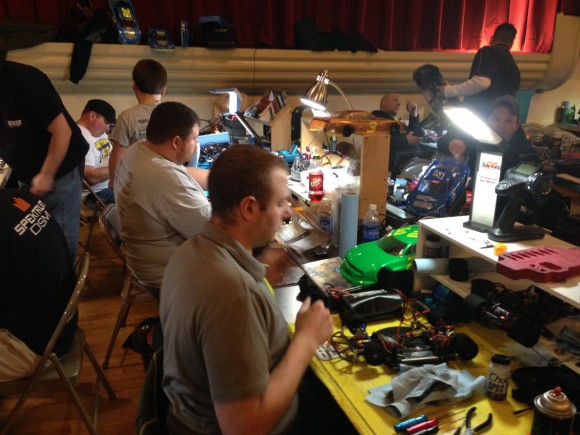 Brian Barretta had the food counter working overtime with all the dialed food just like most CRC events. Breakfast pizza, hotdogs, deep fried oreos… nobody had to leave the event to get fed.
On Sunday they had some door prizes to give away from Castle Creations, Lefthander RC, Spektrum, Protoform, and Kimbrough. We also donated a couple RC Soup shirts.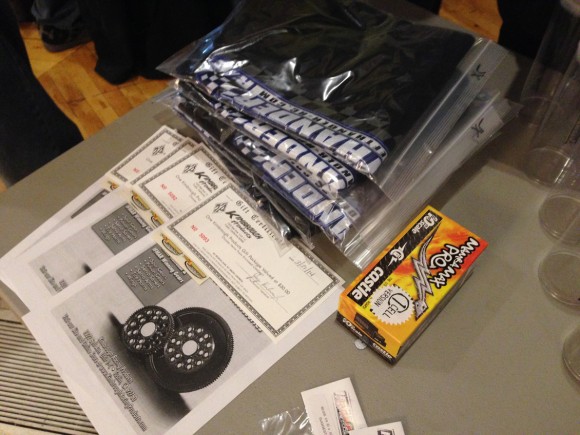 CRC goes nuts with the trophies for this event. Top 3 in ALL of the Lower Mains get a small trophy, and ALL A Main racers get a trophy. Top 3 and TQ for the A get the sweet acrylic ones.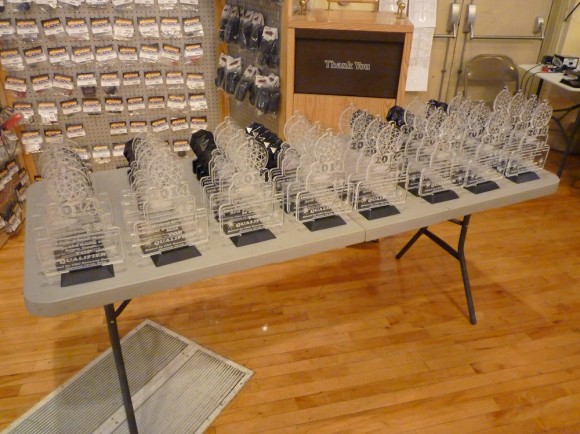 CRC also did A Main window stickers for the lineup.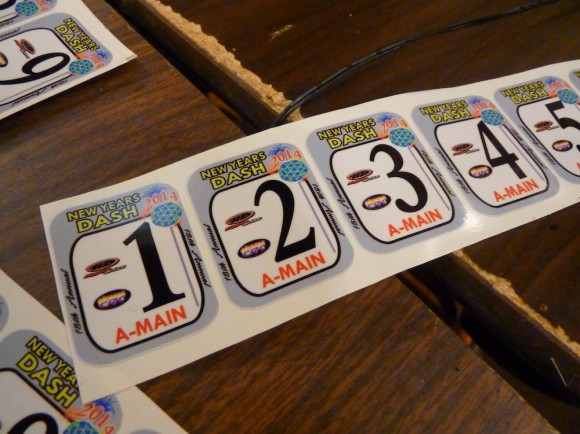 Finally, you guys probably want to see some results!
Here is a PDF of the results as a whole. Or you can find them below in JPG format.
Overall it was a great (albeit exhausting) weekend of carpet oval racing. Some of the fastest oval guys in the nation made it out to central NY for the New Years Dash and made it one hell of an event. I'm not sure how this event could get any better.. 300 entries, fierce competition, even fiercer tech policies, food on site, and top to it off.. we don't have to travel far! This event is basically in our back yard! Can't ask for much more than that ladies and gentleman. Looking forward to next year.
We have over 20 videos from the event. I thought it'd be a bit excessive to embed them all here.. but please find them on our YouTube channel.