This is the Deluxe Tool Stand from Duratrax. It is one of a bunch of new stands that Duratrax offers to help r/c car maintenance routines. They now offer a few different car stands, a shock stand, and this tool stand. All of them are priced competitively and are between $10-20.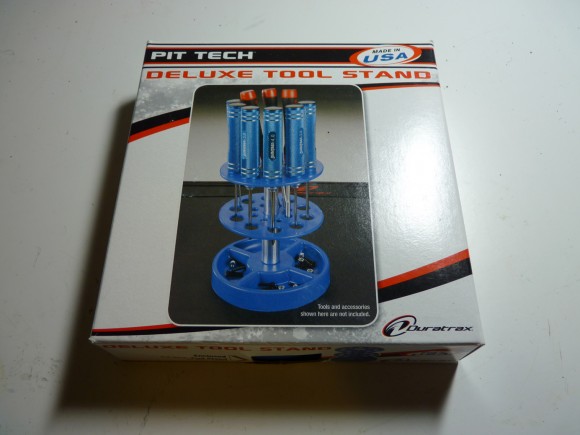 The tool stand comes packaged in a small box. It's very compact and you can store the stand back in the box when not in use.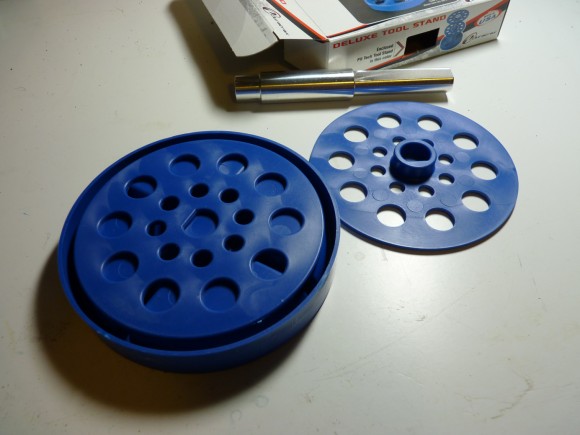 The Deluxe Tool Stand consists of 4 parts. You have the base, lower tray, upper tray, and post.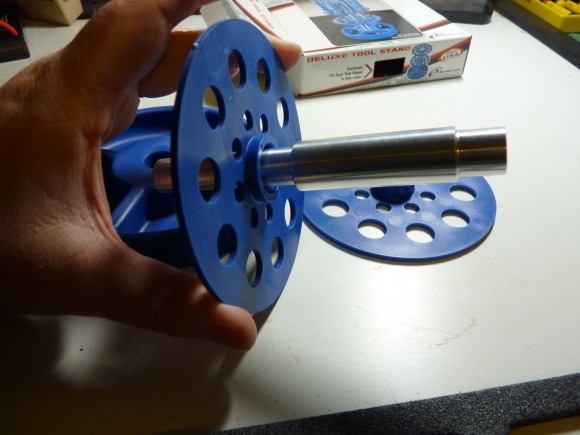 To assemble the stand first we have to insert the lower tray over the post.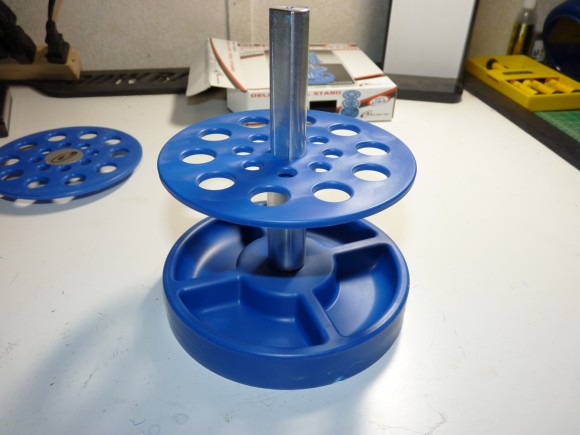 Then insert the post into the base.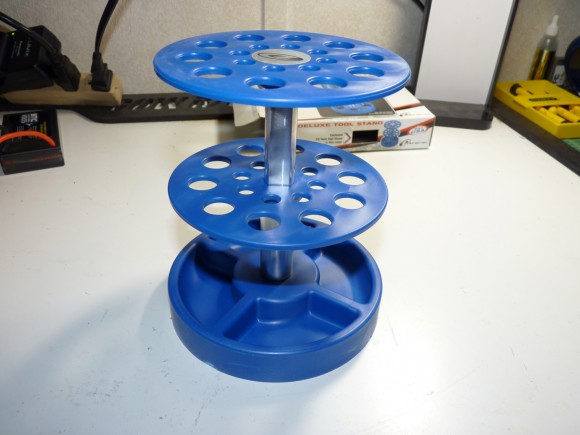 Finally you can install the upper tray. Voila! Completed tool stand.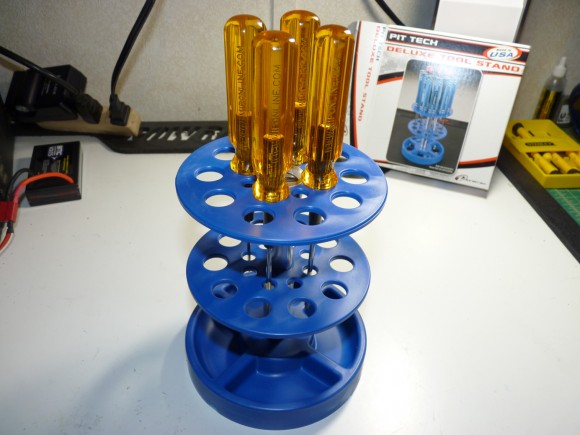 Now simply fill with your tools of choice and enjoy having all your wrenches in drivers in the same spot.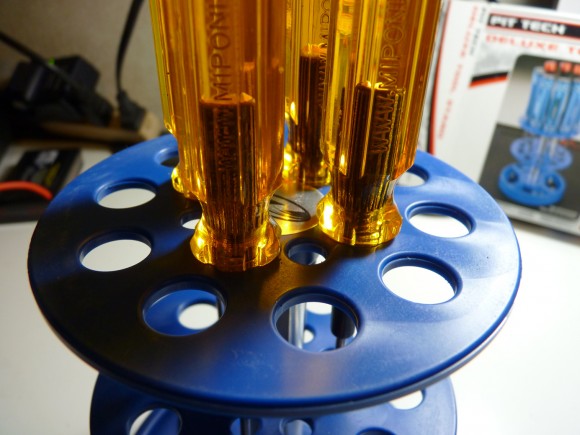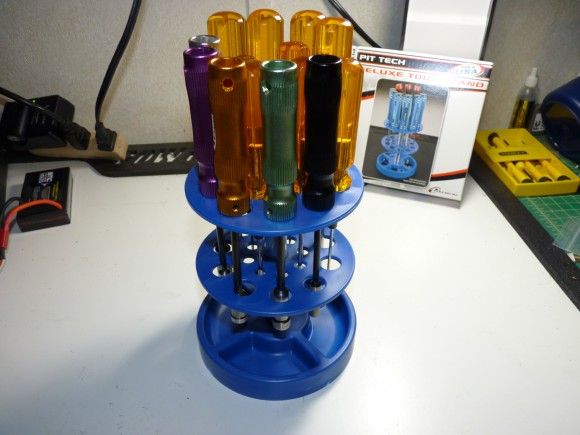 This is actually pretty handy.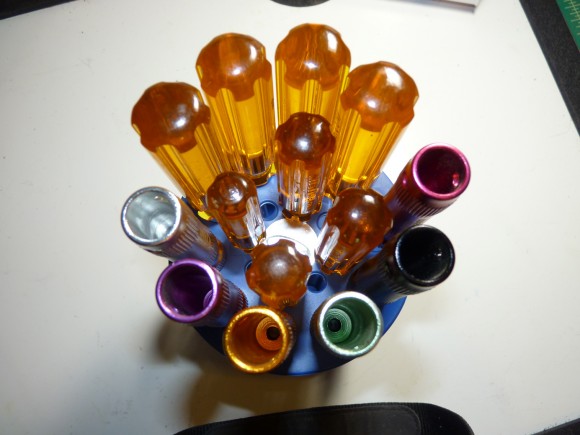 The  amount of tools it holds will vary depending on the brand of tools that you use. With the MIP/Thorp hex drivers, some handles are wider than others. The widest ones fit best on the outside ring of holes, while the smaller ones fit better on the inside ones. Placement might not matter as much with drivers that have smaller handles.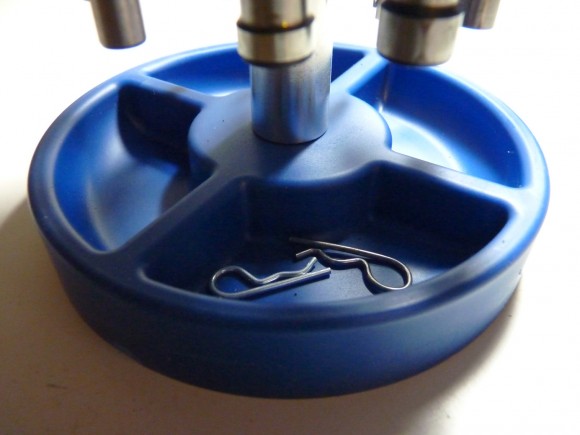 The lower portion of the stand has 4 small sections doe misc bits. For example, body clips would be nice to store in here so they don't get lost on your pit table.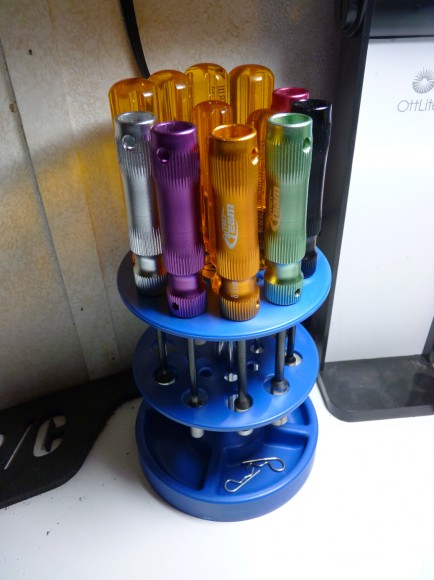 It's hard to review such a simple item..
Is it revolutionary? Well, no..
Is it helpful? Worth the $10? I'd say so. I had my doubts as to the amount of use I would give this stand when I picked it up. To be honest though it's pretty darn handy.
I have a rolling tote bag with a tool organizer in the upper section of the bag. I figured this was all the tool organization I'd ever want. Well, after using this tool stand, I find myself removing the tools from my bag's organizer and assembling this stand and putting tools into it when I'm setting up for a day at the track. It's just easier to reach over the table to grab that hex or nut driver in the stand than it is to keep opening and closing the top of my pit bag.
The stand features eighteen holes for screw drivers and other tools, which is adequate for most kits to have every tool you need.
Pros
Reduces table clutter by organizing tools in one compact area
18 holes for tools is plenty of space for almost everything
Disassembles and can be stored flat in box in seconds
Dirt cheap (~$10)
Cons
Overall, I'm impressed with the tool stand. It's come in handy more than I thought and my area is usually more tidy when using the stand than not. For the price it's hard to find a reason not to pick one up.
Learn more at the Duratrax website.
Stock Numbers:
DTXC2389 – Black
DTXC2390 – Blue