PRODUCT DESCRIPTION:
Adding to our buffet of supported vehicles MIP introduces MIP Pucks™, Shiny Drive System for the X-Factory X-6³. These new Shiny kits from MIP provide all the speed, acceleration, and replaceable Pucks™ (Keeping your drive train running like new) made to handle the abuse of the Modified racer. If you're not using MIP Pucks™ you're losing to the person that is. MIP Pucks™  Shiny Drive system provides smoother acceleration, better handling out of turns, with the same weight your stock drives provide. This helps the driver maintain more control of the vehicle, MIP Shiny Drive Pucks™ System are for the racers who use 13.5 or higher motors for their vehicle. Choose smart! Choose MIP!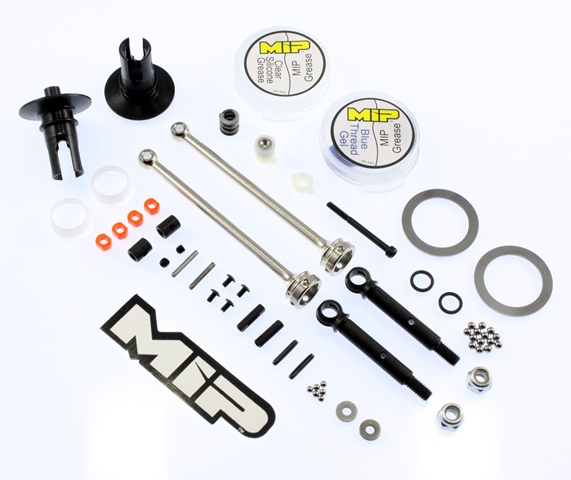 TARGET CUSTOMERS:
Serious racers looking for a competitive advantage on the track
Racers with 13.5 or higher motors
COMPETITIVE ADVANTAGES:
Quicker acceleration
Less overall wear on drive components
FEATURES:
Replaceable Pucks to keep drivetrain fresh
Race Prove C-CVD™ Construction
Two sets of holes in the C-CVD™ bell
100% Quality made in the USA!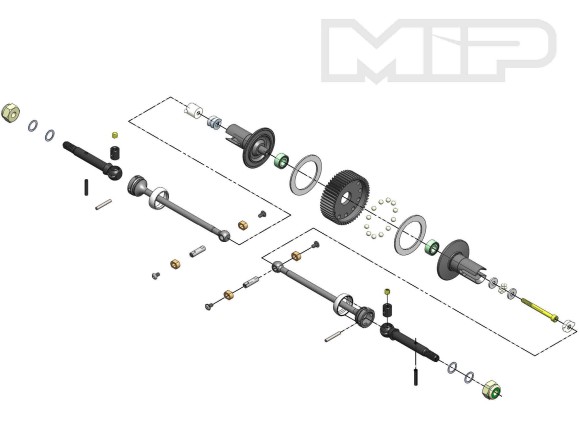 INCLUDES:
MIP Confetti Sticker (2), MIP Thread Gel Safety Sheet (1), MIP Instruction sheet (1), 3/32" Chrome Steel Ball Bearings (12), Assoc. Diff. Ring (2), 1/16" Chrome Steel Ball (7), #2 Hardened Washer (1), MIP Thrust Retainer (1) Diff Lube & Grease Cup (1), 52T Diff Gear (1), ¼" x 9/32" Diff Spring (1), 5-32 x 5/16 x .125 Bearings (2), 2-56 x .925" Diff Shoulder Screw (1), Molded T-Nut (1), Diff Thrust Cover (1), MIP Pucks™ Male Outdrive X-Factory (1), MIP Pucks™ Female Outdrive X-Factory (1), SHSS 4-40 x 3/32" Cup Point (2), 8/32 Steel Locknut (1), 1/16" x .430" Solid Pin (2), 1/16"x.430" Roll Ping (2), 3/16"x.010" Steel (4), BHCS 1-72 x 1/8" Button head (6), MIP 3/16" CVD™ Coupling (2), MIP CVD Axle (2), MIP Lube & Thread Gel Cup (1), MIP Retaining Ring (2), MIP CVD™ Pucks™ Pin (2), MIP Outdrive Pucks™ (8), MIP Pucks™ Shiny Bone X-Factory X-6³ (2),
REQUIRES:
.050 inch Allen Key – (Suggest #9000 MIP Hex Driver Wrench .050 inch)
5/64 inch Allen Key – (Suggest #9002 MIP Hex Driver Wrench 5/64 inch)
COMPATIBILITY:
X-Factory X-6³
SUPPORT PRODUCTS:
#9134 MIP Ball Diff Gear 52T, Associated SC10, T4, B4 (1) MSRP: $3.50
#10112 HW-BEARING, 5/32in x 5/16in x 1/8in Ball Bearing (2) MSRP: $10.00
#10144 MIP CVD™/C-CVD™ 3/16 Rebuild Kit w/ Set Screws MSRP: $6.00
#11115 MIP Capture Rings (4) for all 1/10 MIP CVD™ MSRP: $6.00
#13131 MIP Pucks™, Orange No.1 Pucks (8) MSRP: $6.00
#13132 MIP Pucks™, No.1 Pins & Screws (2) MSRP: $8.00
#14121 MIP Pucks™, Male Outdrive, X-Factory X-6³ MSRP: $12.00
#14122 MIP Pucks™, Female Outdrive,  X-Factory X-6³ MSRP: $12.00
#14123 MIP Pucks™, Shiny C-CVD Bones, X-Factory X-6³ (2) MSRP: $20.00
#14124 MIP Pucks™, Diff Rebuild Kit, X-Factory MSRP: $12.00
#99002 HW-Bearing, 1/16 Ch Steel Ball (8) MSRP: $3.50
#99007 HW-Nut, 8-32 Steel Locknut (4) MSRP: $3.00
#99015 HW-Pin, 1/16 x 3/8 Roll Pin (8) MSRP: $3.00
#99016 HW-Pin, 1/16 x .430 Solid Pin (4) MSRP: $3.00
#99026 HW-SHCS, 2-56 x .92 Diff Screw (2) MSRP: $3.00
#99028 HW-SHSS, 4-40 x 3/32 Cup Point (4) MSRP: $3.00
#99038 HW-Washer, .190 x .010 Steel (10) MSRP: $2.50
#99064 HW-BHCS, 1-72 x 1/8 (6) MSRP: $3.50
#14120 MIP Pucks™, Shiny Drive System, X-Factory X-6³
MSRP: $100.00