In today's race world the race participants dictate the quality of the race surface. The trend has moved to the farthest extreme of asphalt racing in off-road racing here in the U.S. Most, if not all manufacturers have dedicated chassis to compete head to head in these conditions. This is the latest and greatest in 2wd Mid motor 1/10 scale SCT racing.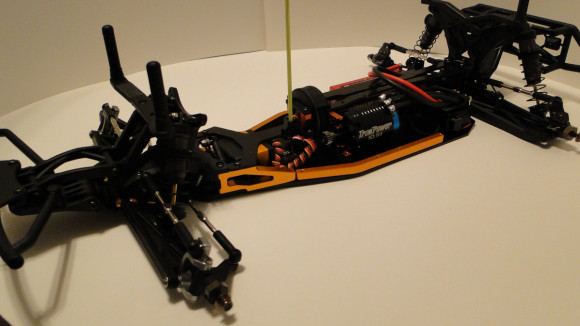 Team C is no stranger in 1/10 scale racing. Drivers such as Hupo Hönigl are using their platforms successfully. There are a lot of hidden qualities in this truck and I am going to try and point them out.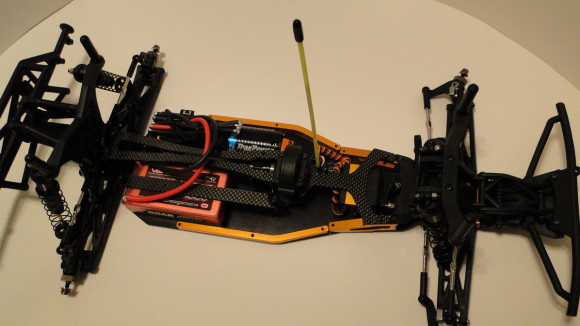 Let's start with the obvious, mid motor. This is a central placed motor mount, on a aluminum chassis and aluminum side pods. Woah.. Carbon upper chassis braces from front to rear joined by the center bulkhead. A center slipper couples the rear gear diff to the ground.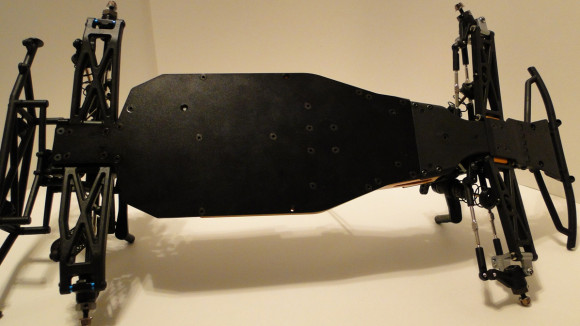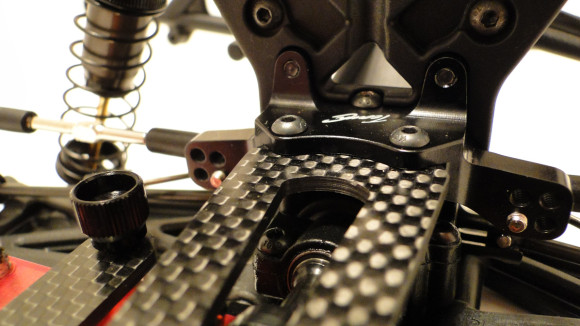 Next the rear suspension and transmission. The gear diff is a sealed housing, so holding fluid isn't a problem here. The rear end is very similar to the TM4 4wd buggy, or the Ts4FT 4wd SCT, so parts may look the same. I have built the truck with a few option parts along the way for bling, and purpose. Notice I put bling first. Alloy RF and RR blocks, alloy 1 degree rear hubs w carbon ears. Amazing hard anodized big bore shocks on all four corners with nitiride shock shafts are ultra smooth. No complaints here. 12mm aluminum lock down hexes, finish it off.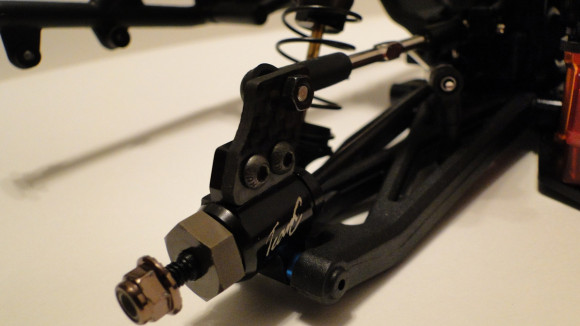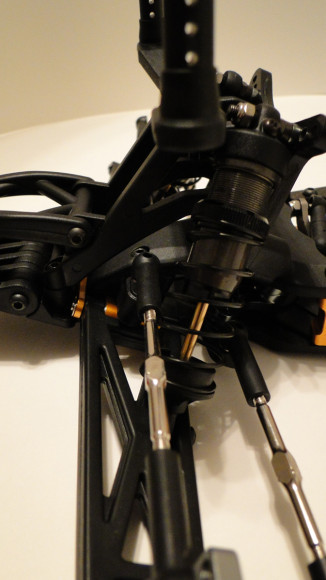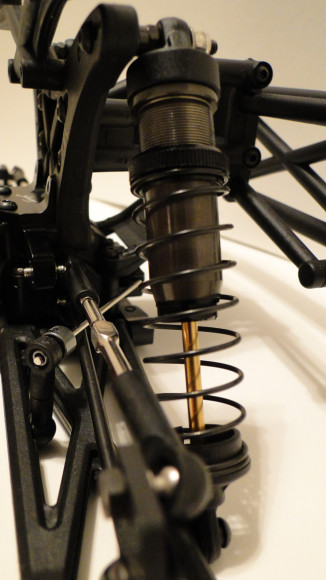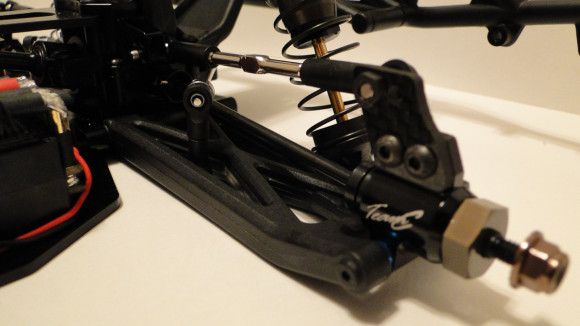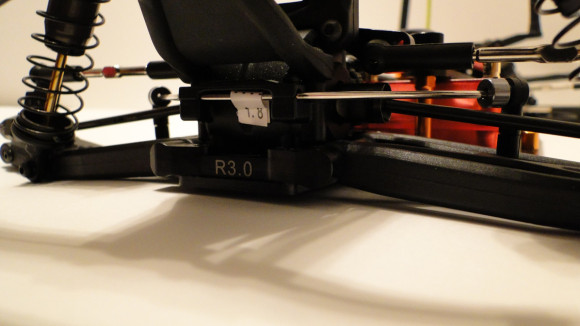 Onto the front end. Simple yet effective geometry here folks, tried and true. The steering assembly is compact, ball raced, and I also upgraded to aluminum steering arms, and alloy 30 degree castor blocks. Carbon front shock tower for added durability. 12mm hexes, on the front axle also.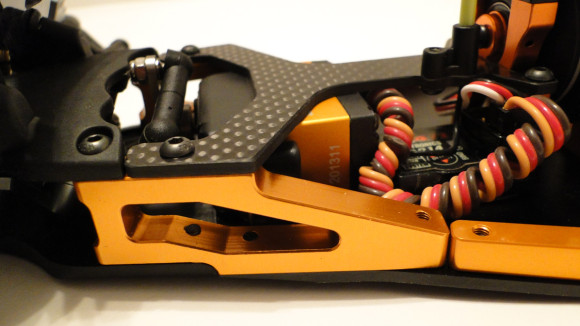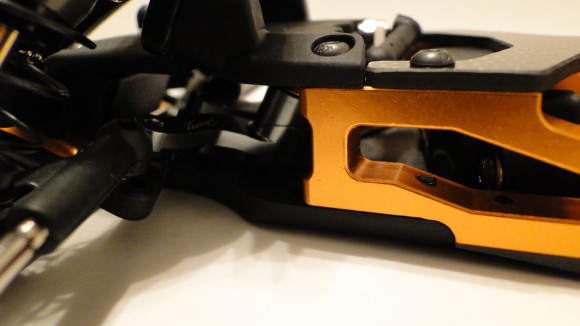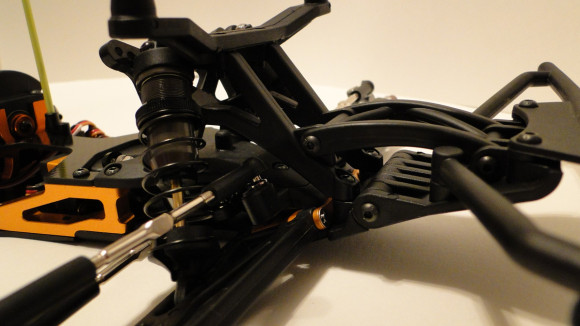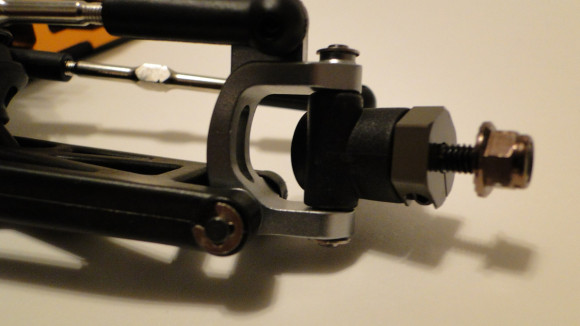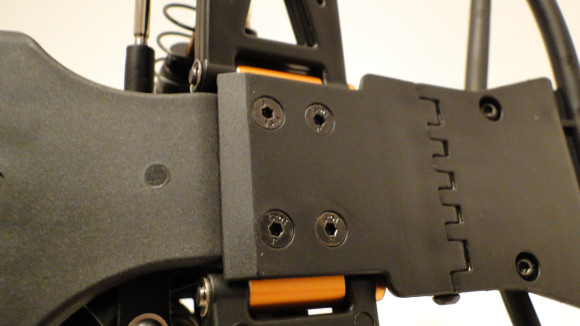 Some of the largest body posts known to modern man on this rig. You won't be breaking these bad boys.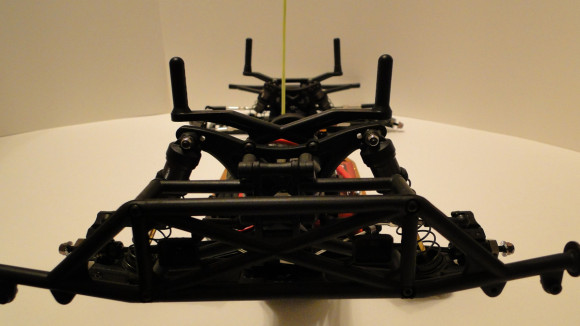 Standard offset wheels fit this truck, so chances are you already have some race wheel packages in your bags of tricks.
Electronics package supplied by TrakPower using their MS-1 ESC, and 10.5 Brushless motor to scoot this bad boy to the lead. My package was late, so I missed the lipo, so I substituted in a Venom 4500 100c "Shorty" lipo. As for the steering I am using a Savox 1274, it is ultra fast, and can handle a 2wd SCT with ease. Controlling this beast is my trust Airtronics M12 w RX-471. Nothing less..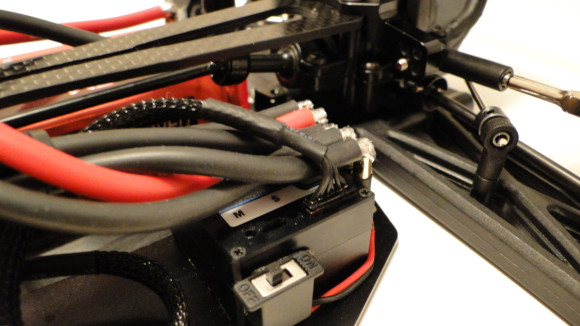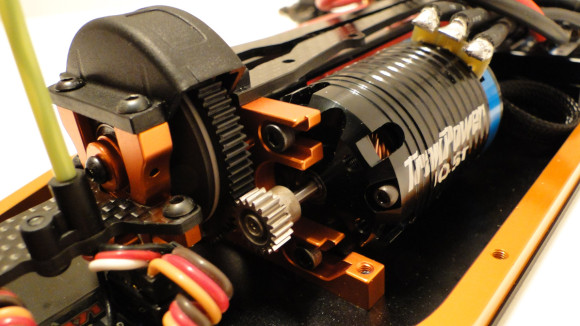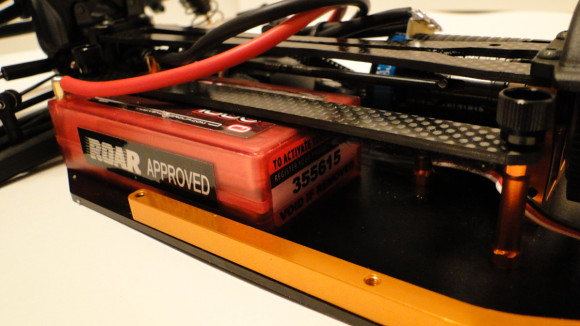 Track performance coming next… Stay tuned.