The Hustle wheel gives Trail | Scale drivers an optional wheel with glamour appearance.
Style is important when it comes to outfitting a trailing or scaling rig and one of the quickest ways to upgrade the styling is with the addition of the JConcepts Hustle wheel. The Hustle wheel takes into account the durability needs but the styling of the design itself, sets this wheel off. A 6-spoke design rotates about the center of the wheel with a deep recess in the center which allows plenty of footing for wheel locknuts.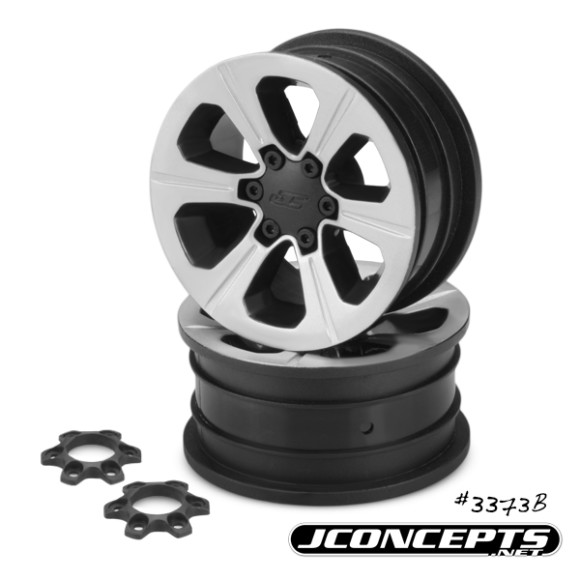 Each pair of wheels includes a solid and open center cap which brings even more detail to the wheel. Depending on the desired look or axle length of the vehicle, drivers can choose whichever is best for their individual needs. The caps are attached with the included six, 2x6mm socket head cap screws. In-between the 6 spoke design rests small grooves which break up the pattern adding a split personality to the overall design. The entire face of the wheel has been plated with a silver coating which gives scaler's a little more luxurious look to match-up to the variety of 1:1 inspired bodies on the market such as the JConcepts Ford Atlas #0286. The molded black color of the wheel shows through in the extra depth of the spokes which was specifically designed into the wheel.
Wheel profile, interior and exterior ribbing and spoke design were all areas of focus while creating the combination of durability, clearance, functionality and appearance. Molded in black with a face plating, being unique is worry free as practically any paint scheme can be matched to these exciting new wheels. The hassle-free and lightweight 1-piece design creates the ultimate work and play wheel for any competition.
Note – wheels feature a silver face plating or paint for appearance, this which will scratch or rub away after destructive use, crashes or direct hits.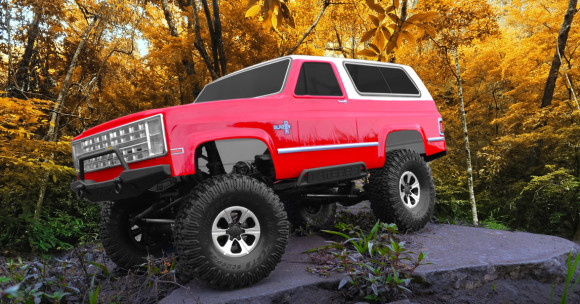 Features:
1:1 inspired JConcepts Hustle 12mm hex design
Direct bolt-on fit for 1.9" trail | scale rigs
Solid and open center caps included
Durable design, finish and material
Available in Black with silver face plating
Hassle free and lightweight 1-piece design
Glamour appearance
Hustle – 1.9″ Vaterra Ascender 12mm glue-on wheel – (black w/ silver face plating) – 2pc.
Part # – 3373B
UPC Code – 845937013415
Retail price – $11.00
(Fits – 1.9" tire and trail |scale rigs)