Right in time for Christmas, Revell Radio Control has released a new line of cars!
Priced right under $80 US, it makes it a perfect beginner basher!
Getting into the rough and harsh terrain has never been as easy as this! With the Modzilla being Preassembled, tough as nails, and just an all out blast to drive, this could be what youve been waiting for to get that friend into RC!
With everything you need in this small box to start running, youll go from box, to a smile on your face within minutes!
Lets take a look to see what you get in the Box!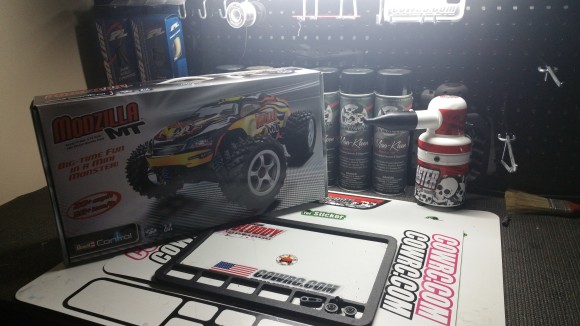 With the box displaying their yellow color scheme, We decided to get ours in the White Color scheme to show off the differences!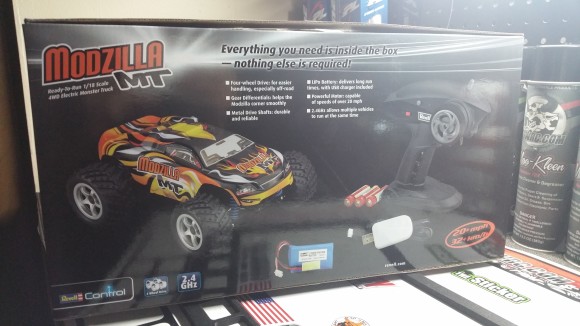 With everything you need to run it is pictured on the box!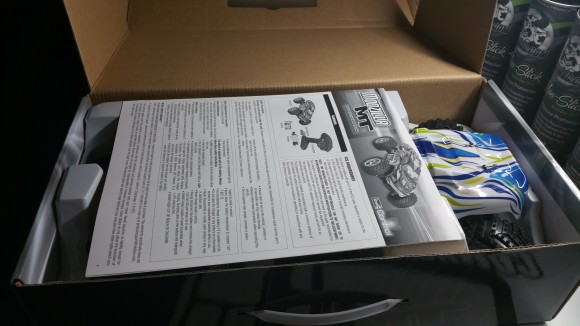 Opening this beast up! You will first see 2 sheets, both are detailed and easy to read for even someone whos never seen an rc before.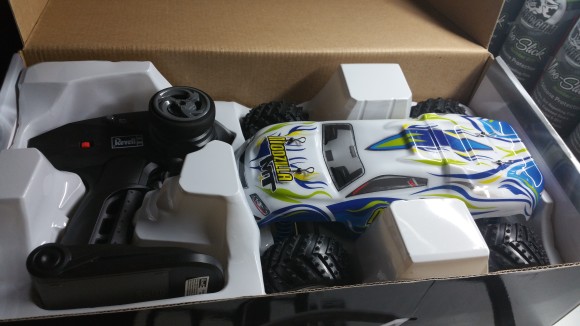 Thats right, Radio included!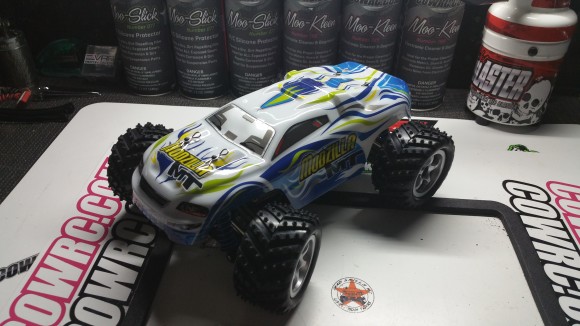 Plopping it out of the box we get this pretty little Basher!
First thing you will notice is that the aggressive tread pattern on the tires, used to plow through grass, or almost any terrain you put it through.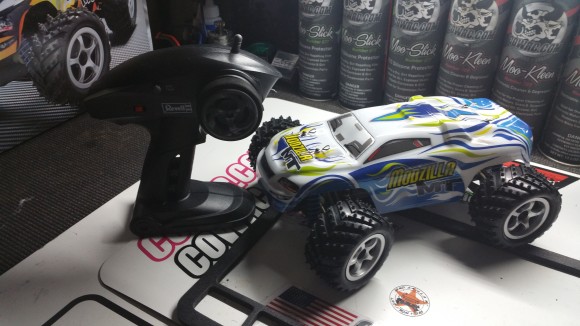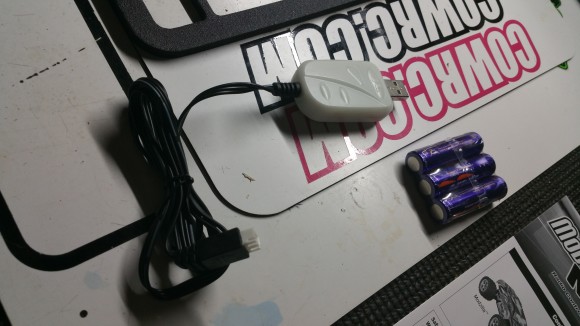 The included charger is a full sized USB Charger that is said to take anywhere from 2-3 hours to charge the included 850MaH 2 cell Lipo pack!
Yes, you read that correctly, Lipo pack!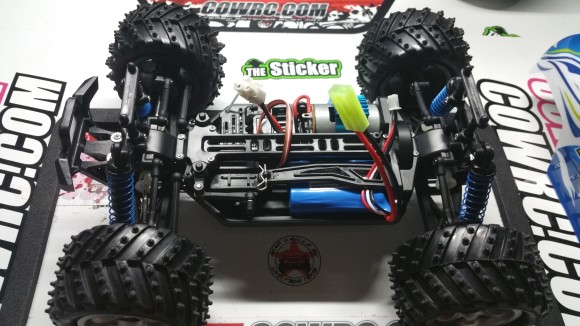 With a typical 4wd monster truck layout, You have the battery and the servo to the Drivers side, and the Motor / esc  to the Passenger side.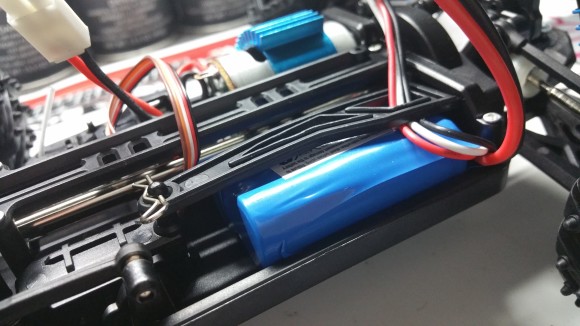 850 MaH 2 cell 7.4 volt lipo
Revell calls for around 10 minutes of bashing on a single charge. I was expecting less, so i would go out and push this thing to the limit for about 20 minutes before the car would pull off for LVC. ( low voltage cutoff)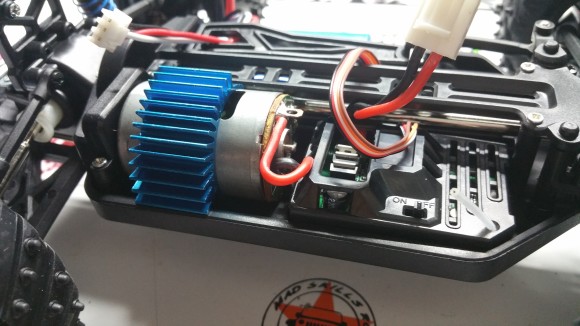 Brushed motor with a heat sink , ESC with a built in receiver.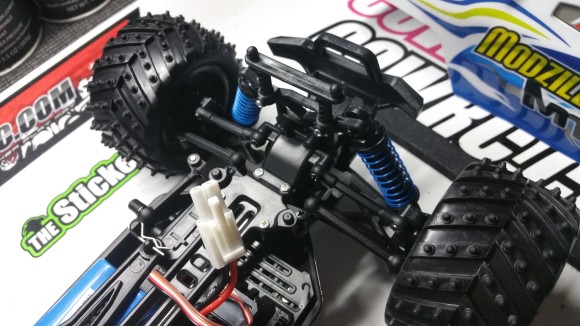 Plastic turnbuckles, yet they are very sturdy, flexible, and strong! You dont have to worry about breaking these!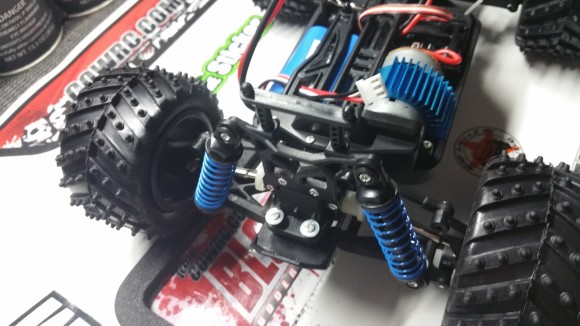 Shocks are a fork type, not much adjustment when it comes to the shocks themselves, however you do have adjustablity on the arms, and shock towers.
2 adjustments on the arms, 3 adjustments on the Shock tower.
If you're new to RC, and Bashing RC's in general, you wont have to worry about those, just make sure front and rear's are in the same position on each side.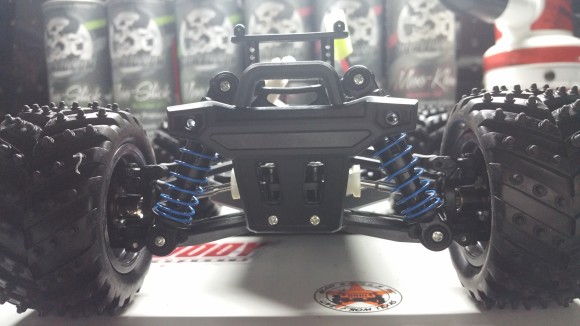 Cool thing about this, is there is actually a good amount of ground clearance , you have about 1.75 inches all around!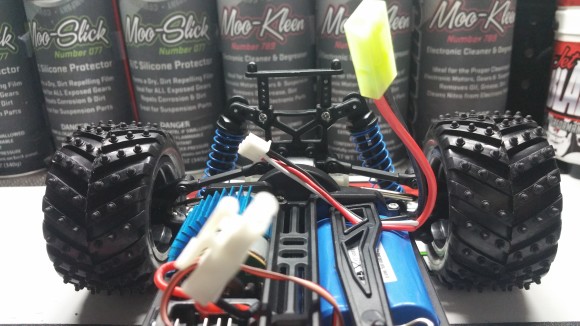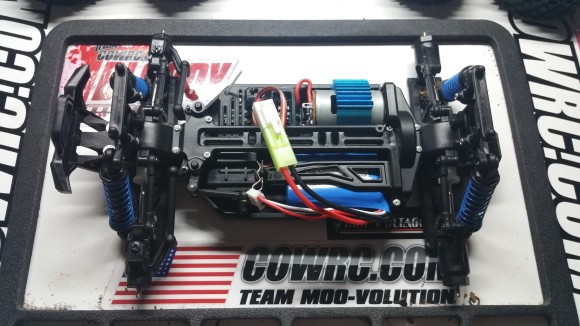 To take off the Wheels, use the included 5mm wheel wrench .
You will come to find there are 12mm hexes, standard on most 2 and 4 wheel buggies, so finding tires wont be hard. However the stock tires are slightly smaller than a normal 2.2 buggy wheel/tire.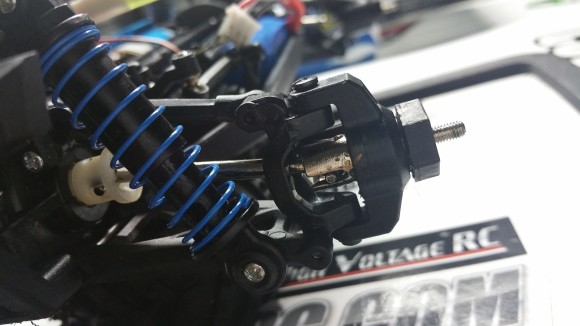 Steel out-drives, and Dog-bones are a huge plus! Dont have to worry about them at all!
Standard C-hub / knuckle setup on the front end.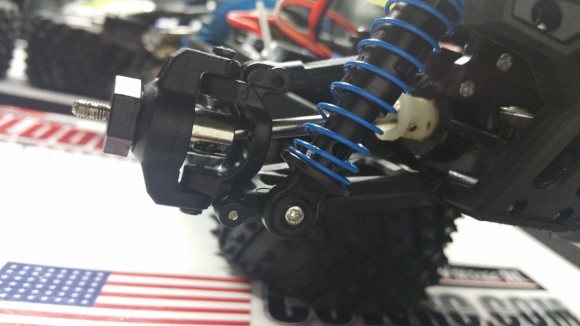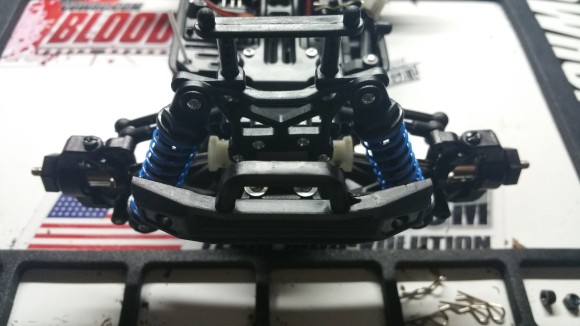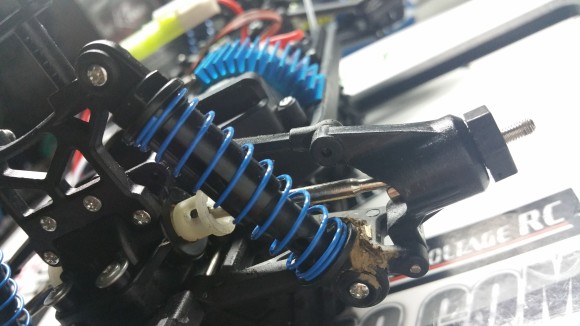 Solid 1 piece rear hub, along with those same Steel out-drives and dog-bones!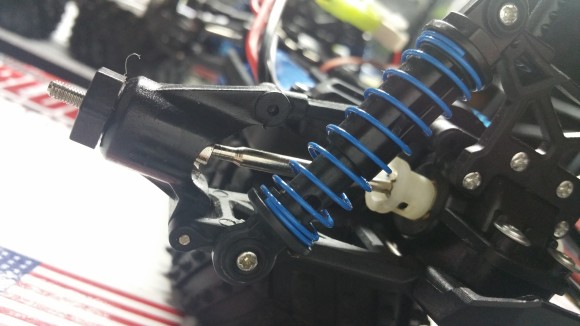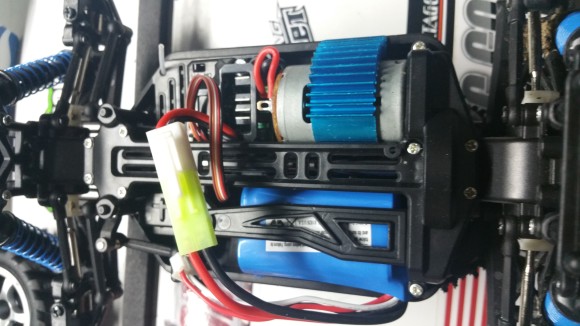 One thing that i do recommend is that you replace the stock battery connectors with Deans, or maybe a different type of connector, however only do this if you know what you are doing, if not, take it to your local hobby shop, and see if they can do it for you!
Overall,
This is a very good basher for the money! Fun to play with inside, not too fast for indoors. Great to play with outdoors as it will cut through grass really easily, and even go and play on rocks at a construction zone.
One thing that i did notice about the car, is that we got it and played with it on a rainy day. Revell does not say anything about this truck being waterproof, splash resistant, or anything of the sort, but we did not notice anything wrong with it going through water puddles, wet grass and some mud.
* Note * 
RC SOUP is not Responsible for any damages that may happen to your vehicle if it gets damaged during water running. **