RC Drifting, a side of RC that isn't seen as much as the racing, bashing, or crawling sides.
While RC Drifting is not new, there are many companies that build cars specifically for drifting and nothing else.
MST Is one of those Companies, A Taiwan based company, with support from many online hobby shops in the US, one of which being Black Star Hobbies.
First and Foremost, id like to give a HUGE Shoutout to Jonathan BlackStar @ Blackstar Hobbies. He took the time out of his day to personally talk with me on the phone and help me figure out exactly what i wanted to get Into the RC Drifting Scene.
Check them out @ BlackStarhobbies.com
After speaking with Jonathan, I decided that RWD Is probably the way i wanted to go, with MST being a brand i had heard of, and know of friends who loved their chassis'. I felt that the decision was made easily.
So begins  the FXX-D S IFS ( independent front suspension )
This is the Sport version of MST's VIP Kit, where the VIP Kit is mostly aluminium and Carbon fiber, This kit is mostly plastic.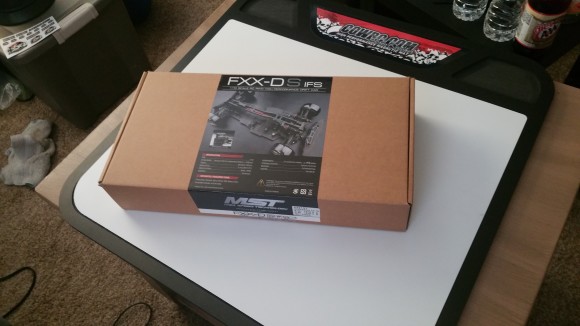 I received my package, along with another package from CowRC.
The CowRC Workstation would be put to its tests right after i opened the box!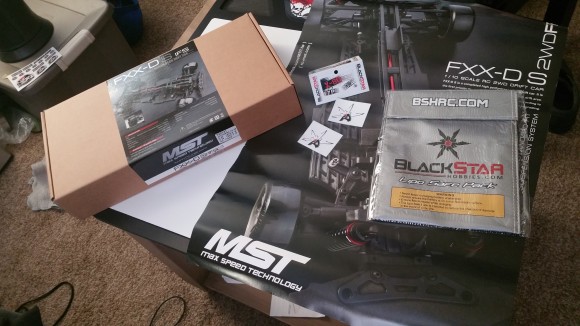 Along with the Kit, I received some BSHRC Stickers, along with a Lipo Safe pack, and a MST Poster!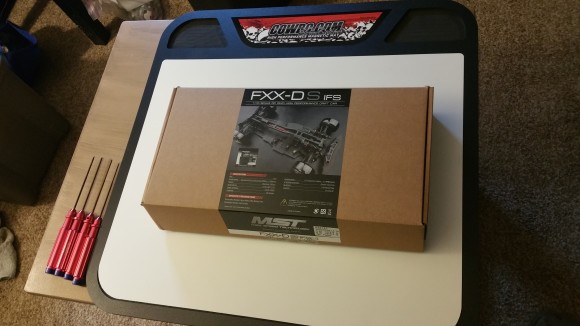 Time to start the build!!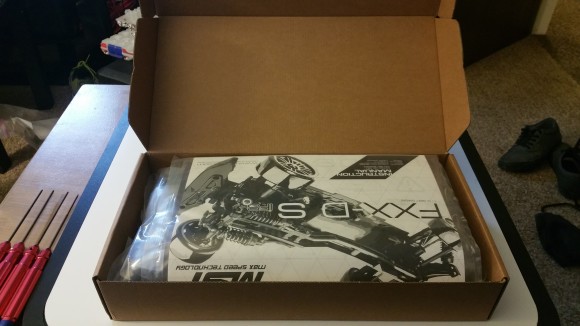 Opening up the Pretty box!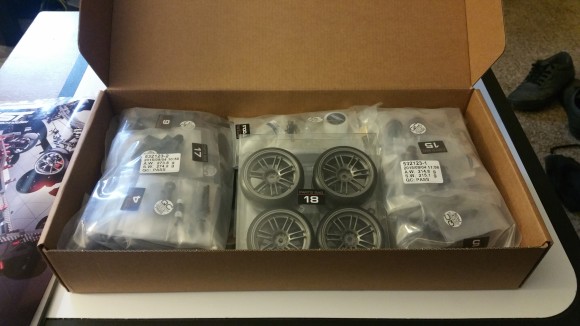 Very nicely packed and labeled!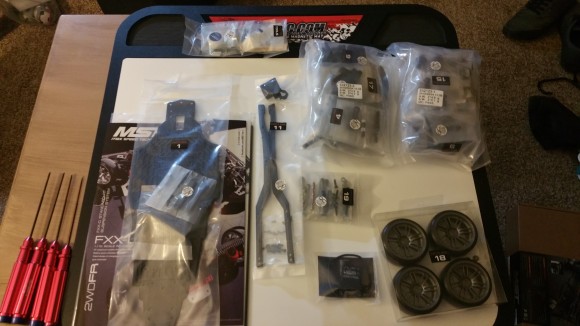 All laid out, and ready to build!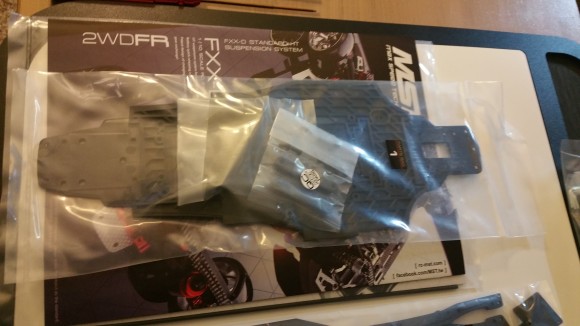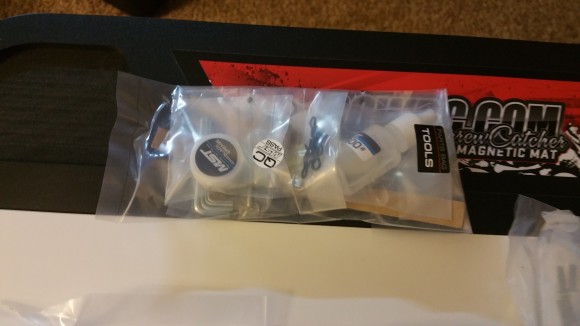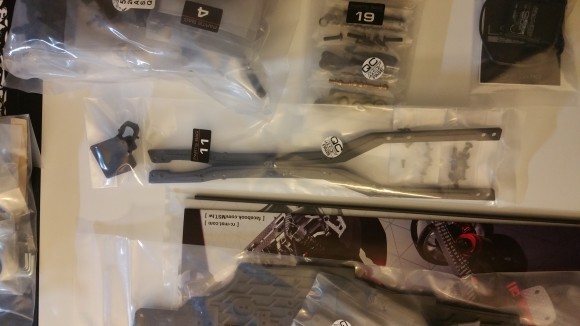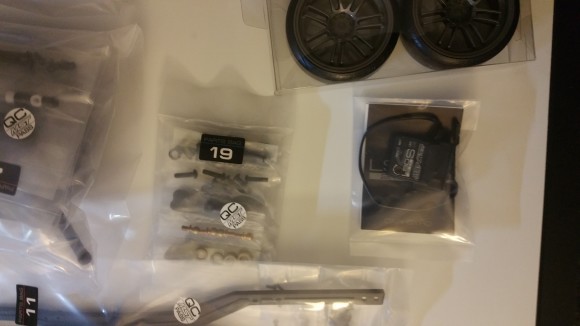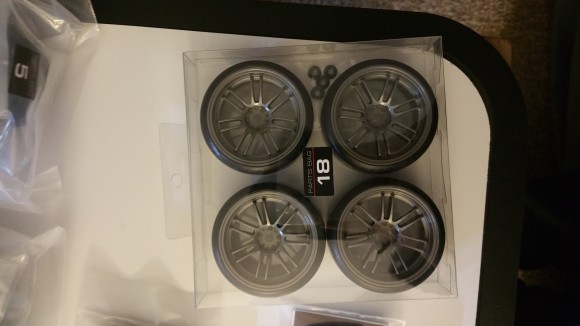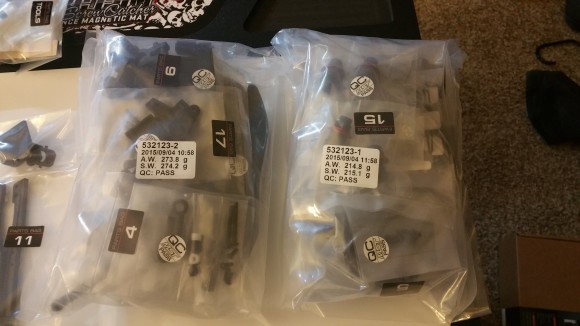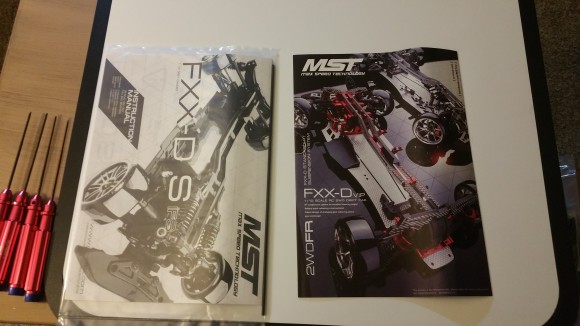 The manual, and a VIP Flier.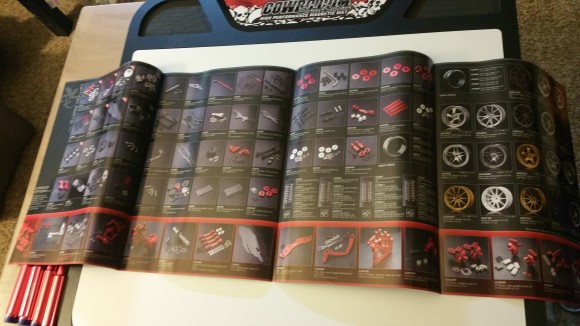 The flier lists and displays parts that can get your FXX D S IFS up to VIP Status.
Unlike most other companies, i noticed that i added up a majority of the parts that make up the VIP Kit, it is right around the same price as the kit, to upgrade the Sport edition, So you can upgrade slowly without having to worry about spending way more than the VIP kit is.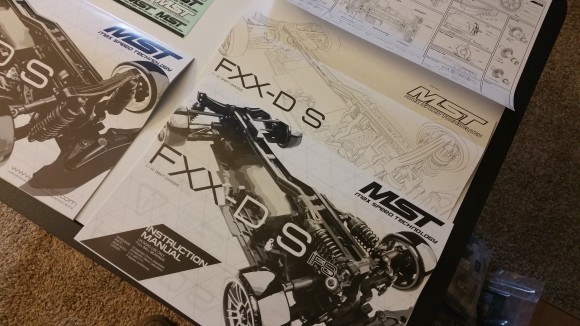 The Manual!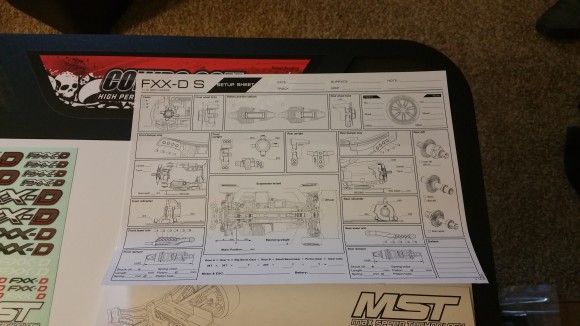 The Setup sheet that it comes with shows all the configurations and changes that can be made, however it is blank for you to list your base setup!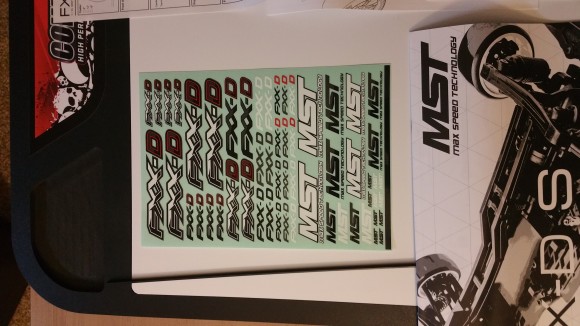 As with most kits, Sticker sheet is included! along with an antenna…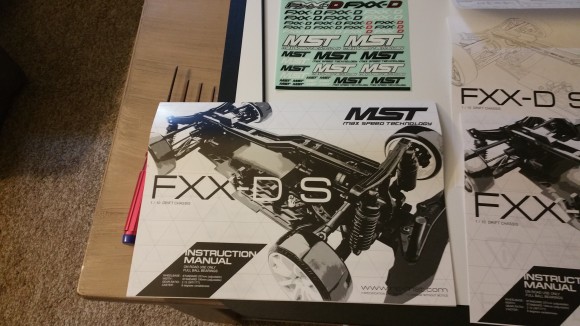 The FXX D S Manual, This is the base manual that we will be looking at, being the only difference is that the IFS manual has the steps that include the front end, and nothing else.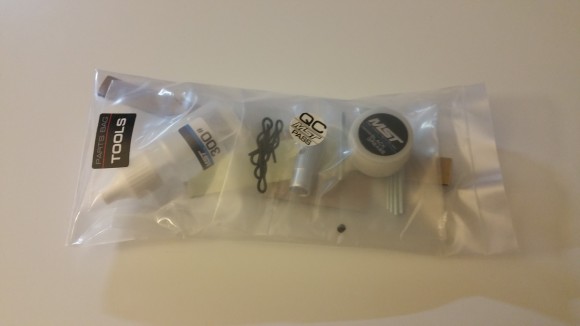 Little tool bag that has the Shock oil, Body clips, some allen wrenches, and black grease.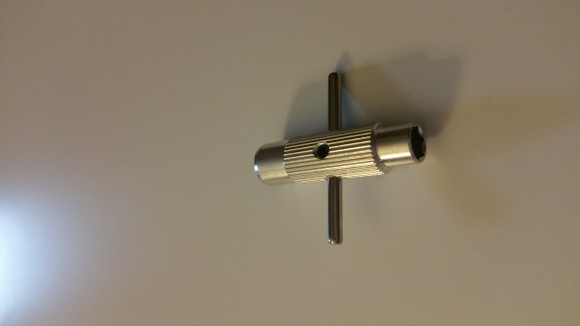 One cool little tool they include is this Wrench, uses a stainless steel bar, secured with a setscrew in the middle that allows the use of either a 7mm, or 5mm nut wrench.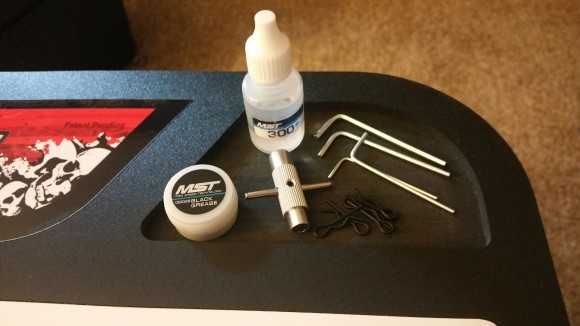 All secured in the CowRC Workstation's Pocket!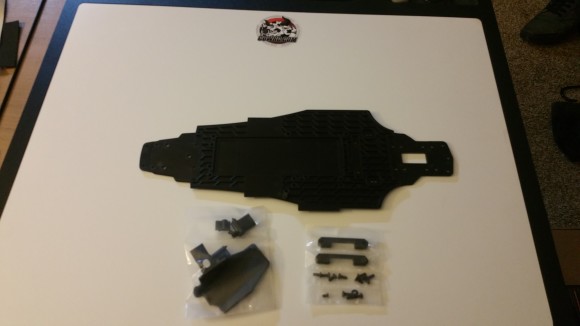 Starting off we look at the Chassis, mount the ESC Tray and 2 of the Arm mounts!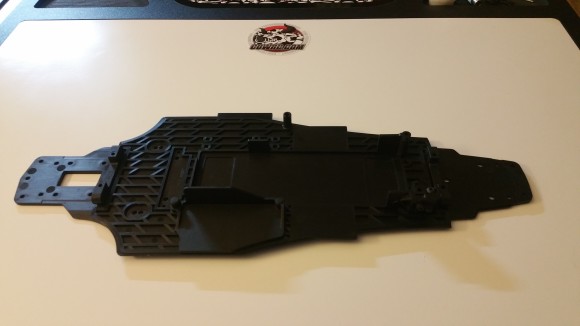 ESC Tray, Arm mounts Mounted!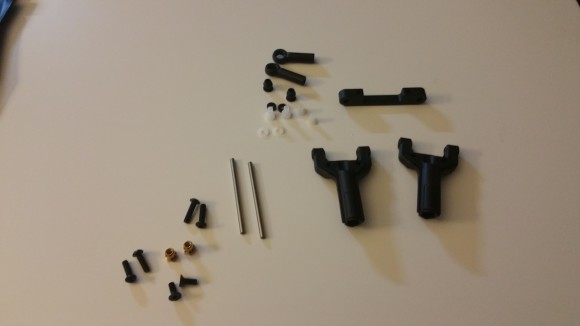 Lower front arm Setup!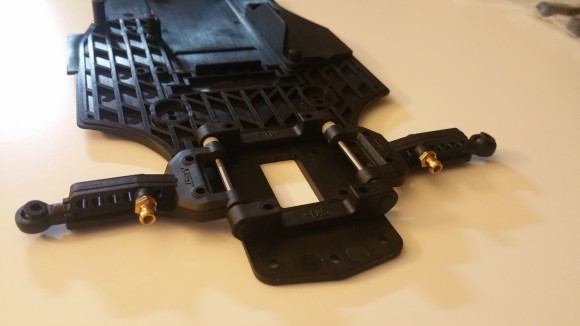 Installed!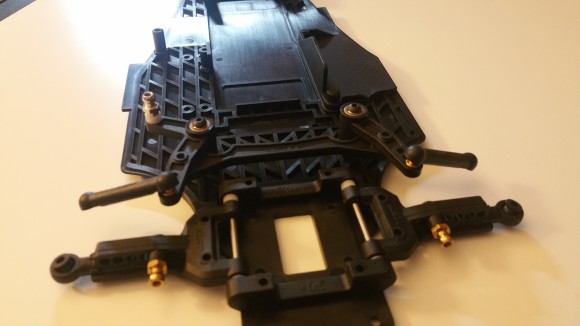 Steering Rack and turnbuckles installed!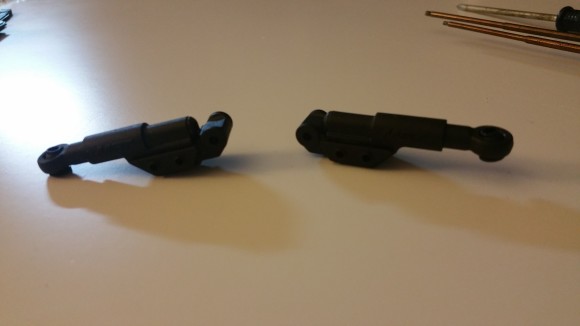 Front upper arms!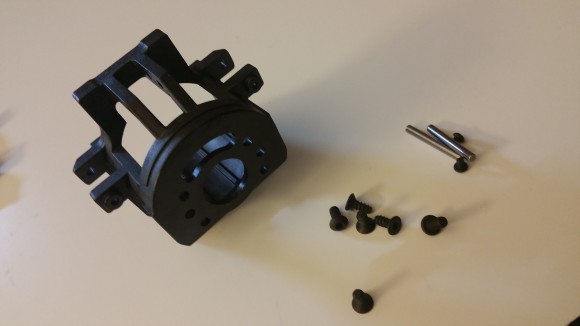 The motor Mount! This piece of plastic is very unique, while very light, it is brittle, feels like aluminum, some very cool plastic combination with something!
First downside to this kit, the mounting screws for this motor mount are Course, self tapping screws.
Easy fix : Replace with 6mm flat head m3 screws.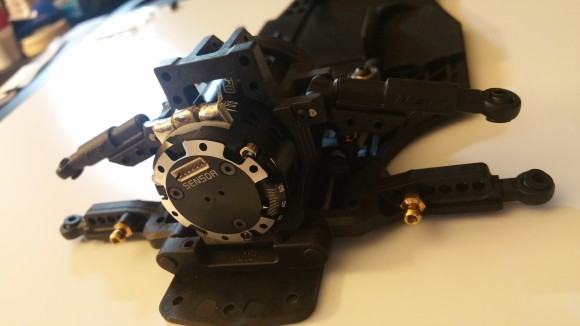 Temporary motor placed in so i can set gear mesh while building!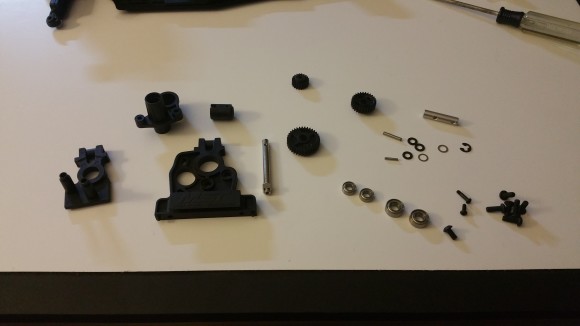 We now go onto the Reducer gear set, very unique gear meshing system, that you really want to get right the first time, its not very fun changing.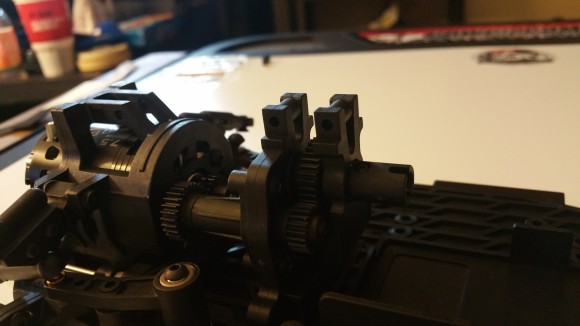 Mesh set! and mounted!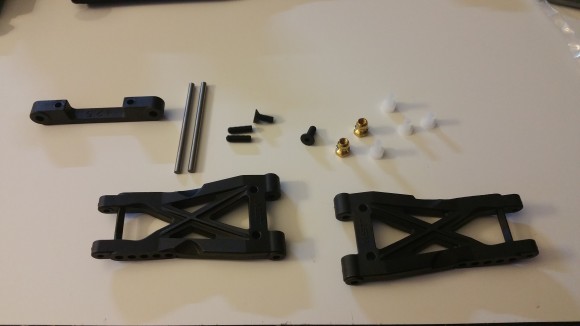 Rear arms!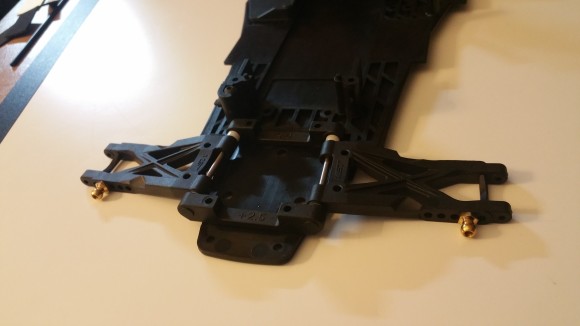 Rear arms mounted!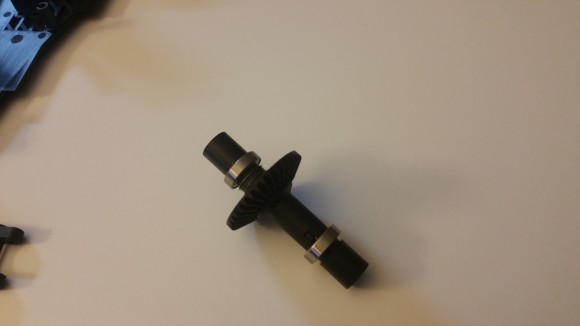 Rear solid diff!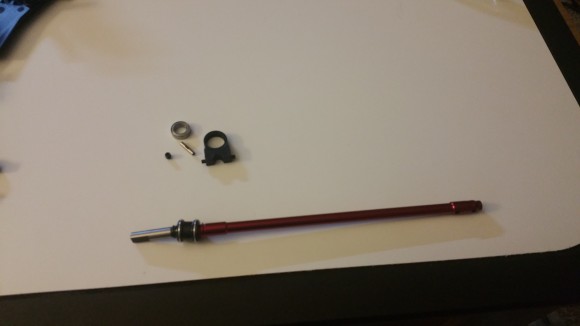 The double jointed Drive shaft!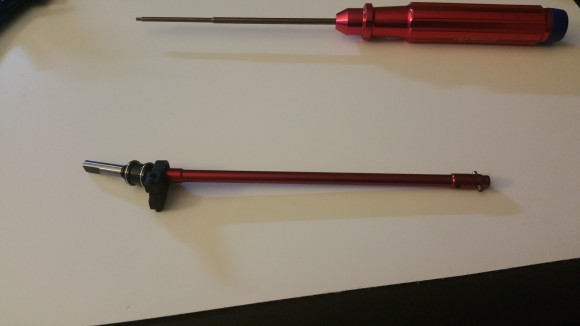 Bearing ride mounted on the drive shaft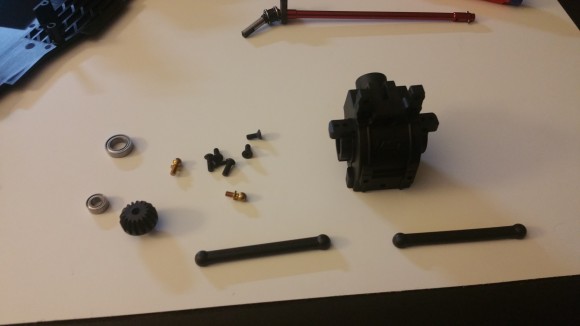 Rear Transmission case!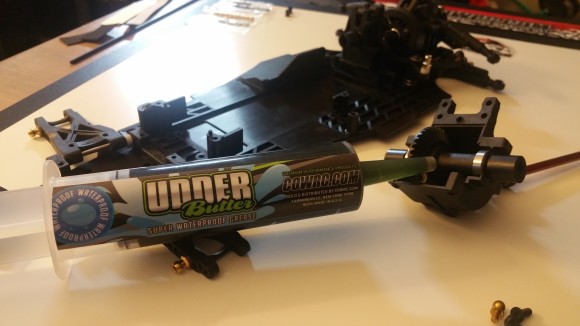 On every diff, you should ALWAYS use some sort of lube to keep the gears from prematurely  wearing, Here at RC Soup, we Choose Udder Butter!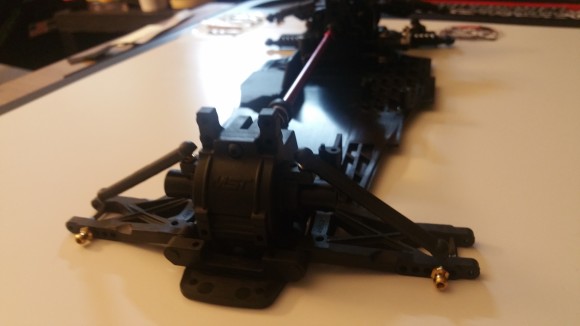 Rear diff case, installed!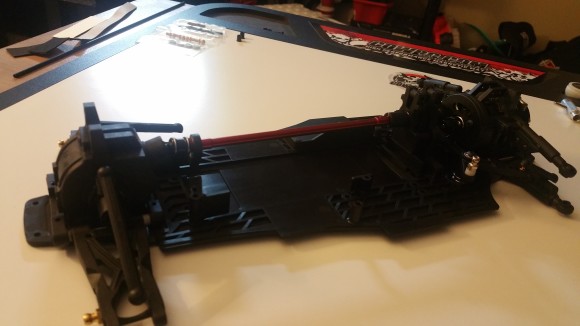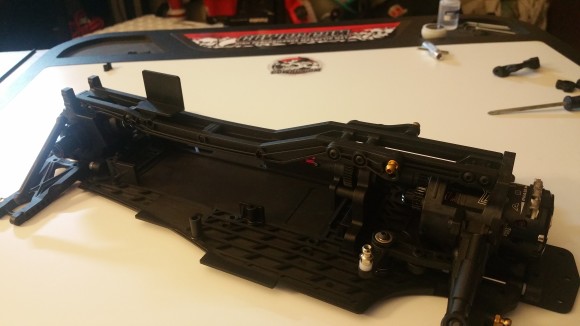 The main chassis braces installed.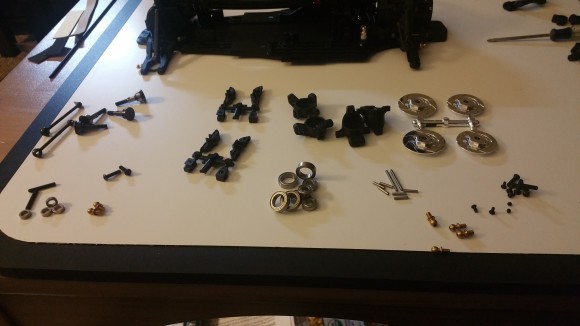 Driveshafts, Brake Calipers, and Rotors!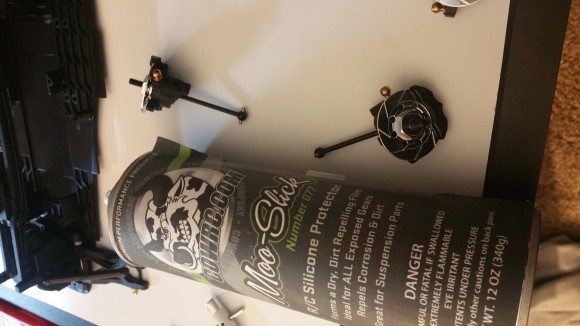 Lubing up the rear driveshafts, being the only 2 driveshafts we use Moo-Slick! Helps keep the wear down!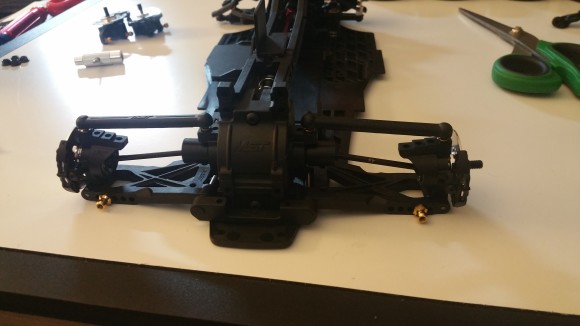 Rear hubs installed!
Plastic camber links keep adjustablity to a minimum, Good for some, bad for others.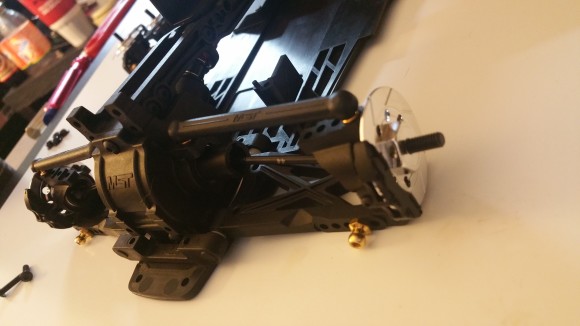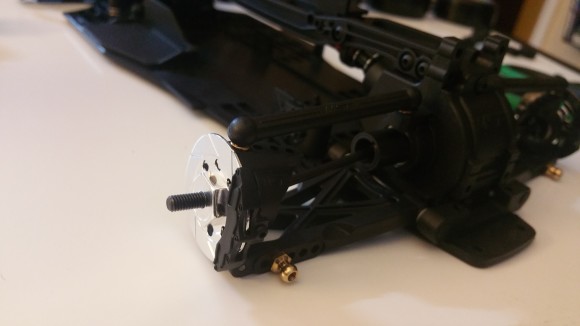 Added touch of the Calipers and rotors just add to the scale detail!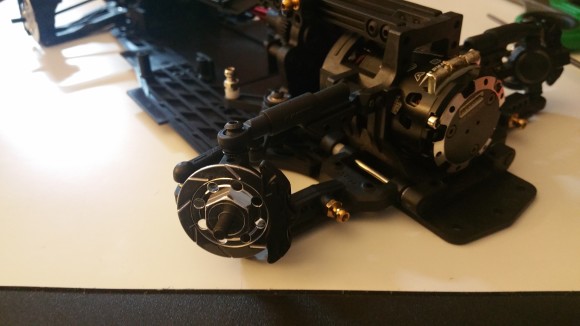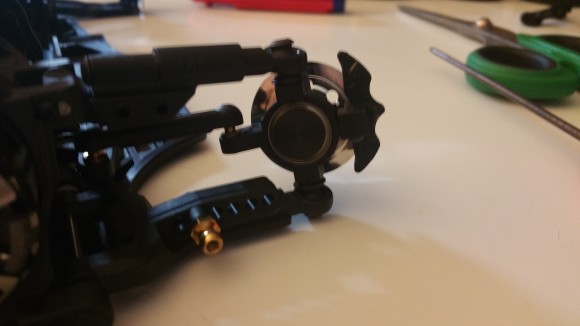 The fronts are the same way, just dummy axles.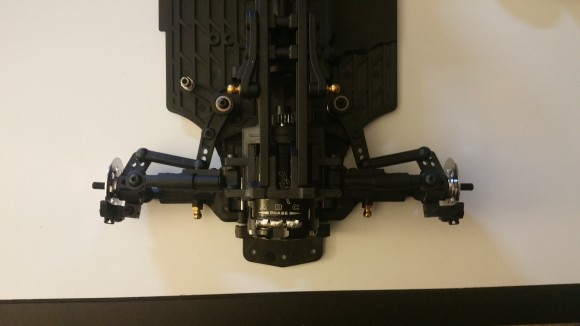 Straight .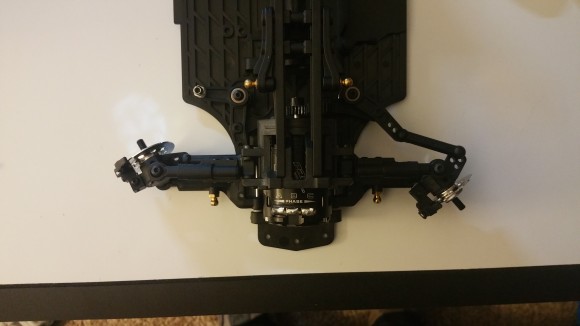 Full lock left.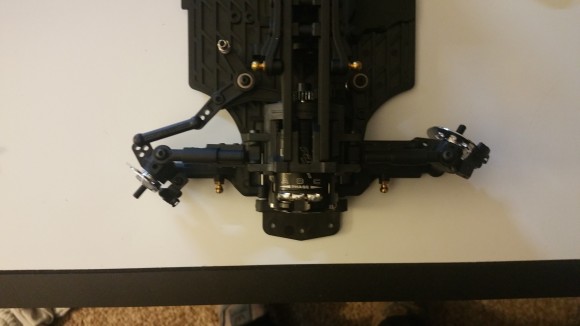 Full lock right.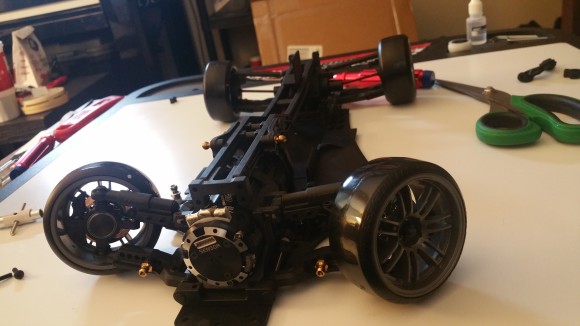 Wheels installed!
MST Provides 2 compounds of tires:
MST Silver Dot for the front.
MST Red Dot for the rear.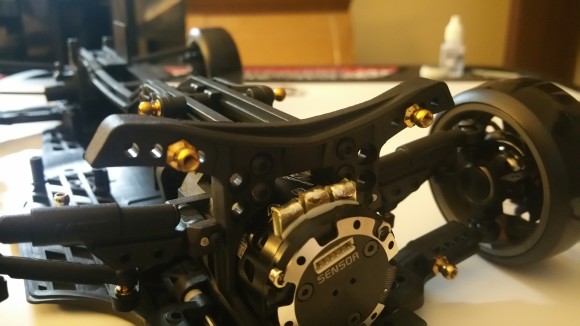 Front tower installed ( If going the Non IFS build )
Cool thing about the IFS Kit, is that it includes both mounting options for tune-ability.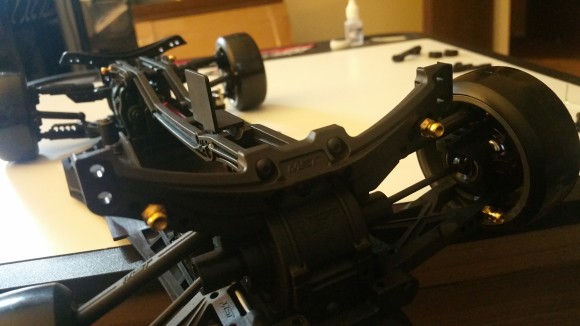 Rear shock tower installed!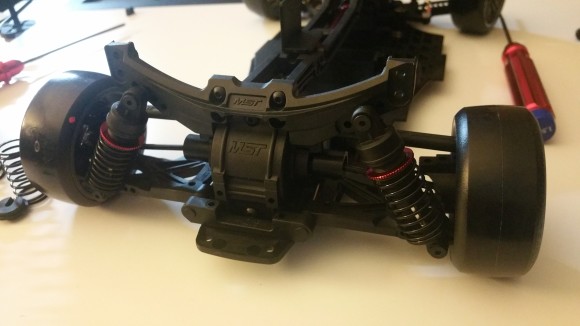 Rear shocks Installed : MST Red Springs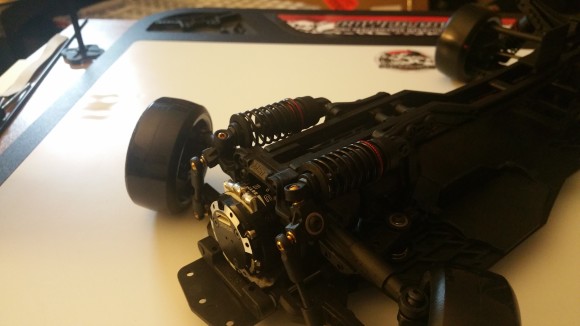 Front shocks installed : MST Silver Springs.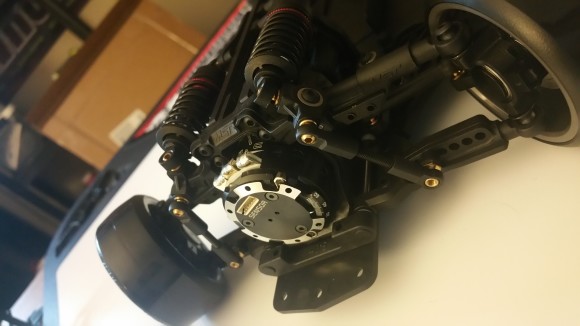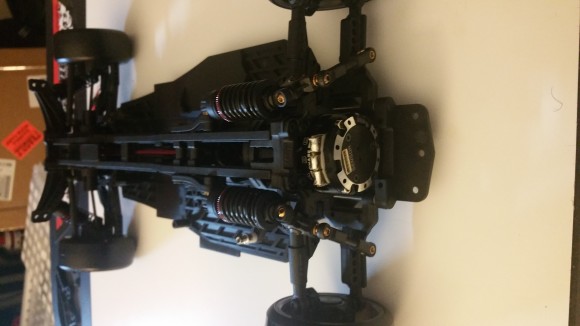 IFS!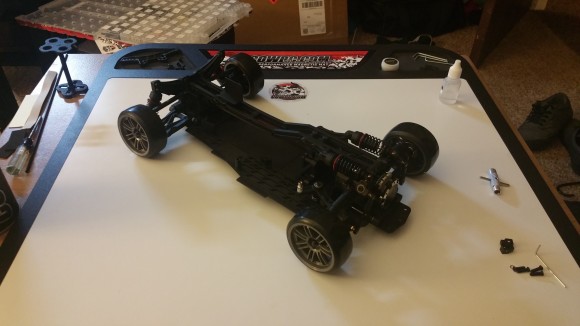 Complete, Just needing electronics!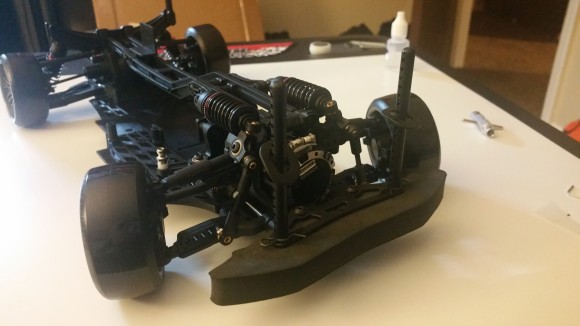 Front bumper and body mounts!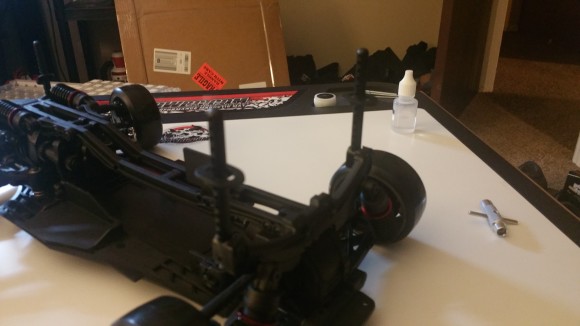 Rear body mounts!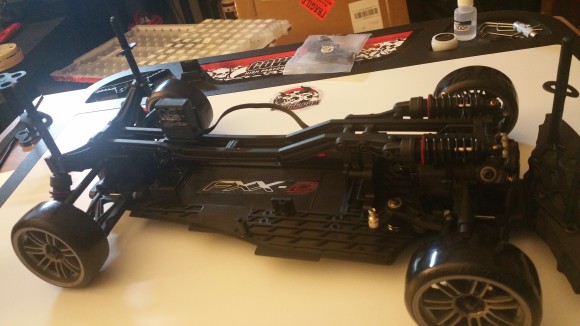 Gyro Installed!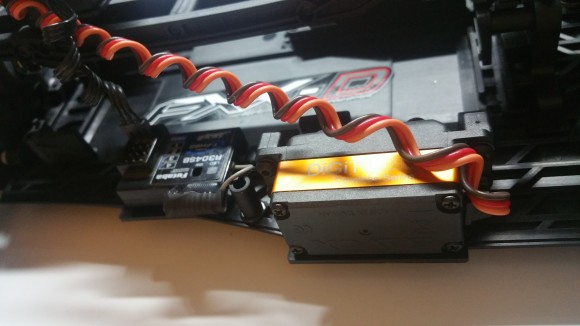 Savox 1251 Servo and Futaba R304SB Receiver installed!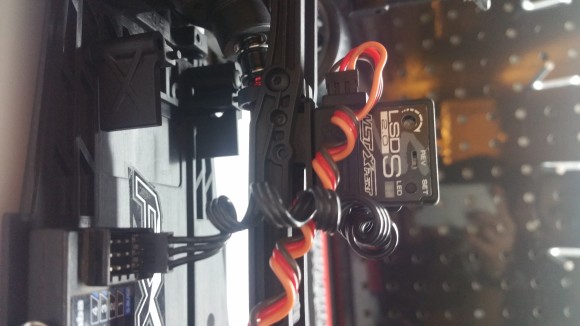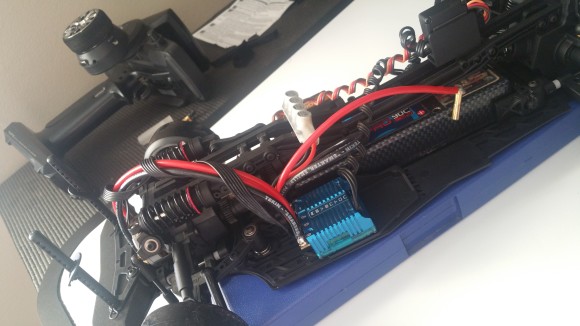 Speed Passion Reventon Pro 1.1 Esc Installed!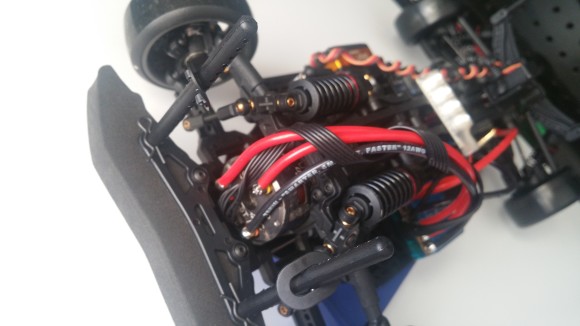 Speed Passion V3 13.5t Motor Installed!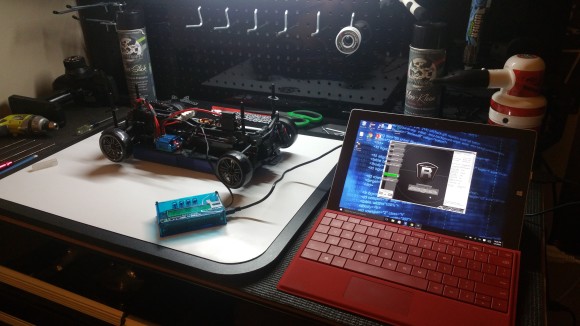 ESC Tuning, In-progress!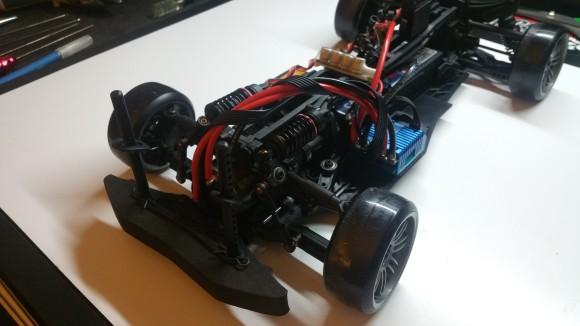 Finished!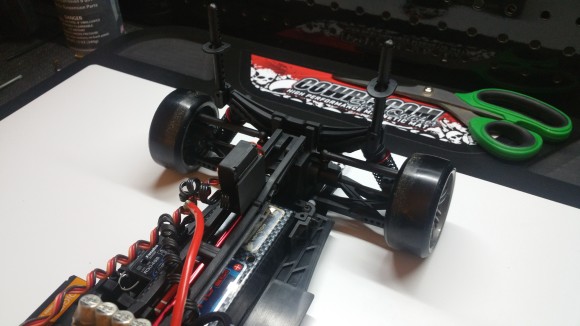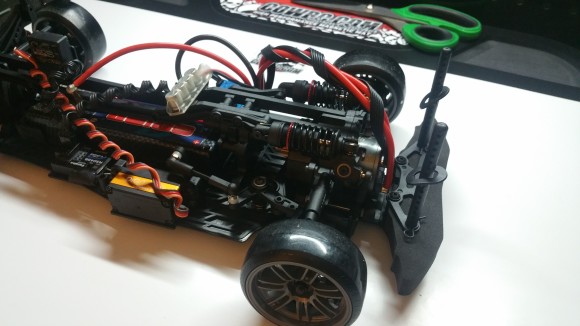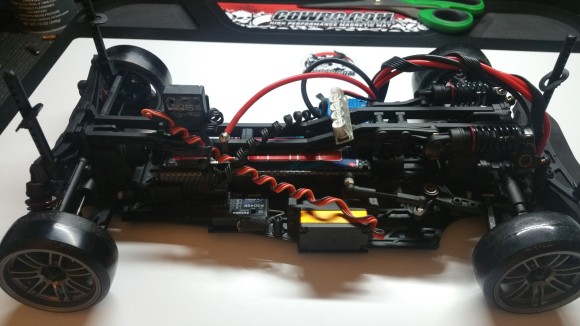 Blackstar Sticker on the Chassis! — Support those who Support you!
One thing i like about this chassis, is that its fairly stiff, but not too stiff!
* NOTE * I am not a pro RC Drifter, i am what most would call a noob.
The first few battery packs i put through this Drifter, i had alot of fun! The MST FXX D S IFS was very easy to slide around in my slick concrete garage. Very minor adjustments on this car made this car fit my drifting style.
Tips from a noob Drifter :
Turn the Gyro down, and slowly back up until you get to your desired rate.
Stiffer front shock oil, probably 400-450 CST
Ride height should be 5-8mm depending on your surface ( some prefer lower, i liked 6mm)
Stand your rear shocks as straight up as you can get them!
Pros : 
– easy to assemble
-Battery compartment allows different battery types!
-included gyro
-includes both IFS and independent suspension mounting!
Cons : 
– Some of the screws are self tapping
– some chassis flex can cause the gear mesh to move and could possibly lead to stripping
– uses bushings in the steering rack
There isnt much information out around about this drifter, i plan to change that!
I will be documenting all the upgrades and why i do them here on RC Soup!
If you are Drifting an MST And need some help!  I reccomend checking out the MST Brotherhood on Facebook! Dave Coe is a Sponsored MST Driver and he runs the group, hes been such a great help to me while going through this process of starting RWD Drifting!
MST Brotherhood Group : https://www.facebook.com/groups/628816070481318/
A great guide for Chassis tuning and tweaking thats basic, and easy to read :
http://www.maxspeedtechnology.co.uk/forum/topic/55-how-to-a-basic-guide-to-suspension-geometry-and-settings/
Products used in this build! : 
CowRC :
The CowRC Workstation( Pre-order)  – http://www.cowrc.com/store/#!/PRO-MAG-Screw-Catcher-Work-Station-Setup-Board-PRE-ORDER/p/59804330/category=17772007
Udder butter  – http://www.cowrc.com/store/#!/Udder-Butter-2-5oz-Pre-Filled-Syringe/p/59318081/category=12842156
Moo Slick – http://www.cowrc.com/store/#!/MOO-Slick-NO-077/p/14380718/category=12842156
Speed Passion : 
Reventon Pro 1.1 Combo – http://shop.speedpowerrc.com/reventon-pro-1-1-competition-v3-0-combo/
Savox : 
1251MG Servo – http://www.savoxusa.com/Savox_SC1251MG_Digital_Servo_p/savsc1251mg.htm
Futaba : 
R304SB RX – http://www3.towerhobbies.com/cgi-bin/WTI0001P?I=LXDGDP&P=8
MST : 
MST FXX D S IFS KIT –
http://www.blackstarhobbies.com/drift-cars/fxx-d/fxx-d-s-ifs-rwd-kit-mst?zenid=cf7h3q8udft6tbetb5vcfq9585