Some of our friends started and are actively signing this petition to get the TXT-1 back into production. We thought it was worth sharing!
Since its introduction in 2000-2002 the Tamiya Xtreme Truck (TXT) has been one of the most popular R/C trucks ever created. The most significant and most obvious feature of the TXT-1 over most other available RC monster trucks is the twin vertical plate chassis and, more important, the straight axle suspension system. The former is specified as 6mm machined aluminum plate with extensive milling to reduce weight without critically reducing rigidity. Several tubular aluminum braces improve the structure, while the closed plastic transmission housing is a stressed member. Two formed plastic plates serve to further improve rigidity while providing ample space for mounting electronic components.  The TXT-1 exhibits a straight-axle suspension system damped via silicone-filled shocks, the latter a departure from friction shocks used on the Clod Buster.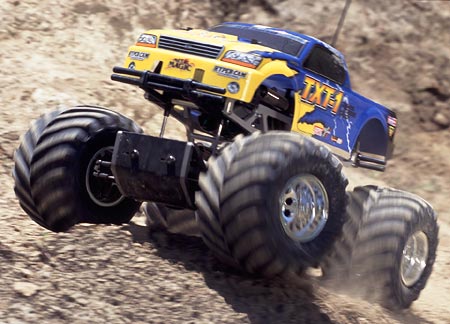 Tamiya has discontinued this beloved truck. We are asking Tamiya to do what they have done for so many of their other popular vehicles and re-release the original TXT-1 (Tamiya Xtreme Truck).
Check out the petition HERE!