RC Soup friend & supporter, Bill Suave, took some time to share his thoughts on the X-Factory SCX-60CF SC10 Conversion kit. Let's see what he has to say about it.
When faced with the dilemma of choosing a short course platform to run the 2wd 13.5 pro class on the tight and twisty layout at High Octane Speedway in Syracuse New York, the X-Factory SCX-60 CF fit the bill nicely.  Having recently upgraded my Associated SC10 with team shocks and titanium turnbuckles (as well as invested in a variety of mounted tires), I was hesitant to switch platforms entirely.  I first saw the X-60 in action at the Short Course Nationals race at RC Madness, and fell in love with both its appearance, and performance.  After a short wait, I received my kit in the mail and went to work on what I consider to be the best designed R/C vehicle I have owned in 15 years of this hobby, my secret weapon for the winter season!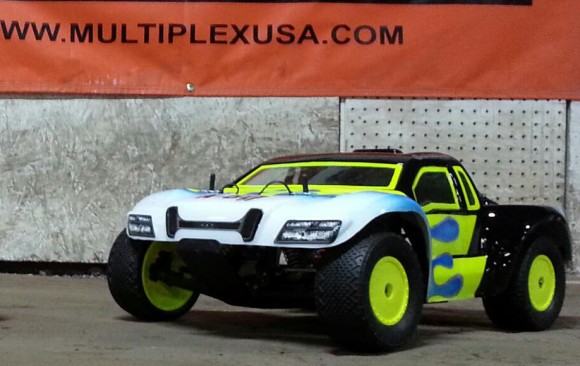 The first thing you notice when unboxing the X-60 is the incredible machining of both the carbon and aluminum parts.  This truck was clearly built using CAD/CAM technology, and the results speak for themselves.  Fitment is top notch, and minimal hand fitting was required (light sanding of flashing).  A well written and incredibly descriptive instruction manual makes assembly a breeze, with all critical hardware and parts categorized nicely into lettered bags.  I was able to convert my disassembled SC10 into a mid-motor animal in just about two hours start to finish, not including the electronics install and final adjustments.  I would strongly recommend running a small bead of CA along the edges of the carbon chassis and shock tower, as it will help keep the parts from delaminating if you take a hit to the side.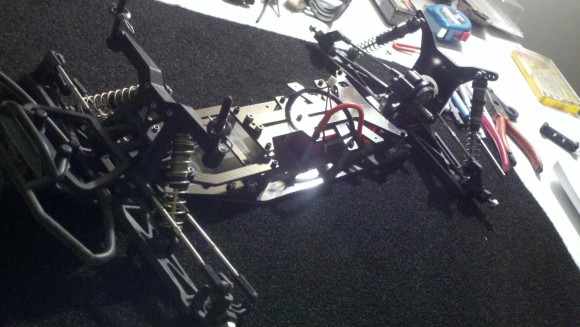 One area that gets a good amount of my attention during any build is the transmission, and this one does not disappoint.  X-Factory uses a four gear layout, allowing the rotational inertia of the motor to match that of the tires.  Simply put, you punch it, and it digs the back tires in. Hard.  X-Factory includes some fancy outdrives to utilize with your ball diff, in addition to the additional idler gear, shafts, and bearings required for the install. The assembled transmission is smooth as glass on the bench, and drops into the truck with five mounting locations, and provides height adjustment through a variety of shims. Clearly designed with the seasoned racer in mind, the transmission can be pulled for service in a few minutes.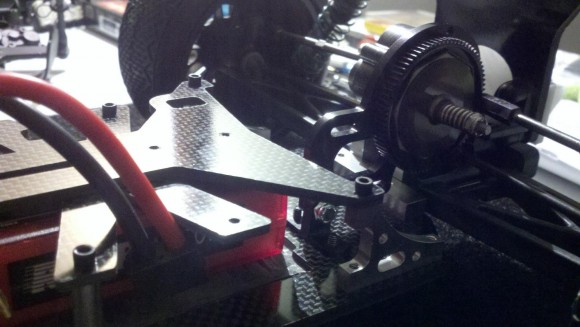 To feed the beast, I dropped in a Tekin RS esc, paired with a Trinity D3 13.5 mill and fed by a 2S CRC Shorty Pack.  The radio gear that I chose included a Spektrum DX3-C, with a JR Z9100T handling steering duties.  The X-60 layout allows you flexibility in where you mount the electronics, as well as fore and aft mounting positions for the steering servo.  Fully assembled, the SCX-60 is noticeably light, even with a few weights added near the transmission support bracket. To be more precise, the truck weighs in around 150 grams lighter than a typical short course truck.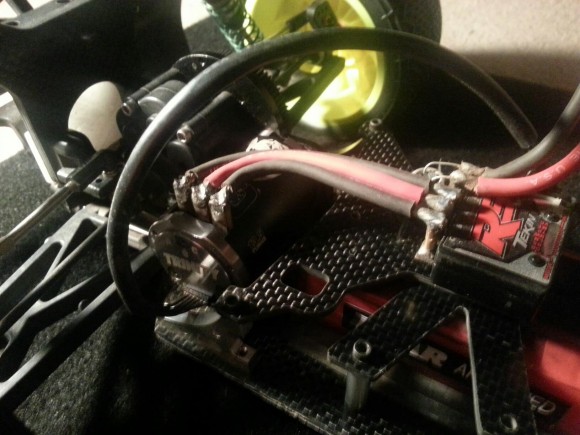 I finished up the X-60 with a JConcepts Illusion short course body, painted with a very Kinwald esque scheme.  Mounting the body was simple, as the front SC10 holes remain in their current position.  You just move the rear mounting holes back 1.5" on each side, and the body drops right on.  No biggie if you are starting with a fresh shell, but I did have to put a few older bodies under the knife!   After dialing in the slipper and diff with a quick bench test, it was off to the track!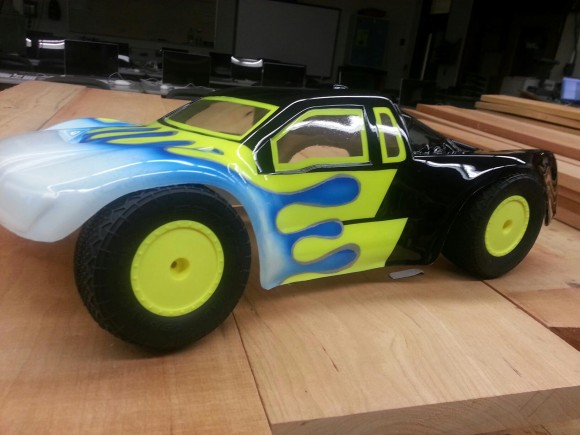 The transition from a traditional rear motor layout to mid motor felt more like going from a school bus to a F1 car to me, it is truly that different.  Where I once had to lift the old SC10 and tiptoe through corners, you can stand on this thing middle-out and it just hooks up.  For a few races I struggled with a mild push, which I was able to dial out with a more aggressive tire choice, as well as moving the servo to the forward position.  I also had the opportunity to better my lap times through experimenting with transmission height, camber, toe in, and ride height adjustments.  The truck is predictable, and responsive to suspension adjustments.  The X-60 jumps straight and true, and mid-air corrections are rarely required.
photo by Thomas Fiske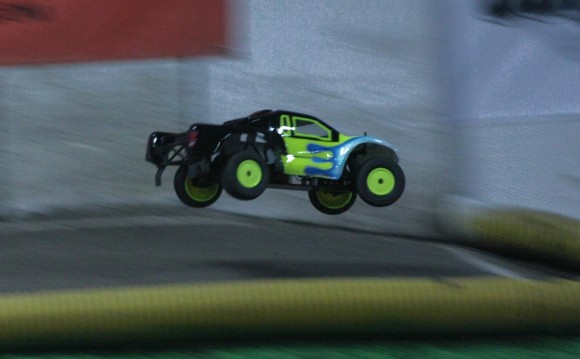 After running the truck for several weeks in club races and the CNY Winter Bash, I am more than happy with the performance, durability, and the overall drivability of the platform.  Reliability wise, it has been rock solid finishing every run (20+ heats and 10 or so mains) with no broken parts.  It has been rolled, smashed, bashed, flipped, and T-boned full speed upside down on a straightaway and it hasn't missed a beat.  This truck has allowed me to improve as a driver, and in turn has become consistently quicker every week.  If you are looking for a serious race truck to help you run wheel to wheel in the lead pack with the likes of the Losi 22SCT, the Durango DESC210, and the Associated SC10, look no further, I think X-Factory has you covered.
| | |
| --- | --- |
| Value | At $249.99, it isn't exactly an econo-racer.  Considering this kit is made by a small group of guys and not a large scale manufacturer, I consider the price to be reasonable. Let's face it, you get what you pay for. |
| Appearance | thing is sexy, with carbon and polished up aluminum everywhere. |
| Performance | Drive one. |
| Durability | 30+ races and no broken parts |
| Would I buy again? | This truck has met and exceeded my expectations, and I would strongly recommend this truck to the intermediate/pro racer. |
Overall I give the X Factory SCX-60 CF Conversion Kit a 4 out of 5 Spoons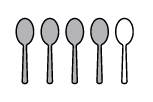 My only complaint centers around the battery situation, as shorty or saddle packs are required.  It would have been nice to see a standard configuration, and maybe a quick release battery hold down.  The hardware works great to hold the packs in, but makes quick changes a bit of a task.