This past weekend RC Soup helped host the CNY (Central New York) Winter Bash. It was a trophy race @ High Octane RC in Syracuse, NY (2083 Park St, Syracuse, NY). Brought to you by High Octane RC, AFU-2, Outback Raceway, Insane Graphics, Redneck RC, & RC Soup. This race was organized by the above companies, teams, & tracks in a collaborative effort to be one of the biggest indoor race events in the area. We had drivers come out from Rochester, Pennsylvania, Connecticut, and I believe the NYC area, as well as the dedicated local group of racers that make this track awesome. When said and done we had a total of 119 entries across all classes!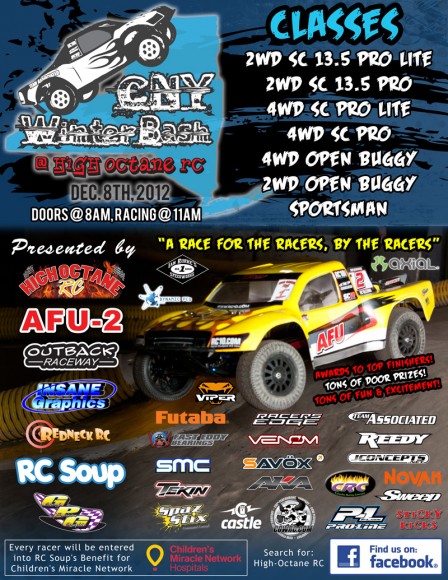 I want to first off thank Matt Levy of AFU-2 for helping organize this event, and let RC Soup be a part of it. Without him, the event would not have existed. It was his idea to do a big race to celebrate CNY R/C'ing and give back to the racers for being part of this great hobby. Matt was also responsible for doing a TON of the track and venue prep work (painting, track work, hanging banners, etc). Of course we also couldn't have done this without the help from High Octane RC. It was held at their track, and they did a fine job at accommodating everyone. Thanks to Outback Raceway & Insane graphics, they were also a vital part of the event planning and helped pay for the awards/event t-shirts that were given out. A big shout out goes to Redneck RC, another nearby Hobby Shop that donated several gift certificates, t-shirts, and a Durango DEX210 Buggy kit! Thank you Redneck! I stepped in on behalf of RC Soup and we tried to get some door prizes to hand out to entrants.
There was a touch of charity to the event as well. Five dollars from everyone's first entry earned them an entry into our Benefit for Children's Miracle Network (which is sadly now over). A few guys stopped by our table and bought more tickets as well. Thanks guys, the kids can use all the support they can get. Total we raised $460 for CMN @ the CNY Winter Bash.
I want to thank all the companies that stepped up and helped make this event AMAZING as far as having products to give all the racers who braved the mall traffic to come out racing. (In no particular order)
Futaba
AFU-2
Redneck RC
Team Novak
CowRC
Castle Creations
Team Associated
Reedy
Viper RC
Savox
Racer's Edge
Spaz Stix Paint
Pro-Line Racing
AKA Products
JConcepts
Sweep Racing
SMC
Team Tekin
Calandra Racing Concepts
Venom Group
Sticky Kicks
Fast Eddy Bearings
Pemberton Raceworks
Uncle Chubby's
Dynamic PC's
…and last but certainly not least.. Axial Racing.
Below are shots of the giveaway table. Several companies provided gift certificates including AKA, JConcepts, Pemberton Raceworks, Viper RC, Castle Creations, and Fast Eddy Bearings. We opted not to show those as it could compromise unique shopping cart codes. We also had a ton of shirts under the table in bins.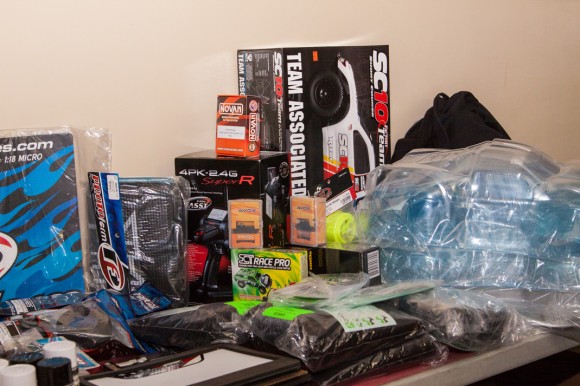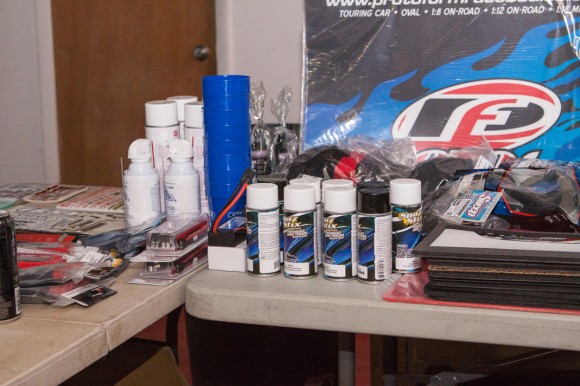 Free stickers went quick!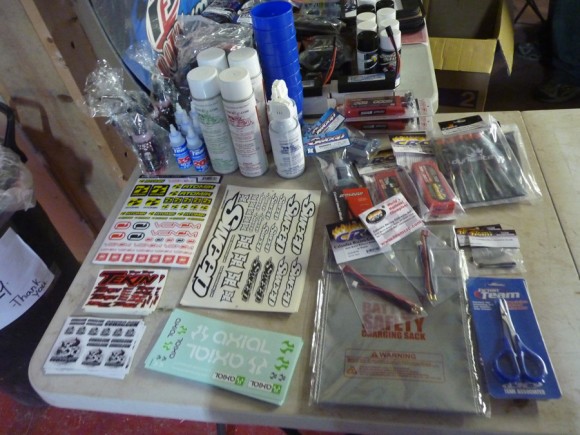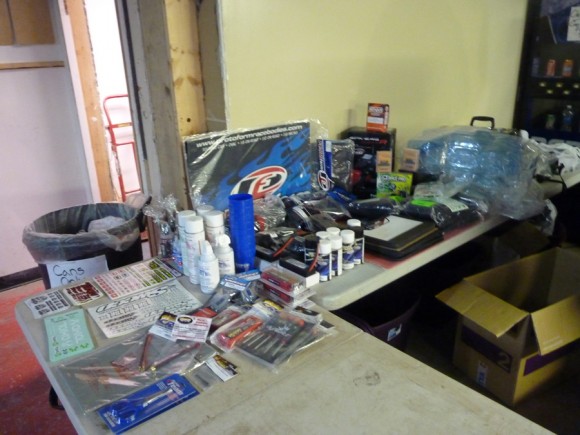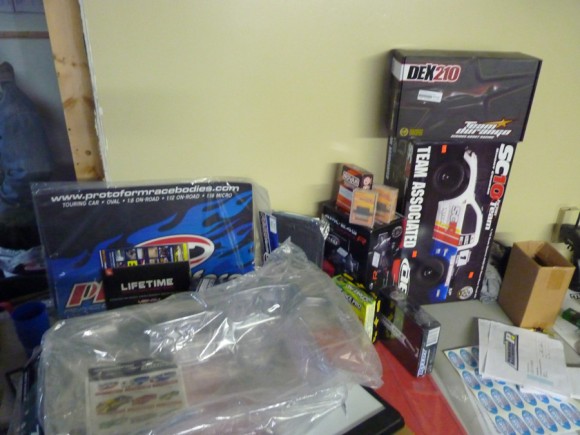 Another HUGE THANK YOU goes out to Gary's Precision Graphix. I did the designs for the plaques, but Gary manned the vinyl printer and mounted up all 40+ awards! Thank you SO much, they came out amazing.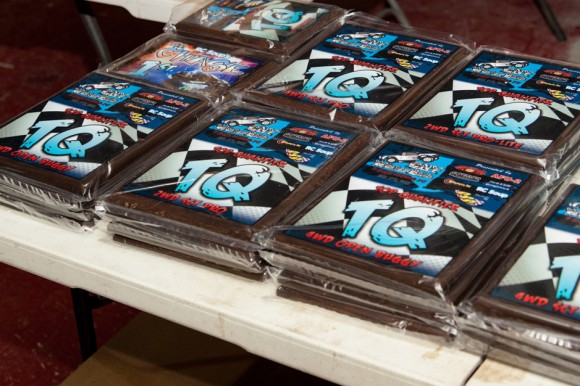 We did awards for TQ in all classes, as well as 1st-3rd place in the A Main, and Winners of B mains and below. We also gave awards to the Top 3 finishers of the EXO Chase event.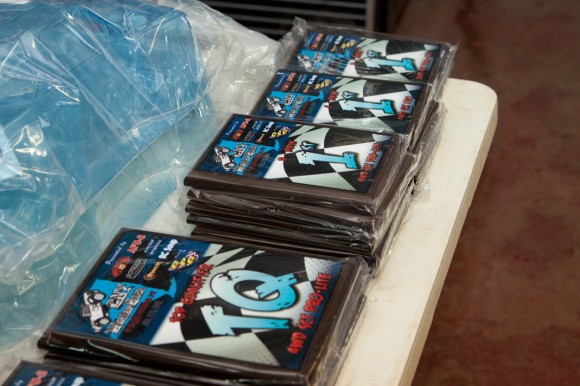 Continue reading as we get into the racing coverage.