I don't think there is another r/c racing event quite like Motorama in the US, perhaps even in the world. Where else do they run 2 tracks at the same time, get 700+ entries between them, and run it at a place where racers can watch Motocross, Quads, see car shows, robot fighting, go karts, and more? On top of that, 60,000 spectators come thru the doors of the facility and we racers get to expose them to the wonderful world of radio control! Really you have to experience it to believe it.
This was our 2nd year covering the event. If you want to check out last year, it's HERE. I think we had the same, if not a little bit more entries in the R/C racing compared to last year. There was a big shift in numbers though as far as entries per track. Last year the 1/8 track was packed and we pitted over there. This year it seems all focus was on the 1/10 track. They moved both mod and stock 2wd Short Course to the 1/10 track this year. While I can understand the decision, I still think Mod SC could have been on the 1/8 track. It may have helped balance the entries a little more. I didn't run that class, so either way it did not effect me. I ran stock Short Course and Stock Stadium. Team mate Jarodd Goedel ran Stock Short Course, Stock 2wd Buggy, and 4WD Short Course Expert. Team driver Cruz Zachary ran 2wd Modified Short Course, 2wd Mod Buggy, and 4wd Short Course Expert. Needless to say, it was a very busy and hectic weekend. I have to thank intern/fry cook Kris Button for helping shoot all our shots, because I did not make it out of the r/c area for very long all weekend.
This post has I think the most photos that we have ever put into a single article. If you are on a slower connection, I apologize in advance. Below is some navigation if you want to skip to a certain segment of the event. We'll start with some previous coverage first.
Motorama 2013 Day 1 recap
Our First Soupcast (podcast) – Motorama 2013 Day 1
RC Soup's Motorama 2013 Day 2 Soupcast/Podcast
RC Soup's Motorama 2013 Day 3 Soupcast/Podcast
Hangin with Hobbico at Motorama
Now the segments in this post:
1/10 Track coverage
1/8 Track coverage
Arena coverage
Go Kart coverage
Car Shows
Swimwear contest
Misc Show coverage
Robot Conflict
Wrapping it up
We pitted at the end of the 1/10 track area, facing the hallway for visibility to the public. We had decals and coasters we were handing out all weekend. We had quite a few spectators come over and ask us questions about the r/c racing in general, which was awesome. Anything we can do to help grow the hobby. Jarodd and I were pitted here, and Cruz was over with most of the other Central New Yorkers. So if you came to our table, thanks for stopping by! If you missed it, well.. there's always next year. We plan to return for sure.
As you can see, we are really close to the track and all the racing action.
Jarodd was testing the Atomik V2MR buggy at this race. He did pretty well with it for his first time ever running buggy. Build up of this will be posted soon. It's a pretty nice rig, and priced below the competition. The Pro-Line MC Scrubs up front and Suburbs in the back hooked up quite well on the clay.
I ran this Losi 22T (now the property of local racer Jim Mehaffy (who is in contract negotiations to join Team Soup ;))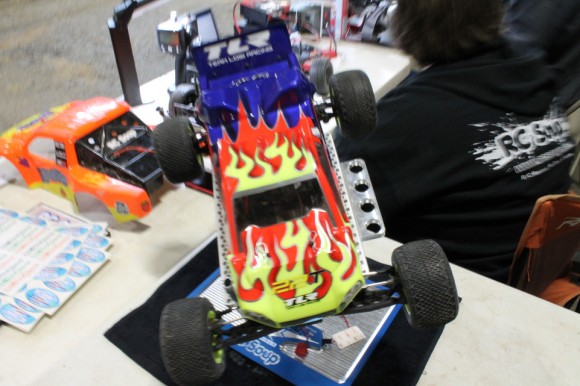 Jarodd. Looks like he's checking his phone.. maybe to see what heat the 1/8 track is on for the 4wd. Running 2 track is a pain, but LiveRC definitely helped racers keep track of which race was up on each track.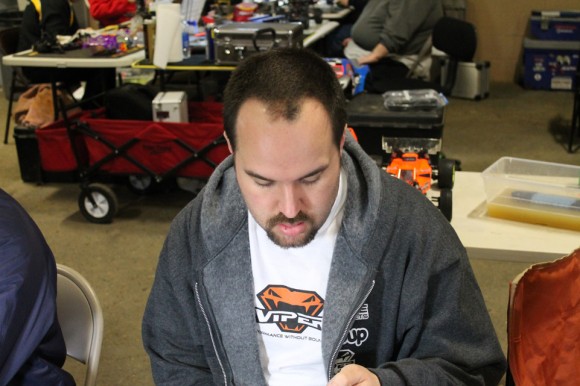 The Hobbico guys stopped over to say Hi.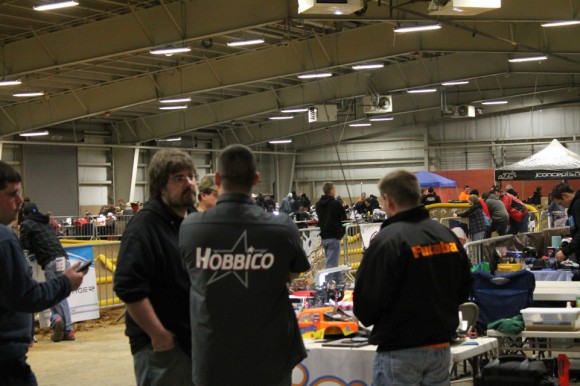 And then we have the always entertaining Kris Button. We got to see him fish for power for 10 minutes trying to pull down an extension cord for us. It was awesome.
1/10 Track coverage is up on the next page.