Yesterday was the Fall Carpet Oval Classic @ Walt's Hobby in Syracuse, NY. It is a single day oval trophy race. Walt's always used to run a race called the Classic but it's been on hiatus for a number of years. This year they decided to bring it back and I think they had a pretty good turnout for it. They got around 68 entries and ran 2 qualifying heats, and 100 lap mains.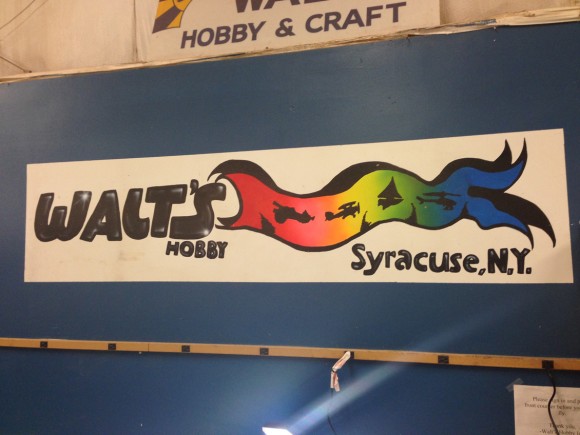 The doors opened at 9, and racing started at 11AM Sharp. They did a fantastic job of keeping the race on schedule with very few delays. Several people took turns doing the announcing and helping with the Tech Table to keep the races moving at a steady pace. With only 2 rounds of qualifying and 14 heats, we were actually out of there in time to see daylight (something that rarely happens with trophy races it seems). They were handing out awards by 4:30. Good job to the whole crew that put on the race.
They ran the following classes at this event.
1/10 Spec 13.5 COT- TOUR RULES!
1/10 Stock/17.5 NASCAR – TOUR RULES!
1/12 Stock/17.5 NASCAR – 17.5 Motor, Open ESC
1/10 Spec 17.5 NASTRUCK – 17.5 Motor, Blinky, Open Tires, Open Battery
1/10 Spec LEGENDS
Some of their rules vary slightly from the nationwide TOUR rules and classes. Part of me wishes they kept it the same to keep everyone on a more even playing field (especially in Nastruck), but for the most part the racing was all still really close despite Open Battery and Open Tire rules. As far as I know the rules have always been this way at Walt's for that class, so the locals are well aware of what type of setup you need to be competitive. It would be nice not to have to change batteries when going from one local track to another. In any regard, it did not put a hamper on the "fun factor" of the race for the Team Soup crew, we adapt to different tracks well since we travel all over; merely an observation.
Below is a shot of the oval track. They've been running it in for several weeks now (I've even been up there for a few club races on Tuesday nights). The traction was pretty high and cars were flying. In fact, 3 track records were reset during yesterday's race! Steve Pemberton took 1/12 Scale and 13.5 COT records, and Mike Woods reset the Nastruck record!
We started the day with a drivers meeting, pretty straight forward stuff about driver etiquette and the main goal was to have fun. I think most people did have fun at the event. There were a couple ugly starts (a pileup in the first corner) in some of the qualifiers that I believe they should have offered up a restart. One of the mains was that way too I believe. It would be nice to have seen some of the guys get a fair shot if they were taken out first thing if you know what I mean. I'm sure everyone involved in racing has seen it at some point. It is what it is though, and for the most part 90% of the races ran smooth without a lot of hacking, which is awesome to see.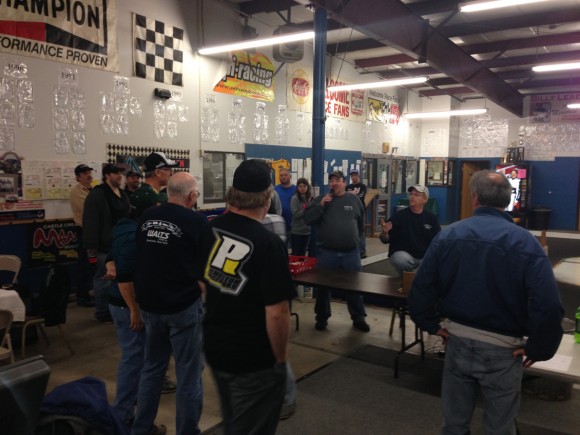 A shot of the tech table. Young Ally Scotti is sporting her Limited Edition RC Soup splatter shirt (we love the support!). At tech they checked: car weight, battery voltage (no higher than 4.22v allowed), ride height and roof height. They could have went one step further and checked for Blinky mode in those classes, but knowing most of the competitors in the class, I'm sure it wasn't an issue. Everyone there is pretty stand up about keeping things fair.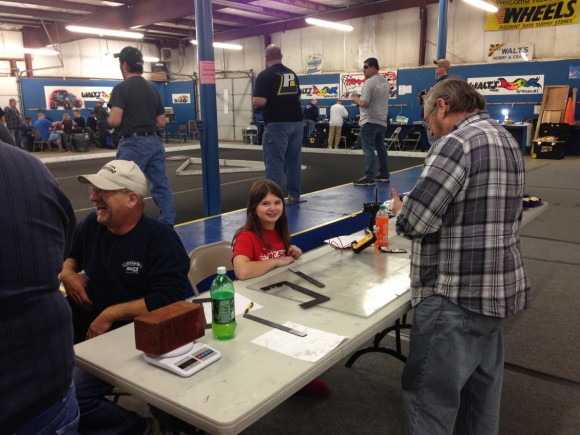 Below you can see some of those Decker Racing pit shelves being put to use by Dave Elen and Jim Decker once again. Jim was trying hard to get his Nastruck up to speed and double up trophy weekends after last week's Battle on the Bullring race at CRC. Sadly he had some bad qualifiers but still managed to qualify for the A Main. Good run Jim. Dave Elen turned his luck around from last weekend and secured 2 podium spots. Great to see those cars back on pace Dave!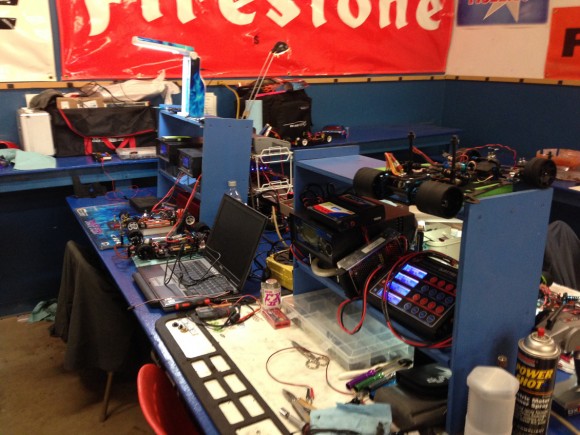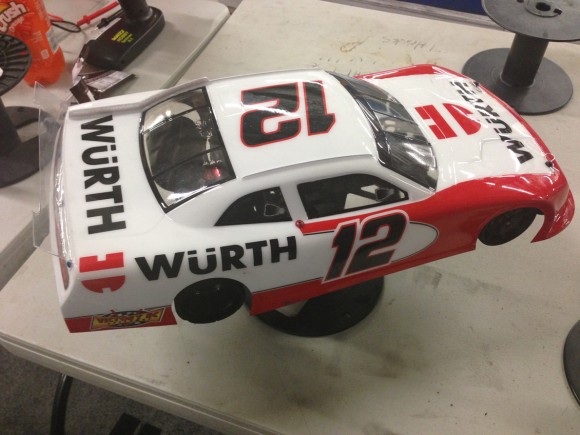 Knowing that Walt's rules in Nastruck allow open battery, I had purchased a new CRC Rocket Fuel 1s pack to run this weekend. It literally is strap-in horsepower compared to the 25c SMC TOUR Spec battery pack.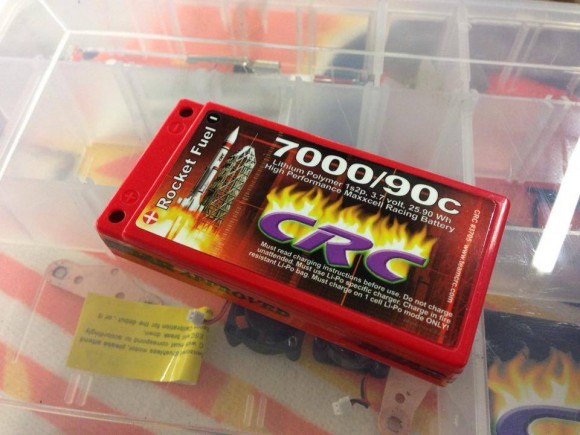 I had to alter some of the setup in my truck for this pack. It is heavier than the spec pack, so I was actually able to remove 2 oz. of weight from the car to meet the weight requirement. As you can see I'm still rocking the Putnam Propulsion prepared Trinity D3.5 and the Viper VTX1 esc. They've been a great combo for me. Some day I should looking at picking up a slightly shorter sensor wire though, haha.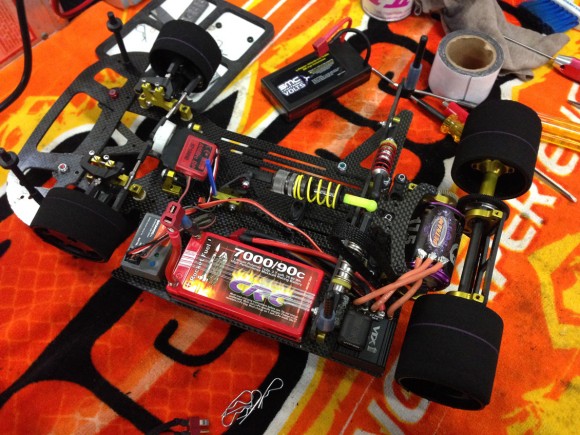 Jarodd and his truck are ready for the track. This guy needs a 2nd class.
One surprise from the race this weekend was the race debut of Pemberton Raceworks' newest 1/12 car. It's basically a scaled down version of their new RP4 model. A lot of cool features on this little guy. Speaking of little… I am told it's official name is "The Little Bastard". I'm not sure how politically correct that name is, but it's kind of funny, and it certainly won't hold the car back when on the track. I believe these are some of the first shots ever of the car, as it was just a sketch as of Thursday night.
While over in the Pemberton Raceworks pits, I was also shown the new TOUR Spec Truck chassis. This class was formed this year with the mindset that it would be a class for budget minded or beginner drivers. The truck has very little tunability (no shocks), and is designed to keep a very close/even field of cars (a true SPEC class really). It uses an old Associated style block front end, as well as a basic rear pod and T-plate. Supposedly the truck is very durable as well, which will help those novice drivers get into the swing of things. If it takes off, I think this is a fine entry level class that would take away a lot of the mind boggling setup guesswork that one is overwhelmed with when we are just starting out in pan car racing. The kit is $199 (far less than the average $325-500 of most competition level pan cars) and includes most of what you see here.
So now I have some random shots from the pits at the event. This is the area where Matt Kitts (from Redneck RC), and Todd Ferguson of Walt's were pitted.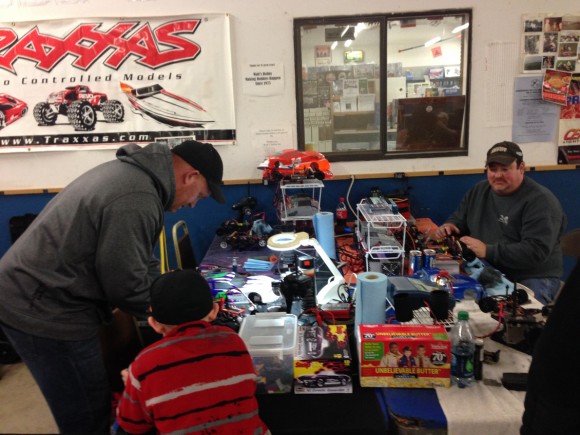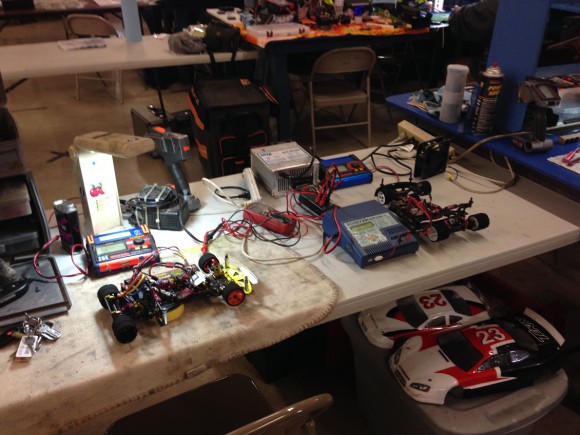 The Pettinelli gang is hard at work on their cars.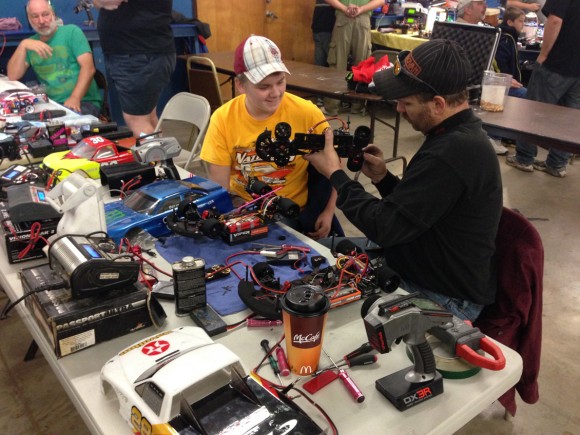 Team CRC's John Firsching and son Nate LaFluer were out at the event and captured some podium positions. These boys know how to go fast and turn left! The CRC Battle Axe 3.0's were dialed all day.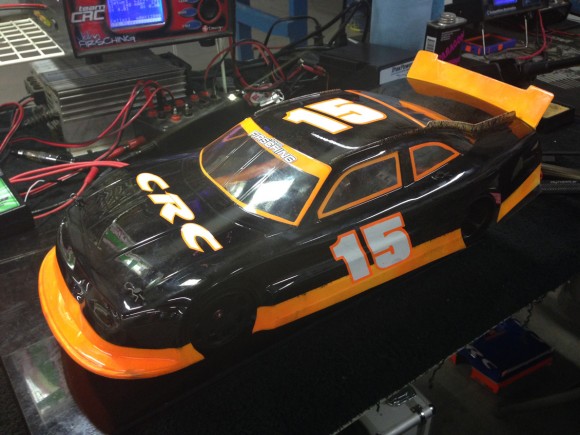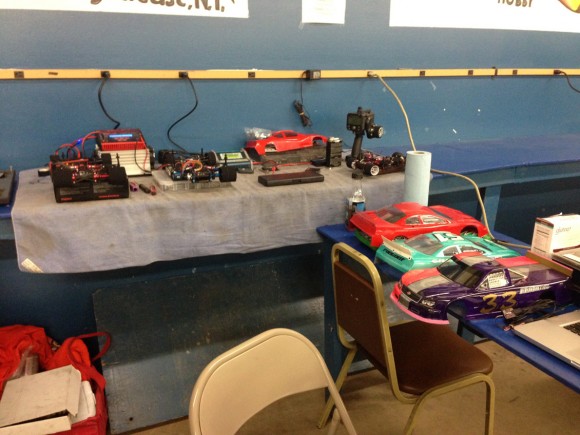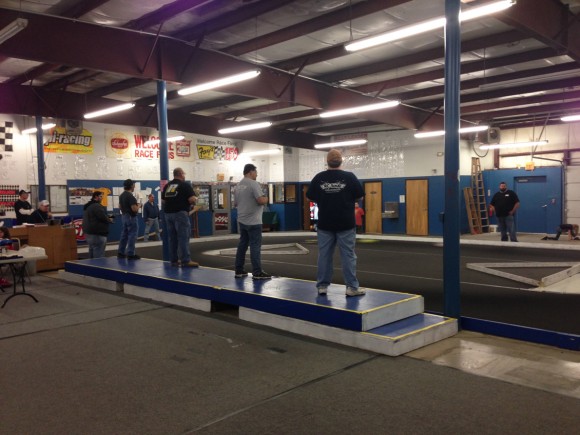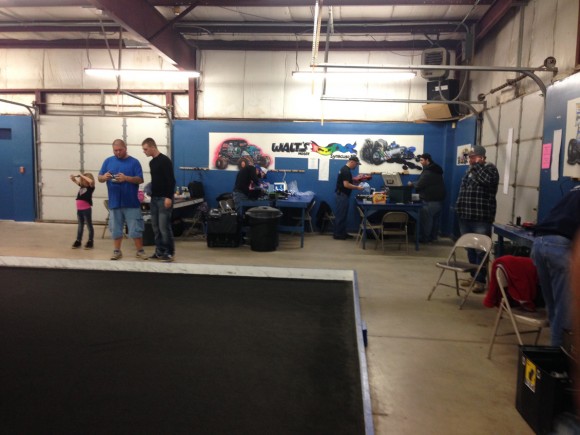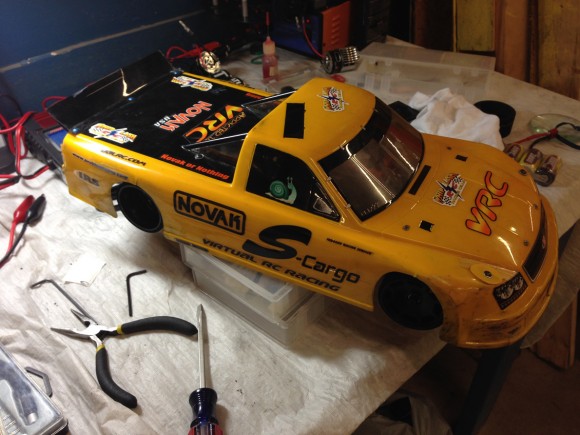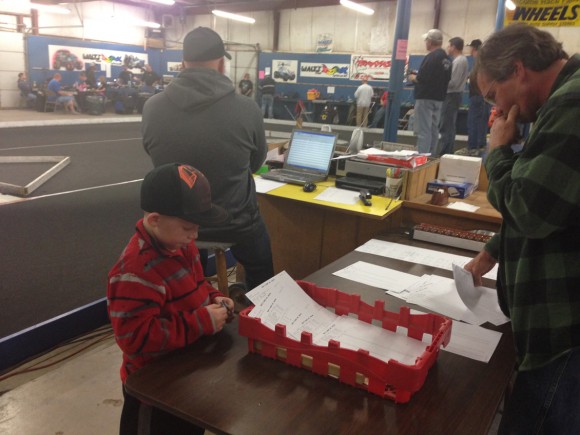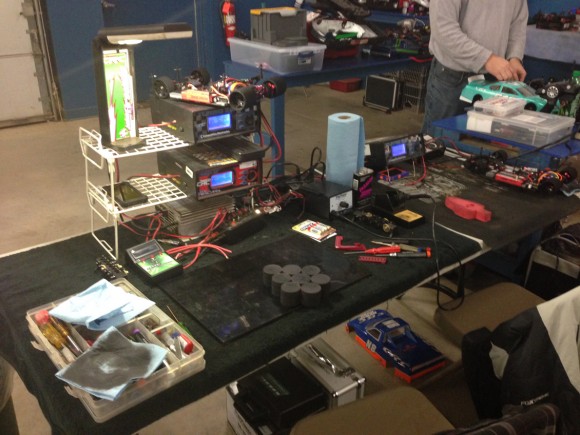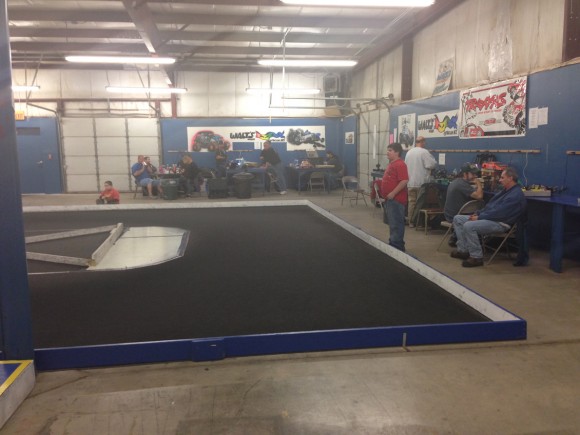 The Pemberton Raceworks team was there in full force on Saturday. Steve Pemberton, Joel Winniki, Mike Woods, & Tom Neave were all flying on the track in their PRW rides.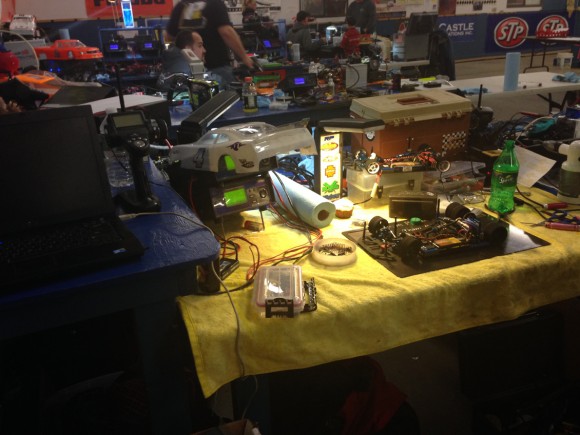 Pitted across from myself and Jarodd was Matt Steffenhagen of KCM Race Cars. He looked fast all day too, but suffered from more than one ugly incident that cost him dearly. Sucks to see someone drive that far to come to a race to get stuffed into a wall, but such is racing and it happens now and again.
When the 2 rounds of qualifying were done and over, this is what we ended up with for final qualifying for the 100 lap mains. I was pleasantly surprised to see 3 Team Soup drivers clumped in the A Main of Nastruck in positions 5-7.
Steve Pemberton's daughter Chrystina sung the National Anthem for everyone before the main events.
[youtube]http://www.youtube.com/watch?v=abVs9vBwb0w[/youtube]
Below are some of the videos from the Mains.
1/12 Nascar A-Main
[youtube]http://www.youtube.com/watch?v=aKqp1VQ7NGQ[/youtube]
Nastruck A-Main
[youtube]http://www.youtube.com/watch?v=HCAQaDkPETg[/youtube]
13.5 COT A-Main
[youtube]http://www.youtube.com/watch?v=0xRYCCF8M-0[/youtube]
Walt's picked up some nice awards to give out at the event. They had trophies for 1st-3rd place as well as Top Qualifier.
Below are the podium shots.
Below are the final results of all classes.
WALT'S HOBBY INC. RACING 10-26-2013
Best Heat Lap/Time for S 1/12 NASCAR 17.5:
steve pemberton with 76/4:00.98
— S 1/12 NASCAR 17.5 – A Main —
Pos Car Laps time name
1 1 100 5:25.70 steve pemberton
2 2 100 5:26.63 joel winnicki
3 3 100 5:28.12 todd ferguson
4 5 97 5:27.60 toret wallis
5 6 97 5:28.78 scott pierce
6 8 91 5:26.43 bob burnison
7 4 80 5:40.05 paul webb
8 7 28 1:40.86 dave elen
— S 1/12 NASCAR 17.5 – B Main —
Pos Car Laps time name
1 5 100 5:49.09 quinn wallis
2 4 100 5:49.24 tony buffa
3 1 95 5:49.56 ashley mckeen
4 2 90 5:52.54 bill tuttle
— 3 — DNS — ralph kyle
Best Heat Lap/Time for S 1/10 17.5 NASTRUCK:
mike woods with 71/4:02.78
— S 1/10 17.5 NASTRUCK – A Main —
Pos Car Laps time name
1 1 100 5:45.78 mike woods
2 2 99 5:46.28 nate laflver
3 3 98 5:47.32 dave elen
4 5 98 5:47.57 jarodd goedel
5 7 97 5:49.02 jim decker
6 8 95 5:48.69 bill tuttle
7 4 94 5:46.95 toret wallis
8 6 93 5:47.96 kevin crandall
— S 1/10 17.5 NASTRUCK – B Main —
Pos Car Laps time name
1 1 100 6:11.46 dan brigandi
2 8 99 6:13.22 joe pettineeli
3 2 99 6:14.33 doug turtura
4 7 97 6:13.63 ray herzog
5 6 95 6:14.83 ally scotti
6 5 91 6:13.11 mike alteri
7 4 89 6:14.25 rick smith
8 3 83 6:14.92 quinn wallis
— S 1/10 17.5 NASTRUCK – C Main —
Pos Car Laps time name
1 2 100 6:18.10 jack wickham
2 4 97 6:21.81 clif mckeen
3 3 96 6:18.25 bob callahan
4 1 96 6:18.76 dominick pettinelli
5 5 95 6:20.94 ken baxter
Best Heat Lap/Time for S 1/10 LEGENDS:
doug turtura with 56/4:02.74– S 1/10 LEGENDS – A Main —
Pos Car Laps time name
1 1 100 7:12.84 doug turtura
2 3 97 7:15.63 erich heyde
3 4 96 7:13.89 dan brigandi
4 5 87 7:16.20 anthony auringer
5 2 77 6:40.28 bob callahan
Best Heat Lap/Time for S 1/10 17.5 TOUR STK:
ryan lambert with 75/4:02.14– S 1/10 17.5 TOUR STK – A Main —
Pos Car Laps time name
1 1 100 5:29.64 ryan lambert
2 5 99 5:31.36 tony buffa
3 6 99 5:31.87 john firsching
4 4 99 5:32.87 tom neave
5 7 97 5:30.74 sean lambert
6 3 45 2:50.47 matt steffenhagen
7 2 3 0:09.11 joel winnicki
— 8 — DNS — todd ferguson
— S 1/10 17.5 TOUR STK – B Main —
Pos Car Laps time name
1 1 100 5:38.34 toret wallis
2 2 98 5:38.62 paul webb
3 4 97 5:40.49 quinn wallis
4 3 93 5:38.92 scott pierce
5 5 92 5:39.16 brian scotti
6 6 91 5:41.15 ralph kyle
Best Heat Lap/Time for S 1/10 13.5 TOUR COT:
steve pemberton with 77/4:02.76– S 1/10 13.5 TOUR COT – A Main —
Pos Car Laps time name
1 2 100 5:28.96 john firschingg
2 7 100 5:30.47 dave elen
3 6 99 5:30.76 tony buffa
4 5 98 5:29.13 nate laflver
5 4 98 5:31.34 todd ferguson
6 8 96 5:31.59 toret wallis
7 3 89 5:30.05 matt steffenhagen
8 1 6 0:23.69 steve pemberton
— S 1/10 13.5 TOUR COT – B Main —
Pos Car Laps time name
1 2 100 5:35.12 sean lambert
2 4 97 5:37.70 jim decker
3 3 97 5:37.86 scott pierce
4 5 67 3:53.75 ralph kyle
5 7 41 2:45.16 dan murn
6 6 20 1:49.08 joe pettinelli
7 1 7 0:22.21 matt kitts
8 8 2 0:08.49 bob burnison
Overall I'd say it was a fun event for sure. The track was plenty fast and there was a good amount of entries with close competition. That's all you really need to have a successful race. I'm happy that carpet oval season is in full swing now. I'm looking forward to making a few more club races and then making the next big trophy event @ Walt's which is the Billy Leader race on January 4th, 2014. See everyone around the oval soon!