In just 2 short weeks, Redneck RC will be holding their 2nd Annual Hillbilly Hoedown Off-road Trophy Race. We attended their 1st annual event last year and it was quite a hoot. Check out our coverage recap.
This year they're at the new location on 68 Smokey Hollow Rd, in Baldwinsville, NY.
Check out the flyer below.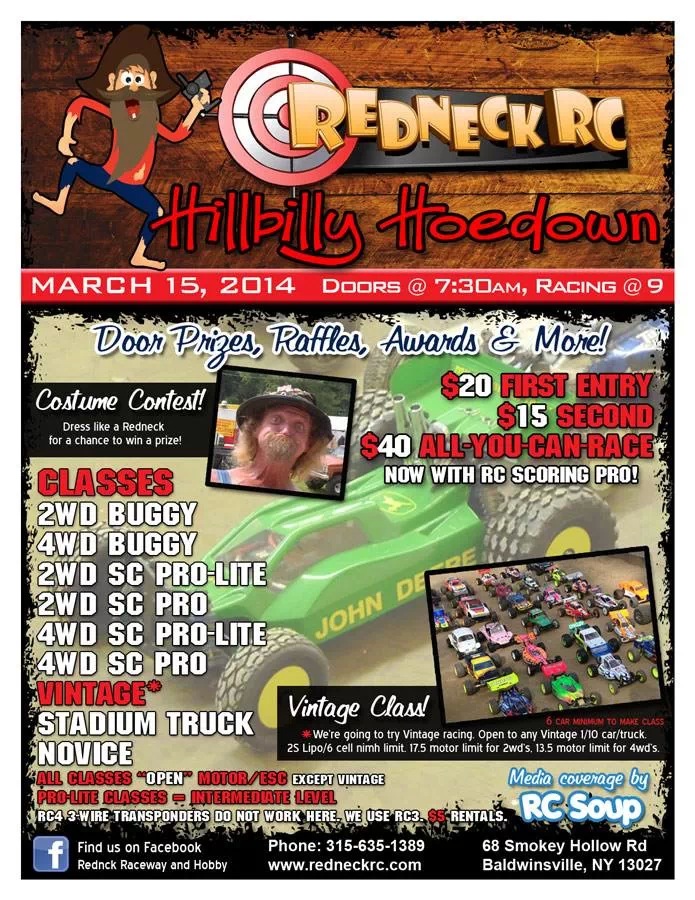 The date is March 15, 2014. The doors open much earlier this event as it seems there's been a bigger turnout every event that Redneck has. It's an effort to get everyone out at a reasonable time and still allow a decent entry count. Doors open at 7:30AM with Racing to start around 9AM.
Entry fee is still cheap for a big event.
$20 for first entry,
$15 for 2nd,
or $40 gets you as many classes as you want!
You can now use RCSignup.com to pre-register for the event. It's been highly recommended with the earlier start time for this race!
Classes will be:
2WD Open Buggy
4WD Open Buggy
2WD Short Course Pro-Lite
2WD Short Course Pro
4WD Short Course Pro-Lite
4WD Short Course Pro
Stadium Truck
Novice
Vintage!!
All classes "Open" motor/esc except Vintage (see below)
Yes, that's right.. a Vintage class! Cool!
Rules for Vintage class are simple. Any Vintage car is allowed to run as long as it's Pre-1994. You can run 6 cell nimh or 2S lipo. It is a combined class, so trucks and buggies will all run together. If there's enough interest Redneck will consider doing an All-Vintage race down the road! Motor limits are 17.5 for 2wd's and 13.5 for 4wd's. Modern tires are ok. Modern electronics are ok.
Redneck R/C is located at
68 Smokey Hollow Rd.
Baldwinsville, NY 13027
You can call them at 315-635-1389
Find the Redneck Group on Facebook.
Hope to see everyone there!