Last weekend was Redneck RC's 2nd Annual Hillbilly Hoedown off-road trophy race. This is their "Pure Fun" race of the year. With goofy door prizes, shenanigans, and even a costume contest, it's an event like no other. We were also at last years in case you missed the event coverage from that. Both events were super fun.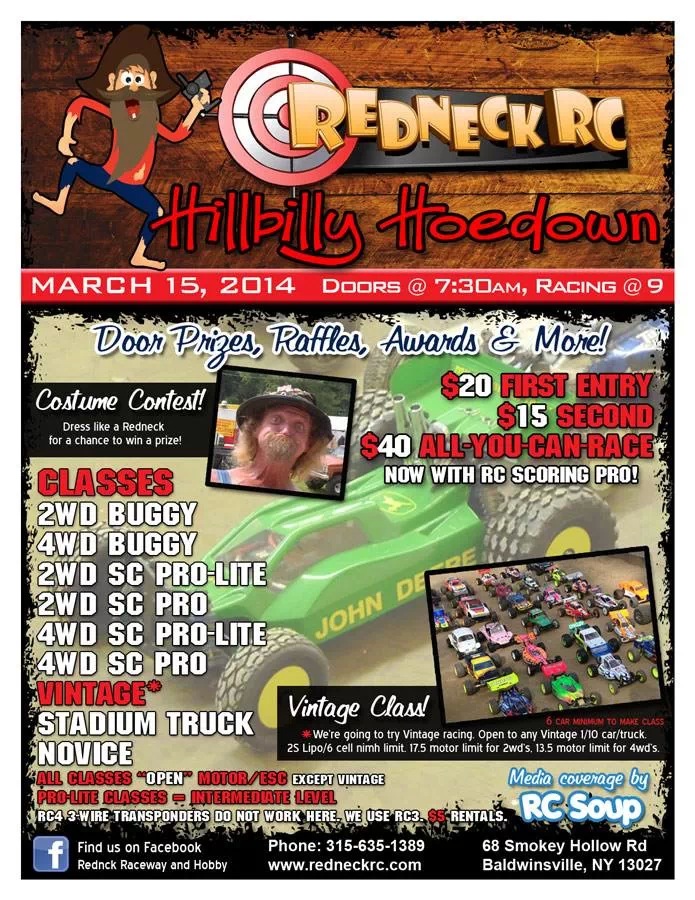 They had another astounding turnout with 189 entries for this event. Redneck is killing it with the awesome turnouts this winter. A number of improvements were utilized after the growing pains we experienced at the Souper Bowl Shakedown. RC Scoring Pro was implemented and keeping track of all the fast laps. It was nice to see your Top 5, Top 10 lap average, etc.
The Motorama 2014 marshalling practices were put in place to keep marshalls on the track (basically you marshall 2 races after your race instead of the one immediately following; Race 1 marshalls Race 3). It gave everyone time to get their stuff on the charger and plenty of time to get back out to the track to marshall.
Overall I think the improvements helped move the race along. There's still a little room to tighten up the time between races, but every big race here it get's run a bit better. Make no mistake, Redneck is THE track to be at in central New York when they have a big event going on. The track is great, the staff is friendly, and the turnouts have been the best in the area for indoor racing.
So, like I mentioned earlier.. the Hoedown is all about having a rootin' tootin' good time. The first thing they did is call all cars to the track. I don't think all of them came out, but this is a good chunk of them.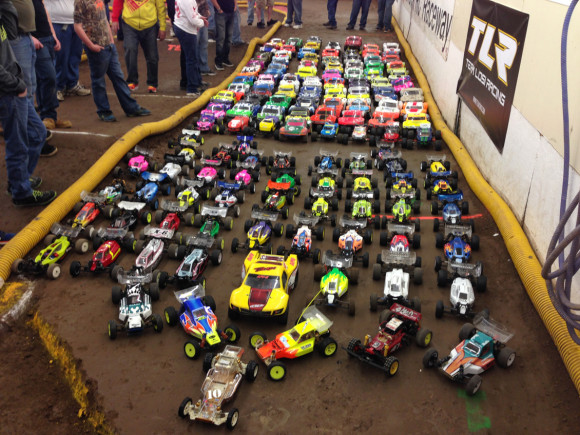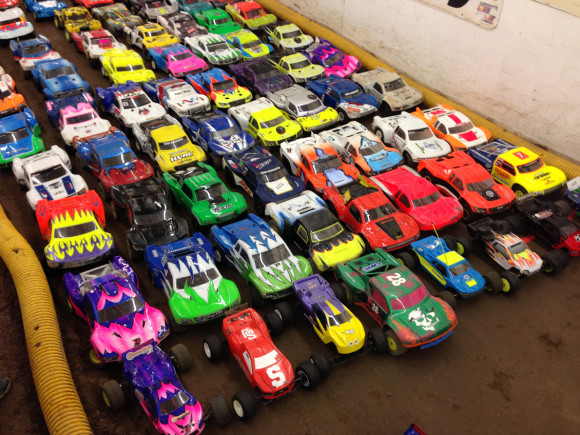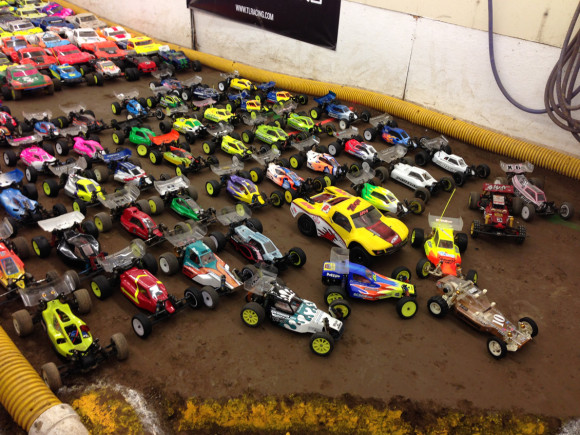 They had a Best Paint and Worst Paint contest. Winner of the Worst paint received a new clear body. Winner of the Best Paint received a set of wheels and tires for their efforts.
So by now you've probably all seen the track and facility with how much we've been hanging out here this winter season. I won't bore you too much with those shots. The track layout is the same as it has been with a few minor alterations to keep it interesting.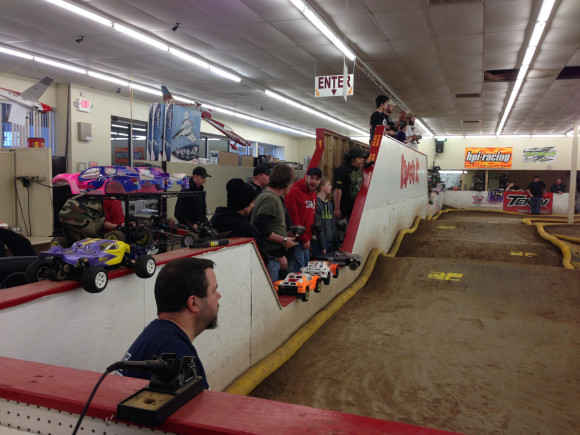 For the Hillbilly Hoedown, Redneck added a Vintage Class that is buzzing like crazy now. We only had 6 entries for it, but it was enough to draw a crowd to watch these old cars make some laps on the track. I hope to see it grow, as we had a great time building our rigs for the Vintage Off-Road Nationals last year. Maybe Redneck will be able to hold their own Vintage only race one day. It's a ton of fun finding these old rigs on forums, craigslist, and ebay and rescuing them from a life on the shelf or in an attic. New folks can even look to many of the Tamiya re-releases or the new RC10 Worlds re-release as an easy option to enter the class.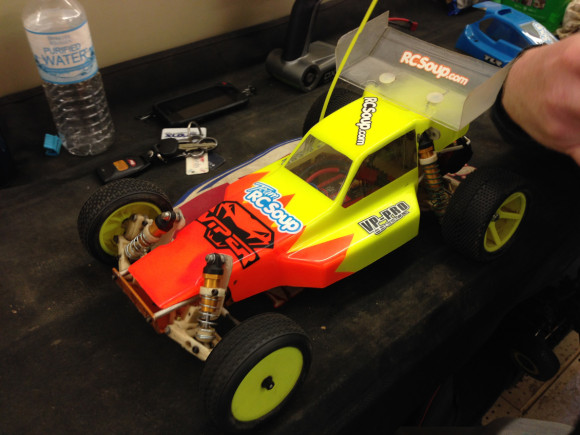 Jarodd couldn't make it this race, so he loaned his RC10 he built to fellow Souper, Geo to run for the day.
Above is my pit area for the day. I decided to pit in the back for this event and just relax for a change. We didn't have as much involvement with this event as we did with the Souper Bowl, so it was nice to experience the event purely as a racer for this event.
Redneck gave out a ton of goofy door prizes like they did last year. Everything from zipties, ANCIENT hobbyshop stock, goofy hats, lightsabers, and kazoos to the princess wand shown above.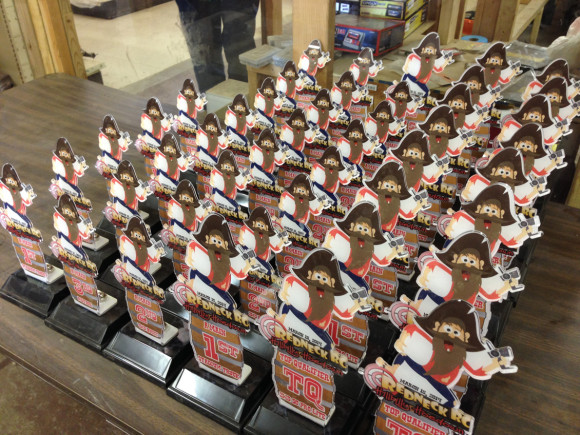 Redneck had the awesome guys at MX Trophies do the awards again for this event. We went with a little bit different style than before, utilizing a stand-up trophy design instead of a wall-hanging plaque. It's nice to be able to change the awards every event and not get the standard paper award on wood plaque every time (although those are still nice too).
Alain Morris was the only one we saw that dressed the part for the costume contest. Even if others did, he probably still would have won for this amazing ensemble. He received a plaque and Losi Balancer for his efforts.
Local racers Dave "Solly" Solomon and Brian Bush both left the race with new cars that they won in the Raffles. They won an Associated RC10 B5 Rear Motor and a Team Durango DEX410v4 respectively. Redneck has been raffling off vehicles for $3/ticket for last couple events. It's an awesome chance for someone to go home with a car for just a few dollars per chance.
During the setup of the Mains, Redneck did several little fun things. They awarded the costume winner (above). Then they did a little light show with music, during which they held a Hula Hoop contest (HA!).
Video of the Hula Hoop contest is below. Anyone who wanted to participate would get 3 attempts to Hula Hoop the longest. Attempts were added to each other via stop watch by Matt Kitts. The longest would win a RTF Flyzone airplane!
[youtube]https://www.youtube.com/watch?v=EqC6VO0YhS8[/youtube]
Next up was the Team Race. This took the place of the charity Dash for Cash events we've been running the last couple events. Basically it was 5 teams of 2 drivers had to work together to run their car the fastest around the track for 10 laps. One driver worked the throttle, while the other worked the steering. Entry fee was $20/team and all of the money raised went to the Challenged Athletes Foundation (CAF). They help disabled athletes compete in sports they love with the assistance of prosthetics or wheelchairs, etc. It's a great cause and one we were happy to support.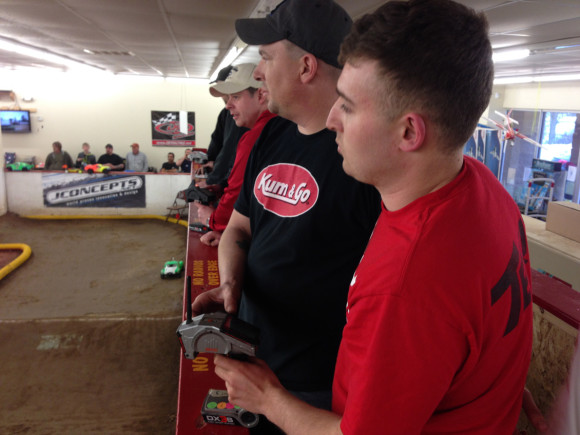 Video of the race is below:
[youtube]https://www.youtube.com/watch?v=GmgiMnDCBvg[/youtube]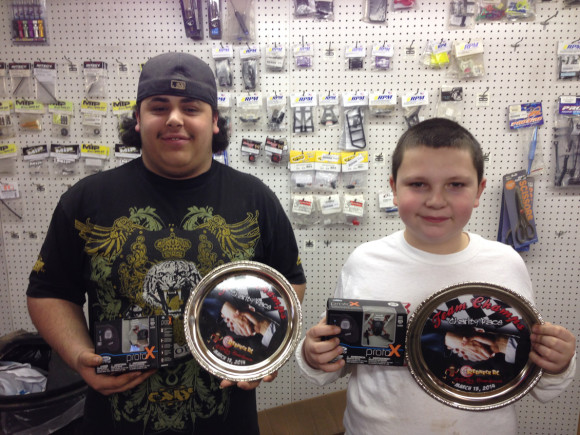 The winners were "Afro Thunder" and Anthony Scott taking home with win. They each received a plaque and an Estes Proto X quad heli for their efforts and contribution to the cause.
The following are random pics taken throughout the day of pits, racers, and more.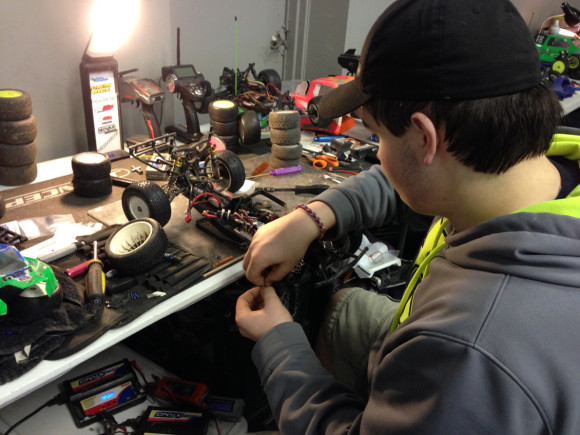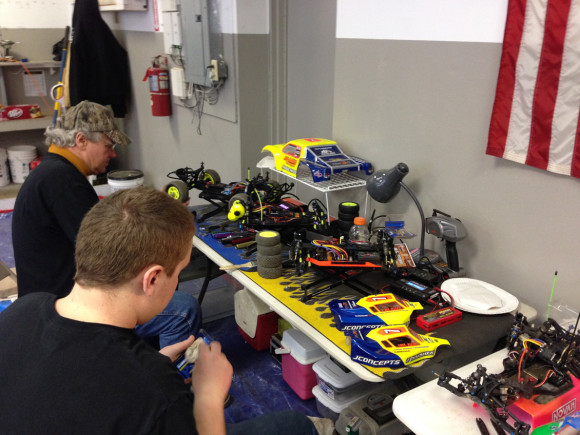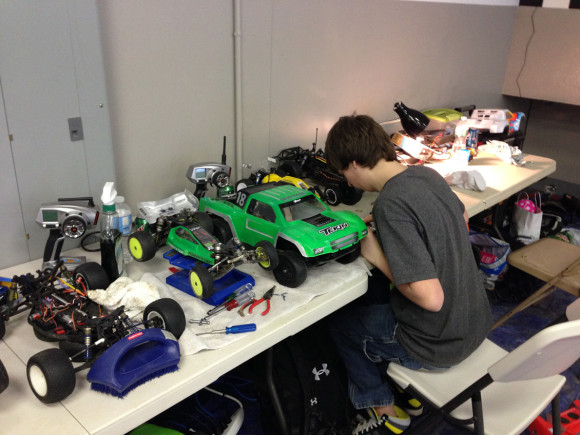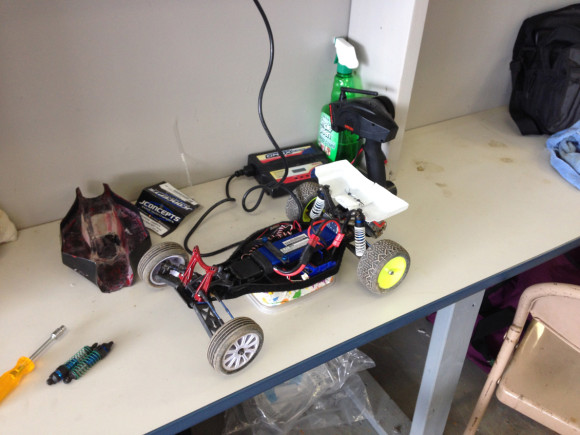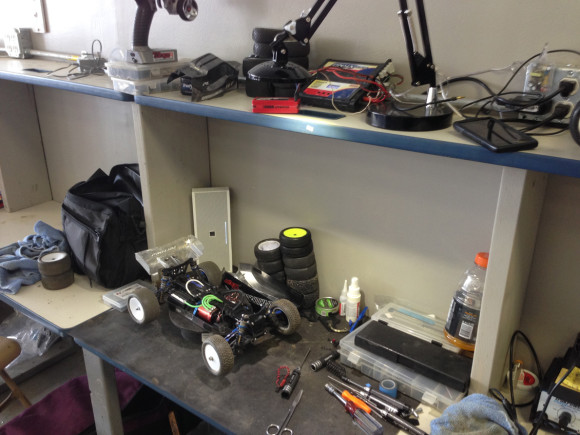 RC10's!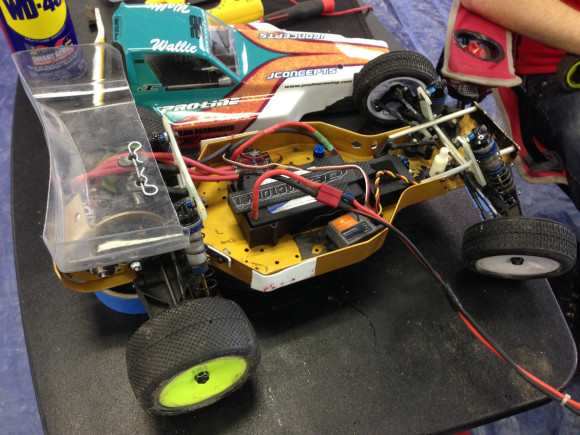 Now we have the results of the event:
Videos:
4wd Buggy A Main:
[youtube]https://www.youtube.com/watch?v=8Fynn0Aukro[/youtube]
2wd Buggy A Main:
[youtube]https://www.youtube.com/watch?v=9qr11juu9dQ[/youtube]
2wd Short Course Pro A Main:
[youtube]https://www.youtube.com/watch?v=uL9PM7KBs_Y[/youtube]
Podium shots!
Look at the above! "Combat Carl" takes the X Factory X-6 Cubed he won at the Souper Bowl Shakedown straight to the podium on it's first time out! Awesome!
Overall it was another awesome and fun event put on by Redneck RC and crew. We had a lot of laughs, got some good laps in, and even got to run some vintage cars. It was nice to see everyone come out again from the various tracks in the Northeast. They had guys from Mad Joe's, Jerry's R/C, KRZ, Jim's RC, High Voltage race track (Canada), MakinTraxx, CRC regulars, and more.
Thanks to everyone that came out, and to those that couldn't make it – we missed you! The next Redneck event is already brewing. Stay tuned to their Facebook Group to keep an eye out for announcements and track discussion.