This past weekend Team driver Jarodd Goedel and myself attended the Vintage Offroad Nationals in Bethel, CT. This race is organized and put on by RC Car Action's Erich Reichert. It's an annual event celebrating the old days of r/c, where only cars made before 1994 are allowed to race. It's a very neat idea and a lot of us racers started with something from that era, so it's fun to see them on the track again.
We've been leading up to this event most of the summer with the following build articles if you hadn't seen them.
With those builds in the books, it was time to head to CT (for those that don't know, we are Central NY based), which is about a 4 hour drive. We left around 8am and got to the track around 1 after some pit stops and getting lost. The track is the Bethel RC Race Arena. It is actually on the same grounds as a bunch of schools and athletic fields. After our 3rd of 4th wrong parking lot trying to find the track I brought up the google Maps, and just as I had it locked down, a fellow racer spotted us and gave us direction. Once we finally got in there and setup it was a nice little setup. The area is fenced in, and has a paved area inside (no pitting in the mud!). Inside the gates there are 2 tracks, the offroad which we raced on, and a nice sized clay oval where they actually host WDRA races sometimes.
The offroad track wasn't huge, but it was about perfect for the old cars. It didn't have any enormous jumps that would threaten the integrity of your 20 year old car. The surface is hard packed top soil that had a really sandy texture to it. It also had a lot of rocks that we kept picking out thru the weekend. Overall it wasn't bad, and realistically it probably matches what guys raced on years ago.. no smooth clay sugared track here. No sir, this was real dirt racing.
So anyways, I took a bunch of photos and was posting them all weekend on our Facebook Page. I'm sure you have seen most of these already if you follow us there. Maybe not though. I'll basically walk you through our weekend.
So the first thing we did when we got to the track was setup our pit area. We actually went for the Friday practice session as we had no idea what to expect. It was nice to be there first thing in the morning on Sat. as well coming from the hotel. Having now experienced the race and it's laid back atmosphere, I think if we attend next year (I'm hoping to), we'll just leave really early on Sat and get there in time for the noonish start to qualifying. The drive wasn't all that bad.
Practice went well. We got a few hours to run and test all the cars before it started raining and we packed up for the night. The first thing I had to do was tidy up the Tamiya Avante 2011. I installed a new aluminum servo horn to tighten up the steering then I made sure the radio and everything was calibrated right. Geo was supposed to run this car at the event but had to cancel last minute. Jarodd ended up running it instead, using it as his 2nd class after we had issues with his son's LXT and he forfeited his RC10T for him to run.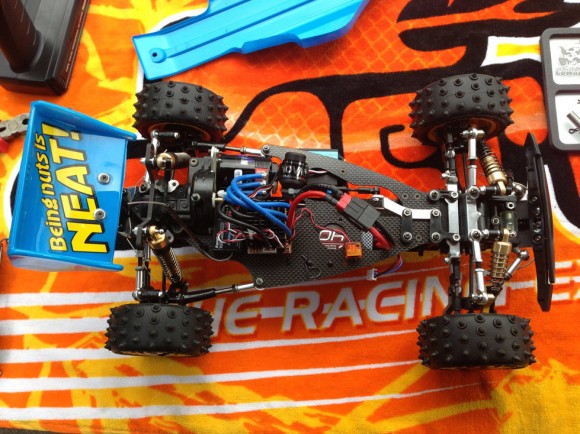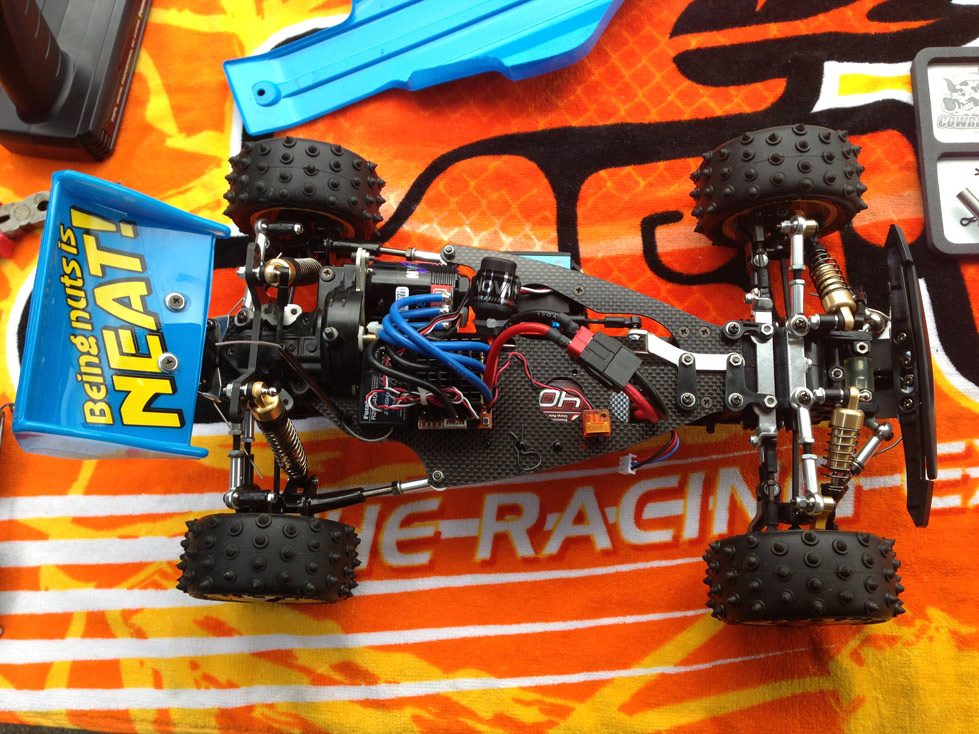 I then buttoned up my RC10 and got that out on the dirt for the first time ever.
Jarodd frantically trying to get 4 cars ready.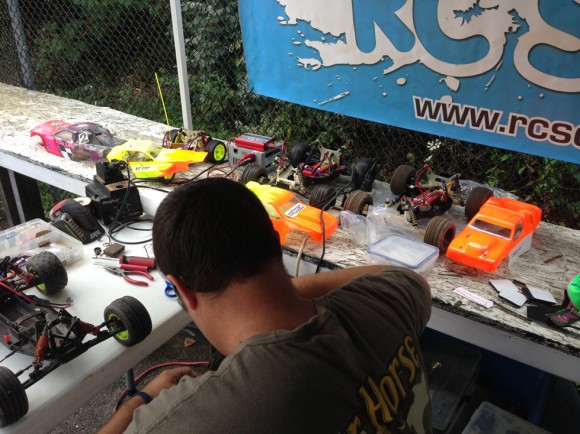 Here is Jarodd's RC10. This thing was wicked fast on the track.
My RC10, about to get dirty for the first time.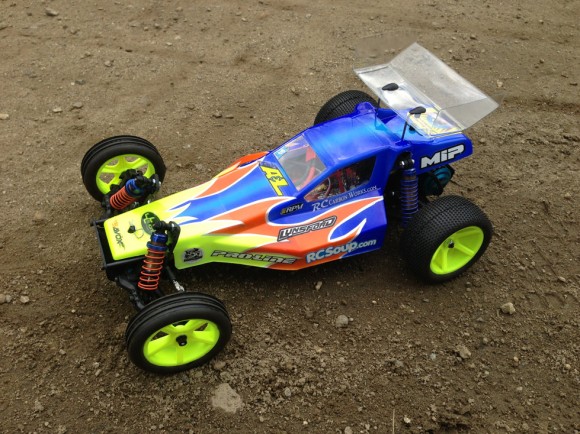 Obligatory group shot.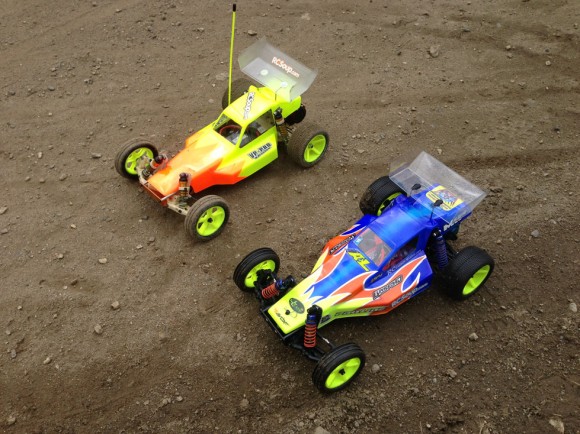 Then we went out with the Avante. It's a fun little car to wheel around the track.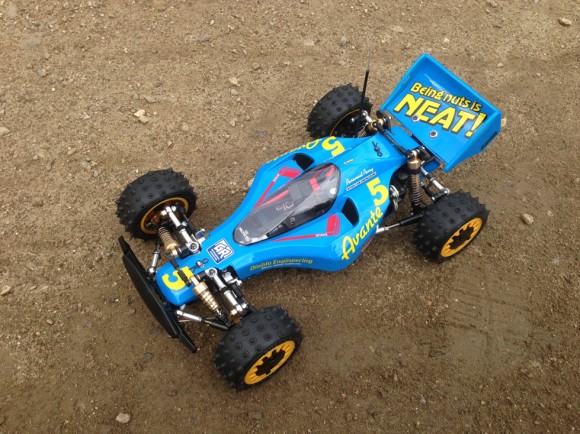 Below is a video of the first 2 laps with this car on the track. It also shows you the track layout.
[youtube]https://www.youtube.com/watch?v=1nrcTL1d0c8[/youtube]
Then it rained on our parade.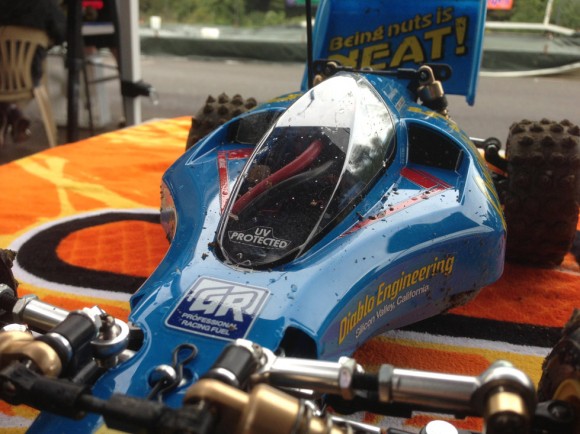 So we went back to the hotel, grabbed some Outback Steakhouse. We had a waitress who threw on a fake Australian accent that was pretty amusing. Good eats tho. So we got back to the track in the early AM Saturday to get back setup and running.
On the next page, we cover day 2.