Coming off of the Vintage Offroad Nationals, and our recent Avante build.. we are excited to share this bit of r/c news.
This is a re-release of the iconic Egress 4WD off-road racing buggy. The Egress first appeared in 1989. It was a follow up kit to the Avante, which had a huge fan following. The original Egress featured stacks of special racing parts. The Egress (2013) builds upon the racy original of the same name, adding modern parts to bring it fully up to speed with available battery and motor technologies available in the hobby market today.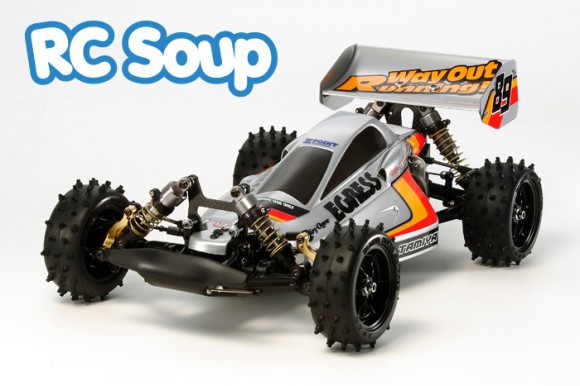 Specifications
Scale : 1/10
Construction type : assembly kit
Terrain use : off-road
Drive-train : 4WD
Drive type : shaft
Drive line : universal
Differential type : ball pressure plate
Suspension : fully independent double wishbone
Steering mechanism : bell-crank
Shock damper : oil-filled damper
Shock damper material : aluminum
Tire type : rubber
Tire tread : pin spike
Body material : Polycarbonate
Chassis material : carbon fiber plate
Electronic Speed Control (ESC) : not included
ESC model : n/a
LED Light buckets : no
LED lights : no
Motor : not included
Bearings : shielded ball bearing
Adjustable camber : yes
Adjustable toe angles : front only
Adjustable ground clearance : yes
Adjustable gear ratio : yes
Adjustable wheelbase : fixed
Adjustable track width : fixed
Adjustable shock angle : yes
Special feature 1 : Length: 430mm, Width: 243mm, Height: 157mm.
Special feature 2 : Features a number of carbon fiber-reinforced parts such as upper/lower decks & central torque-splitter diff.
Special feature 3 : Lightweight wheels are fitted with hybrid spike tires.
Special feature 4 : Newly-designed parts such as ball differentials and universal joints give smooth power transfer.
Special feature 5 : Long wheelbase carbon fiber-reinforced chassis is fitted with center one-way.
Keep an eye out on Tamiya USA for more pictures as the release gets closer.