The Tamiya Avante is one of those kits that I think every kid who grew up in the 80's wanted, and few could afford. Even the rerelease is still quite pricey. When Kevin told me that he was planning to go to the Vintage Off-Road Nationals this year, I immediately was interested in going. The problem was I didn't have a vintage car except my shelf-queen Grasshopper that I spent a ton of time restoring before they announced a rerelease.
When Kevin told me that Tamiya USA was shipping RCSoup a Tamiya Avante 2011, and that I might have the opportunity to build it, I squealed like a little girl. I was happier than a tween at a Bieber concert. Granted, I'd be happier if I could keep it, but the opportunity to build and race it at VONats is more than enough to fulfill my childhood dreams of playing with this car. After we race it at the Vintage Nationals, this Avante will in fact be up for grabs in our 2013 Benefit Raffle for Children's Miracle Network.
For the actual Vintage race, we will be running the Novak Pulse and Vulcan 13.5 Brushless motor. For this build, we wanted to install the kit equipment just so we can compare it to the brushless stuff when the time comes. We're also using one of the hot new ProTek 100SS servos to steer this beast. For a radio, we went with the Futaba 3PL 2.4ghz. Overall it should be a reliable build, considering all the quality electronics. The kit also ships with a 2nd set of wheels for mounting modern sized tires, and for those, we'll be running Pro-Line Holeshots. That will come in a 2nd update article though when we convert this bad boy to brushless power and get it ready for Nationals.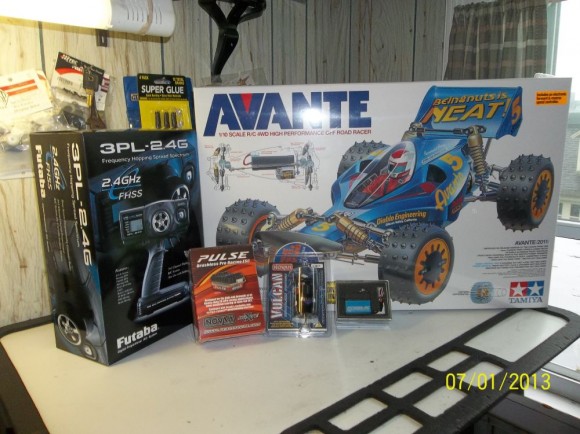 Here above we see all the goodies that will come with the Avante when its built up for the Vintage Offroad Nationals. For now we will Build it stock. First lets take a closer look at some of the goodies.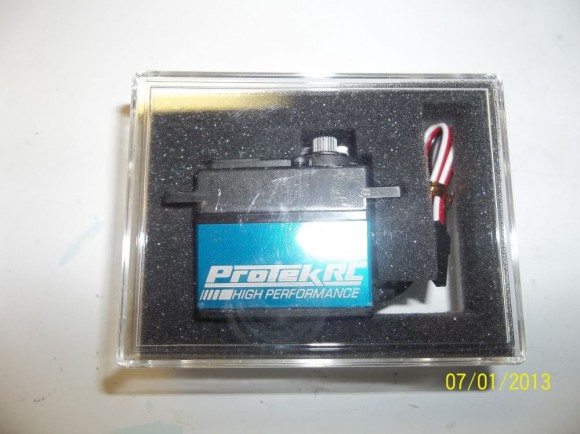 Here we have the Protek RC High Performance servo. The speed on this servo at 6v's is 0.09 seconds. That should be plenty fast for the Avante. It's torque is rated at 168oz/in, again more then adequate for this build.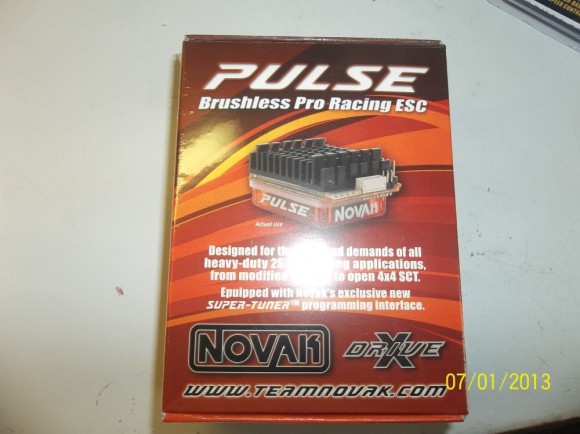 Here we have the Pulse ESC from Novak. A name everyone should know in the RC industry. This baby is designed for the high demands of all 4×4 racing.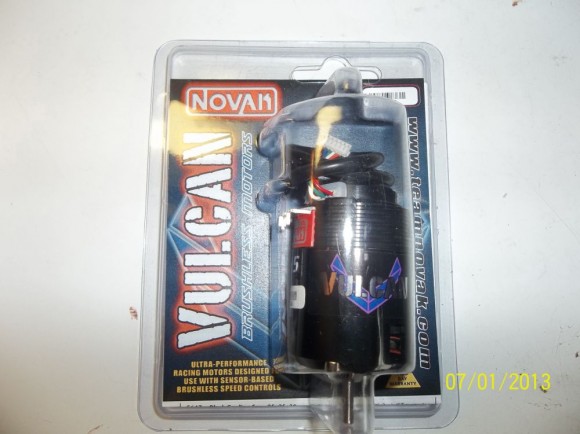 Next up is the new motor line up from Novak,the Vulcan. We chose the 13.5 flavor. This motor is 100% rebuildable and has a list of amazing features such as a high rpm stator, sensor-based design, sintered neodymium magnet, oversize front bearing, heavy duty low loss solder tabs and a replaceable sensor harness. I can not wait to put this in the car!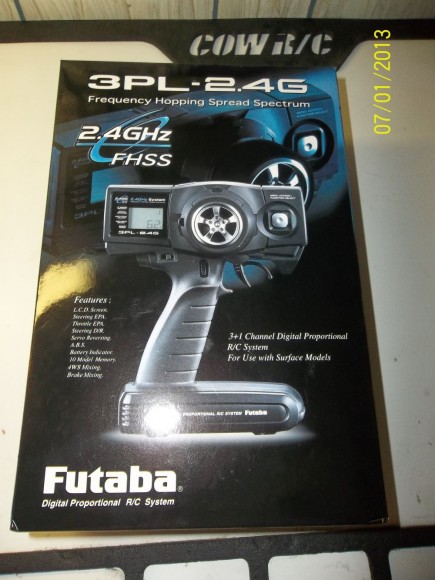 Finally to control this beast is a Futaba 3PL-2.4g radio and receiver. This radio sports some nice features such as a LCD screen, steering and throttle EPA'S, steering D/R, Servo reversing, ABS, battery indicator, 10 model memory, 4ws mixing and brake mixing.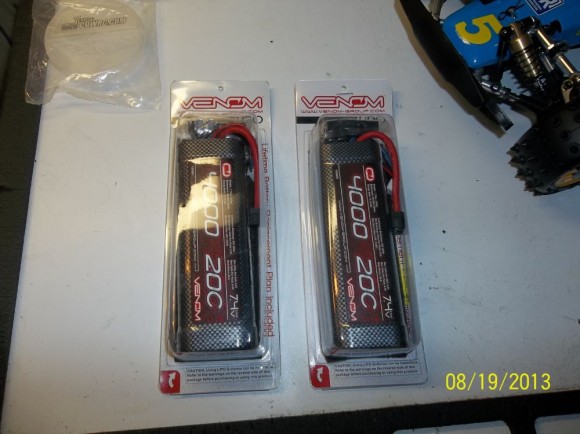 Last but not least we went with Venom's 4000 20c 7.4v 2s lipo packs. We chose these packs because they are shaped like the old NIMH/NICD packs some of us older racers used back in the day. Most of the Tamiya kits were designed to use this shape of a battery. Another cool feature of these packs are that they come with 4 adapters for most popular plugs out there. YAAA! I don't have to solder!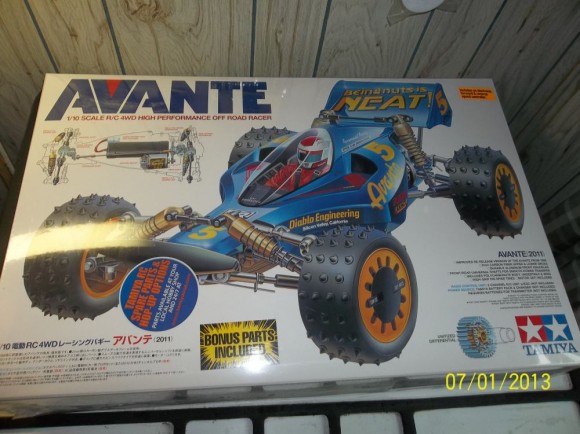 OOOO! Here we go. MAN as a kid I thought this car was so cool. Guess what? I still do lol. You also have to love the good ole Tamiya box art!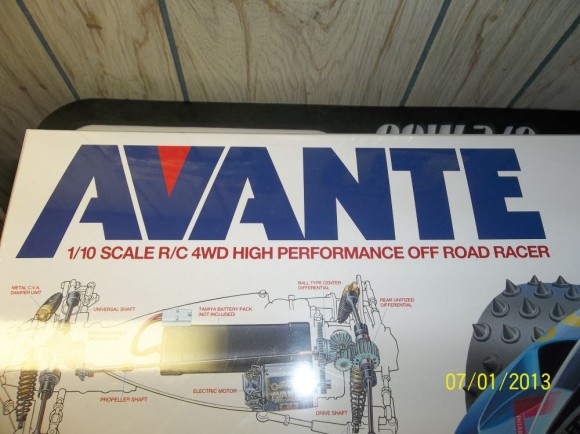 This car was a high performance machine back in the day. I would love to tweak one to race against cars of modern time. HMMMM maybe another project down the road?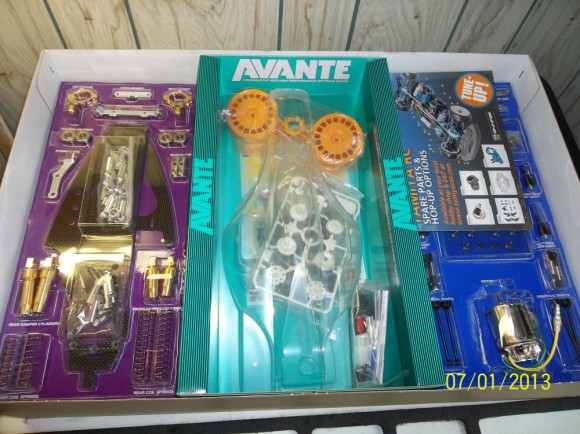 One of many things I love about Tamiya kits is the way they packaged everything. Nice and "NEAT". (That's not the last time you will see that word, lol)
Be sure to follow along on the pages below.