Alright folks. This is Part 2 of my original RC10 Restoration article from WAY back in January. That article also has a lot of info about the Vintage Off-Road Nationals that all these builds are centered around. This really isn't a part 2 though, because I pretty much scrapped that whole project. I kept a few key/rare pieces and parted out the rest on various for sale threads. Everyone  seemed to think that I'd have been better off starting with a different roller because the original car I got from Craigslist had a slew of issues (horrible performing Hot Trick chassis, rare MIP transmission (people were unsure if it could handle brushless power), and just overall not in the best of shape..
This is what I sold, save for the rear arm mounts. I did end up using them in this build. You might ask yourself… what did I actually use? Well, not much. I was able to reuse the rear bulkhead, rear arm mounts, hinge pins, various hardware, wing buttons, wing downtubes, and wing mount. I could have used the front bulkhead pieces, rear hubs and other parts.. but at this point I was just ready to start over.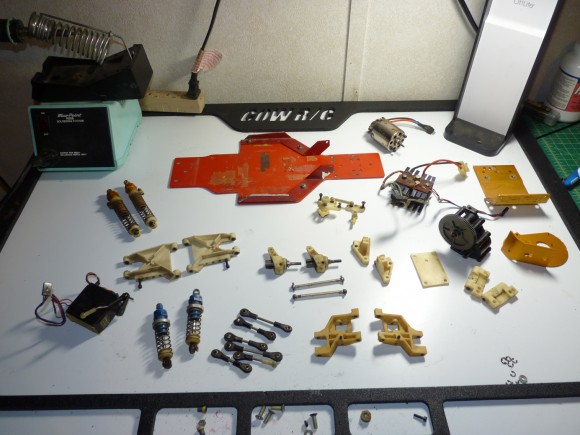 So, after a few months of parts collecting.. the following picture will end up being my build. I pretty much ordered everything new that I could find. This will basically be a brand new car when I'm done haha. I hope they still let me run it at Vintage Nats. I did go a little nuts.. most things are era correct, and nothing I did will make this handle like a brand new RC10B4.2.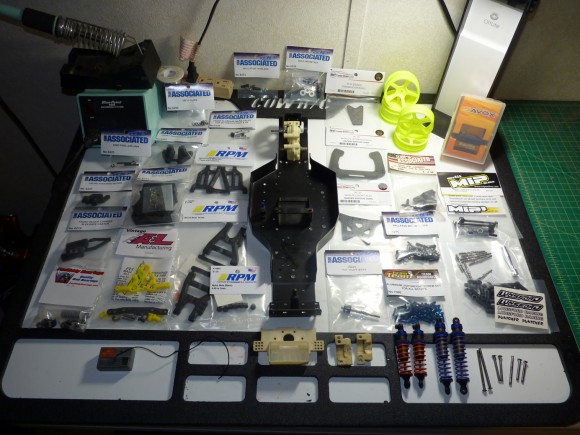 Here is the full list of the components going into this build.. it's lengthy, be warned.
RC10 Black Anodized B Stamp chassis/nose plate/motor plate /nose tubes.
Original Stealth Transmission.
Original RC10 White rear bulkhead and rear arm mounts
Associated V2 Slipper assembly from my SC10 (upgraded to AVID a while back)
Kyosho Velvet shocks from an RB5 Buggy
Associated Front Block Carrier 30 Degree 6210
Associated Battery Cups 6334
Associated Inline Steering Block 6221
Associated King Pins 6223
Associated Front Suspension Mounts 6207
Associated 1/8″ E-Clips 6299
Associated Aluminum Inline Axles 6220
Associated Ballstuds Long 6273
Associated Body Mount Kit 6330
Associated Ballstuds 6271
Associated Topshaft B4/T4 9601
Associated FT Aluminum Screw kit RC10T 7300
Associated Rear Hub Carriers 1.5 Degree 6366
Associated RC10 Viper body
RPM Nylon Nuts 70802
RPM RC10 Rear Arms 70542
RPM RC10 Front Arms 70442
Lunsford Titanium Turnbuckle Kit
Murfdogg 17.5 Brushless Motor
Hobbywing Justock sensored ESC
Below are a few closeups of the various parts.. I may need psychiatric help with as much stuff as I put into this buggy.
Here I will call out a few things. I got the chassis/nose plate/motor plate/transmission all locally from fellow r/c racer Dave Stisser. He had it laying around and it was in good shape. This was the first part of the puzzle, and the deciding factor in my decision to basically start all over using these parts. These are probably the most important parts of this build.. a quality chassis and transmission.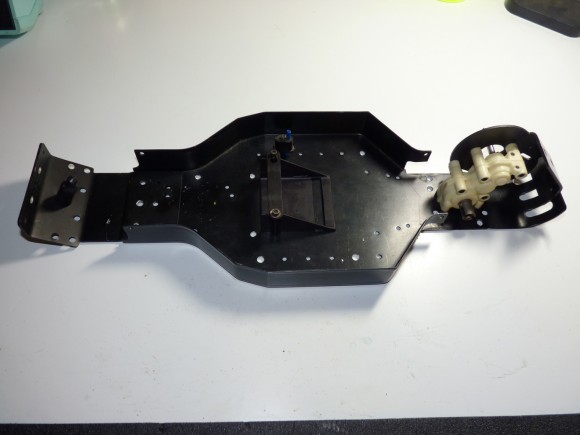 The original stealth transmission. It felt smooth and had bearings. It lacked any sort of a spur adaptor or slipper clutch, but that didn't matter to me anyways considering what I had planned.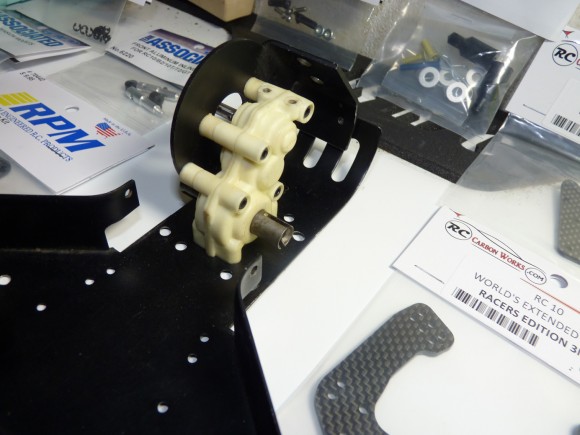 These are the bulk of the pieces I salvaged from my original RC10 purchase. The rear arm mounts aren't in the best of shape.. but they will work.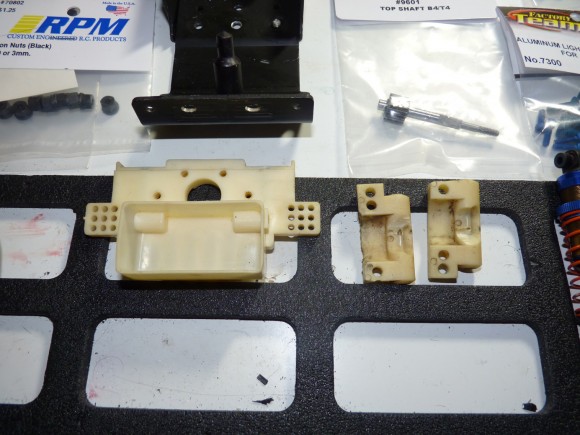 Here are the Kyosho shocks. I didn't set out looking for these but they popped up for sale cheap on RCTech. They should do nicely. I was originally going to keep the stock shocks but couldn't resist putting on a set of threaded ones.
These are the Lunsford turnbuckles. They don't currently stock a kit for the RC10, but you can get them if you contact them. I had to modify what they sent me. According to their records the RC10 Worlds kit included the following sizes:
RC10 Worlds
1 – 1″ servo
2 – 1 3/8″ rear camber
2 – 1 5/8″ front camber
2 – 2″ steering
Being I wasn't sure which kit I needed, I was sent 2 extra 1 5/8″ links. I'm sure I probably screwed something up here.. but this is what worked for me. More on that later.
I believe what I ended up using was this:
1 – 1 5/8″ servo
2 – 1 3/8″ rear camber (shortened from 1 5/8″)
2 – 1 3/8″ front camber
2 – 2″ steering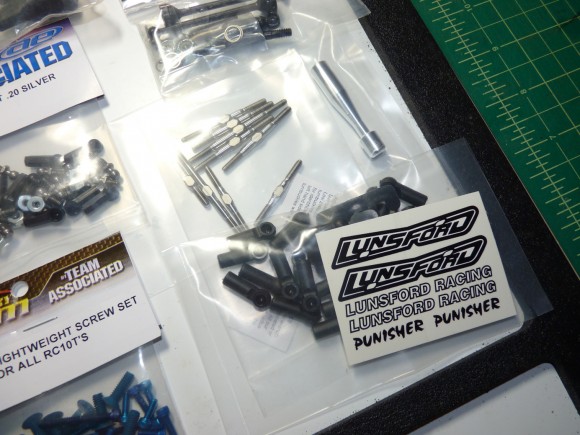 This is the MIP CVD kit. This is still being made and is readily available.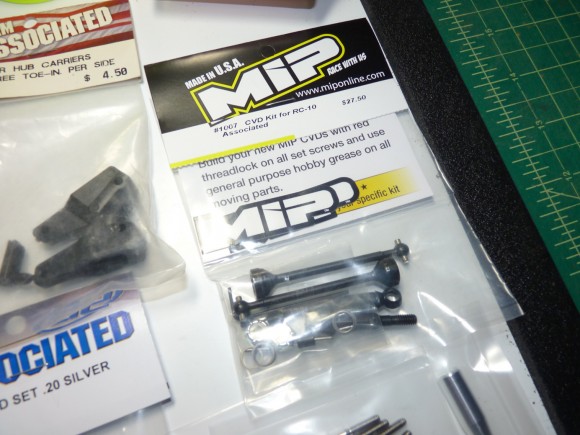 I chose the Savox SC-1251 Low Profile servo to save weight and space in this buggy. It's more than fast and strong enough to carve the corners at the track.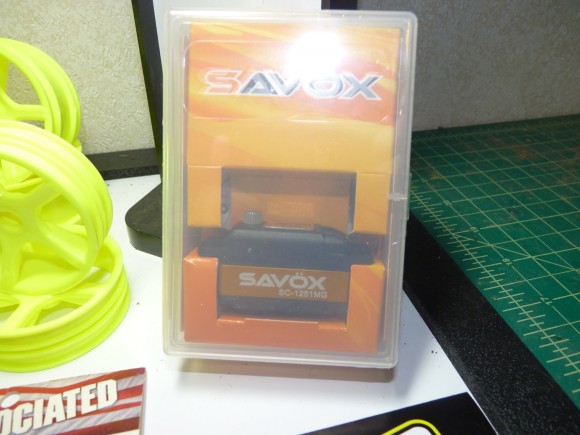 These are JC Racing wheels. They are made and sold in the UK. A huge thanks to the folks over at RC10Talk.com for talking about these. I didn't know they existed. Basically they bolt right up to your standard RC10 (same bearing size and 1/4″ axles) but they are 2.2 sized so you can mount modern tires! They come in a variety of colors. I got the yellow and a 2nd set of white ones (not shown). Both look VERY well made with excellent tolerances.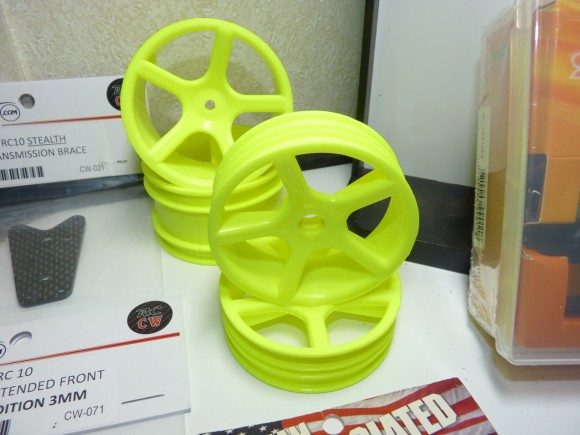 Next up is the RC Carbon Works RC10 World's Short Rear Shock Tower. This is specifically made to be able to mount modern rear buggy shocks to the rear of your RC10 (B4, RB5, etc). The Racers edition is 3mm for extra durability – something I could use for those people that have seen me drive haha).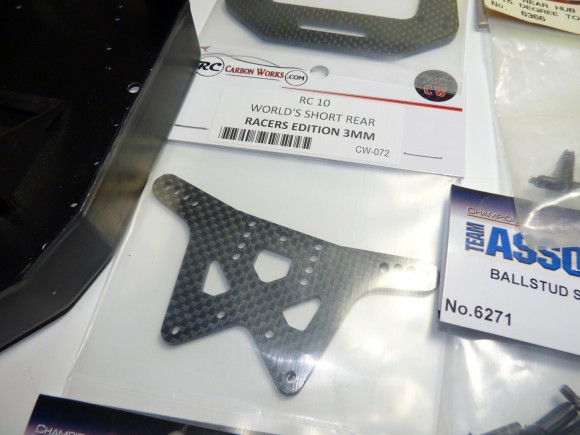 The RC Carbon Works RC10 World's Extended Front Shock Tower is similar to the rear one. It is sized for modern shocks, allowing taller shocks up front. Again, I chose the Racers Edition.
Lastly the Transmission brace. I could have gotten away with a plastic one that is still readily available.. but for a build of this caliber, why not just get the extra little dose of carbon fiber? The added rigidity should help hold things together too.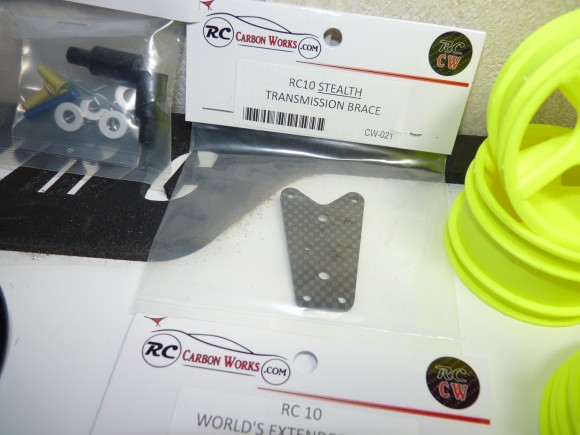 One of the cooler parts on my build is the Vintage Team A&L Ball Bearing steering bellcrank. These were out back in the day and are still being made by A&L. It also sports a little bit of carbon fiber goodness.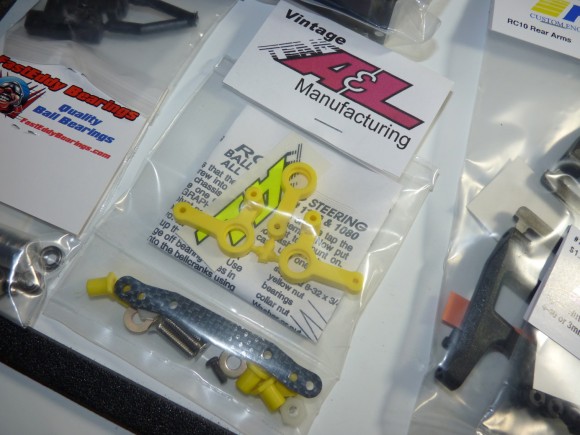 Here's my FastEddy Bearing kit. I pieced this together myself as there is no formal kit offered. It's easy enough to do though. Below are the sizes I needed. It's enough to do the entire car and the A&L Steering.
2 x 3/8×5/8×5/32 Metal Shielded Bearing R1038-ZZ
2 x 5/32×5/16×1/8 Metal Shielded Bearing R155-ZZ
4 x 3/16×3/8×1/8 Metal Shielded Bearing R166-ZZ
8 x 1/4×3/8×1/8 (FLANGED) Metal Shielded Bearing FR168-ZZ
4 x 3/16×5/16×1/8 (FLANGED) Metal Shielded Bearing FR156-ZZ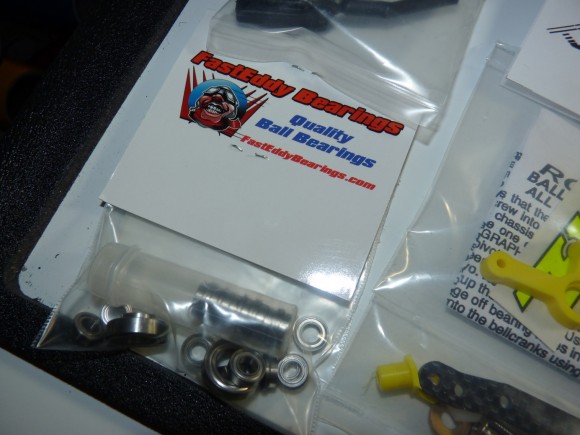 Below are my slipper parts I had left over from my SC10 when I switched to the AVID Triad slipper.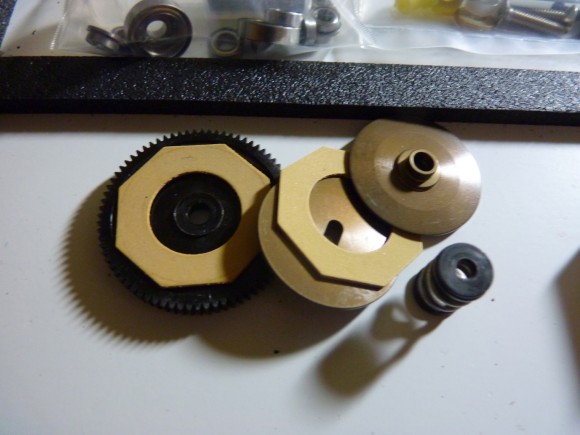 Follow along with the rest of the build. Don't just skip to the end.