Ok guys, this is it. Today was the big drawing for the Children's Miracle Network Charity Benefit. As most of you know, RCSoup is all about giving back to the community. We do what we do for fun, and not for profit. What little money we do generate from advertising and Merch sales, all goes back into the site, to either pay for travel expenses for event coverage, being able to bring you more gear, or to pay for promotional items like banners and business cards.
This is our 3rd year running this charity raffle. Last year we had overwhelming support from all the manufacturers, that it was almost too much to cover everything. This year we decided to tone down the raffle, not because we wanted to raise less money, but because it was hard to cover/review all the items we received last year and give each item the coverage it deserves.
Tamiya USA was generous enough to help us out again this year, and we built the Tamiya Avante 2011 we were sent as part of our Road to Vintage Nationals article series. Every upgrade we made was with racing in mind, and are items that could (and did) compete at an event like the VONats. Whether you are a fan of Vintage Tamiya cars or not, there is no doubt that what we ended up with here is one very tricked out car. We even added some awesome aftermarket parts on it. It has all the best stuff on it and is ready for the track.
In the past 2 years we have raised $4,890 through these raffles for our local CMN Hospital. A HUGE THANK YOU goes out to all of those who have supported this in the past.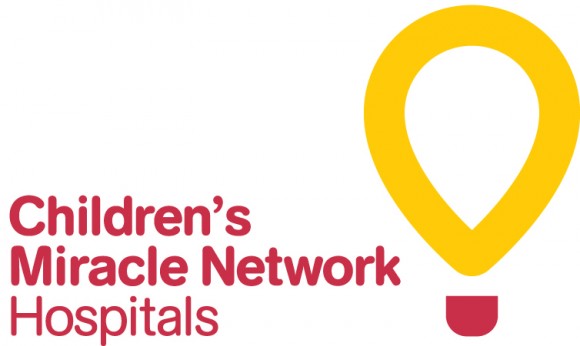 Hopefully you've all see the flyer for this fund raiser and were able to get in on the ticket sales.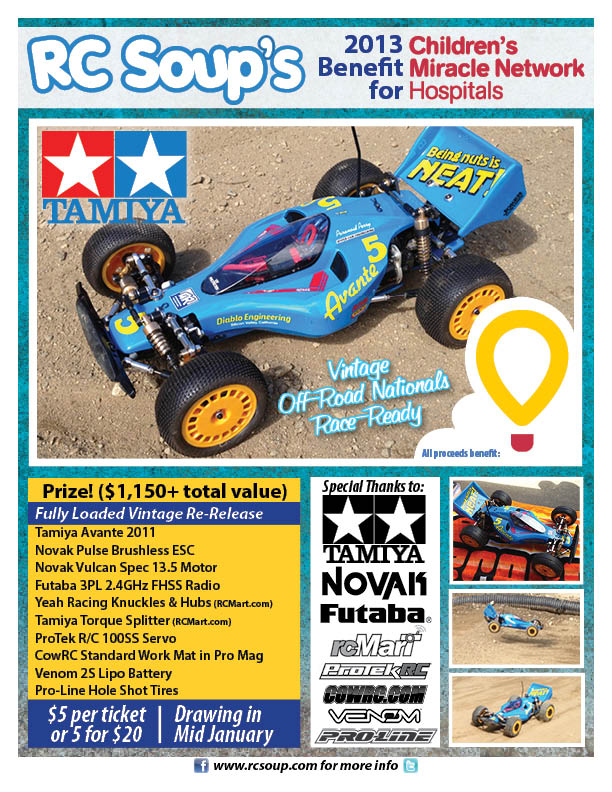 Below is what the winner will be receiving! A completely RTR, "dialed" Tamiya Avante 2011 package.
1 Grand Prize ($1,150 value)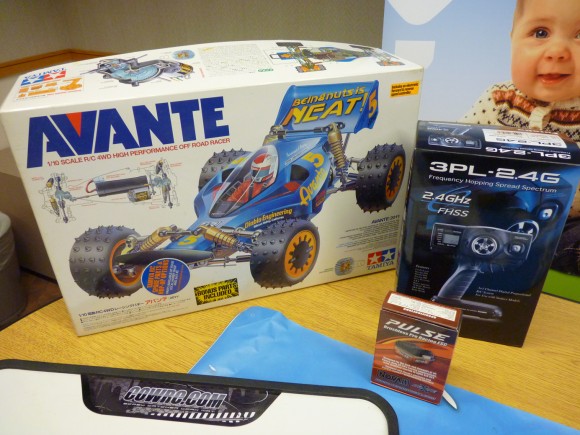 Once again many thanks to all the sponsors above, we couldn't have done this without you.
Special thanks to those who provided Raffle Promo Materials:
Sherburne News
Snyder Communications
When it was all said and done this year, we sold close to 300 tickets.. Total money raised for this great charity was $1,105. THANK YOU TO ALL WHO CONTRIBUTED!! Our goal was $1,000 since we only had 1 vehicle this year, and last minute entries from some our closest supporters and friends in the final hours helped kick us up and OVER that goal. We were pretty shy of the goal at the end of last week. If anyone has suggestions on how to better work the raffle to gain more participation (whether the mailing a check thing is a huge deterrent, etc), I'm all ears: kevin(at)rcsoup.com.
This year's Miracle Child helping us draw the winner is Austynn. She did a great job shuffling our tickets and drawing a winner! She's joined by her mother and Children's Miracle Network Director, Andrea Macdiarmid.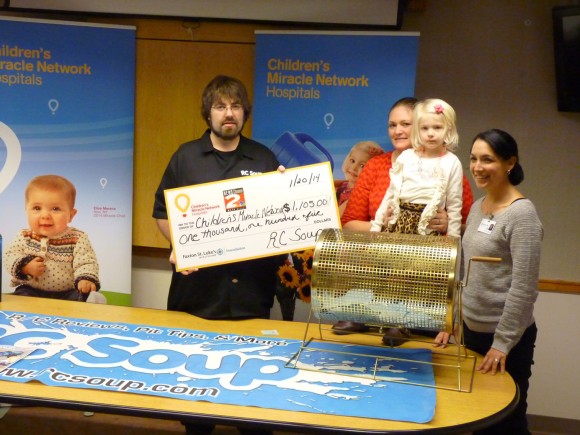 Tickets were numbered 1 through 500.  We sold close to 300 total, not necessarily in numerical order because several were dropped off at hobby shops and handed out to team drivers to sell, and remain unsold. For those of you who purchased tickets in person, you were given one half of the ticket to keep. On the side of the ticket that we kept, and that went in the drum, was the purchaser's name, telephone number, and email address. When we draw the winning tickets, we will be able to see the winner's names.
To those who purchased decals online, tickets were filled out in your name.
We filmed the occasion for posterity, check it out below to see if you are the lucky winner!
[youtube]https://www.youtube.com/watch?v=TzaGrgpP4Fk[/youtube]
If you're not into video, full photo break down below. Special thanks to our friend Jim Mehaffy for helping me today.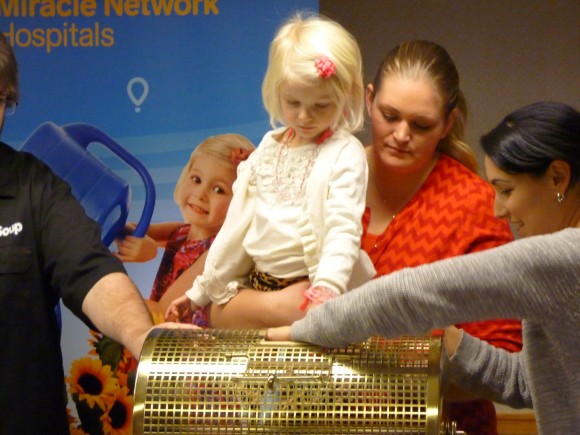 And the winner is… Joe Vermillion! Congratulations!!!! We will be contacting you directly to congratulate you, and to coordinate delivery of your prize!
We want to thank everyone who bought tickets. Because of you we were able to give some much needed money to a great charity that is all about helping kids. If you didn't win, please don't be sad, the real winner here is Children's Miracle Network.. We couldn't do this without everyone involved, Sponsors and Entrants. THANK YOU!
We are already planning 2014's Raffle! So stay tuned!