The 4th annual Short Course Nationals were this past weekend (August 4-5, 2012) @ R/C Madness in Enfield, CT. I've never been to this facility before (it's about a 4 hour drive for us), but have heard many good things about it. Early in the season when the schedules were release myself and Team Soup driver, Jarodd Goedel decided we'd make the trip out there to check it out. We were joined by Jarodd's son Mason, and racing friends "Geo" and Bill Sauve.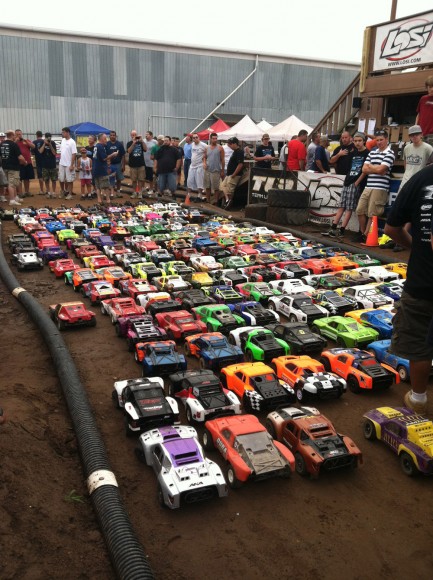 We left around 8PM on Friday night (we all worked, so we sacrificed running Friday's practice). We rolled into the track facility around midnight and dropped off the Canalside Racing Products pit trailer and headed for the hotel. Practice was set to start at 6AM so we did not get much sleep. Oh well, such is the life of a traveling racer. We woke up, hit the local Dunkin' and were to the track shortly after 6:15 and immediately setup and went out for some practice.
My initial thoughts were that the track was of decent size, comparable to CRC Raceway. It didn't seem to have the big jumps that I'm used to running (but that's perfectly fine for short course). The dirt surface when we first got there (it'd just been watered) was great. It felt tacky and the AKA Gridirons from the Slash 4×4 LCG Shootout hooked up great. That story was short lived for me as the day went on. With the heat came a lot of dust and I couldn't get very good grip with the small pins, so I moved up to the AKA Enduros I had in my box. The hot tire most guys were running were the Pro-Line Blockades. I actually had a set in my box, but with different offset wheels (you'll have to wait for a later upgrade stage of the TRCE slash 4×4 chassis to see that).
There were a lot of Central New Yorkers there. We had everyone like Jim Mehaffy, the Pettinelli crew, Cruz Zachary, Doug Smith, Nate Reyes, Justin Kelly, the Levy brothers and more. It was fun to see a lot of familiar faces at an unfamiliar track. We're kind of hoping some of the Connecticut crew comes out to our big race at CRC in the next coming weeks, the Intergalactic Short Course Championships.
Anyways, there were a lot of industry professionals in the house as well. We got a few of our famous "Meet the Pros" interviews with some of them. Check them out in the coming days. In attendance was Keith Whistler and Ryan Dunford from Losi, Gary Katzer from Horizon Hobby, Greg Vogel from RC Driver, Joe Ford from Castle Creations, Gerardo Gonzales from Pro-Line, Chazz & Paul Sinclair from X Factory, Nick Malato of Viper, Jason Punty from Team RCE, Matt Higgins of RC Truck Stop, and many more. We got to talk to a few of them about various things and it was great to meet these guys.
One of whom we talked to was Gerardo Gonzales from Pro-Line. He was there running the all new, unreleased, Pro-Line Slash 2WD LCG Chassis (you know how much we like those here). It looked really good! There really isn't much "Slash" left when you install all the Pro-Line goods (Transmission, Pro-Trac, Shocks, etc). It's still cool to see and he was doing really well with it. Check out some shots we took!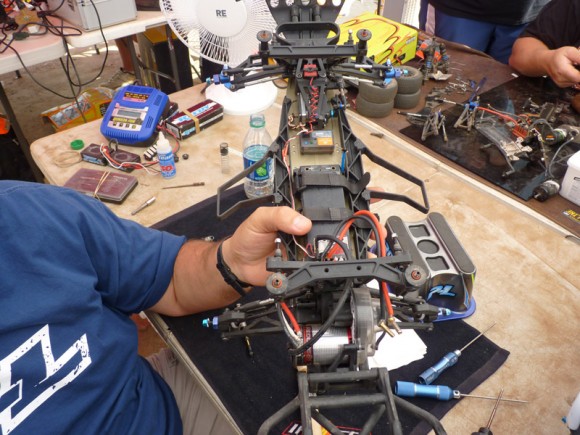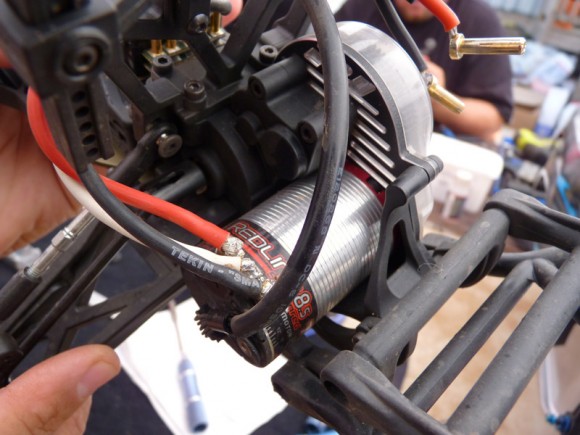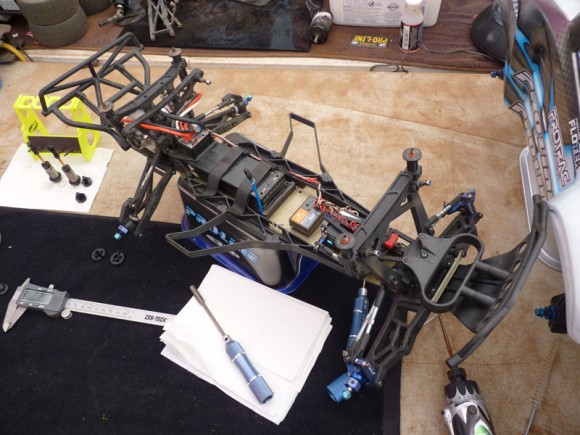 We also talked to X Factory for a bit. I should be on one of their upcoming podcasts! Chazz was telling me how they keep selling out their production runs of the SCX-60CF. It's no wonder why.. that thing is gorgeous. Also while in their tent.. I spotted Paul cutting tires in an attempt to find traction on the loose/dusty track. Check this out.. this used to be a JConcepts Subculture: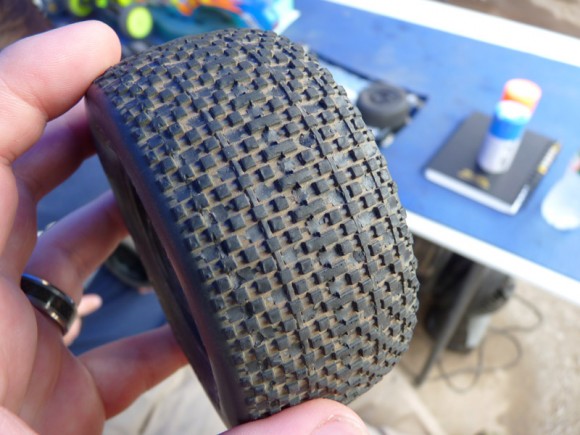 As Chazz mentioned, this is one of the things a Pro is not afraid to try in order to get an edge on the competition.
As far as the racing action goes… we started on time Saturday, roughly around 8AM. R/C Madness had two tracks setup (one on either side of the driver's stand). The smaller track was reserved for the Stock classes (2wd SCT & SCB) and Spec Slash. The larger track ran the Mod SC, 4wd Open, Nitro, and 1/5 scale classes. The driver's stand is setup in such a way that the announcer can just look out the opposite window, so switching between tracks was very quick. The track crew was grooming whichever track wasn't being run at the time so it was ready.
It was BLISTERINGLY HOT on Saturday during qualifying. The facility, like many outdoor venues offers zero shade unless you went inside. It was tough to stay hydrated, I lost count of how much I drank. Despite the heat, racing pushed on. You could tell the heat was getting to everyone though, as more than once I heard someone's temper flare up. It was still fun, but it really took a lot out of you.
Read more on page 2!