As most of you know, RCSoup is all about giving back to the community. We do what we do for fun, and not for profit. What little money we do generate from advertising and Merch sales, all goes back into the site, to either pay for travel expenses for event coverage, being able to bring you more gear, or to pay for promotional items like banners and business cards.
This is our 3rd year running this charity raffle. Last year we had overwhelming support from all the manufacturers, that it was almost too much to cover everything. This year we decided to tone down the raffle, not because we wanted to raise less money, but because it was hard to cover/review all the items we received last year and give each item the coverage it deserves.
Tamiya USA was generous enough to help us out again this year, and we built the Tamiya Avante 2011 we were sent as part of our Road to Vintage Nationals article series. Every upgrade we made was with racing in mind, and are items that could (and did) compete at an event like the VONats. Whether you are a fan of Vintage Tamiya cars or not, there is no doubt that what we ended up with here is one very tricked out car. We even added some awesome aftermarket parts on it. It has all the best stuff on it and is ready for the track.
In the past 2 years we have raised $4,890 through these raffles for our local CMN Hospital. A HUGE THANK YOU goes out to all of those who have supported this in the past.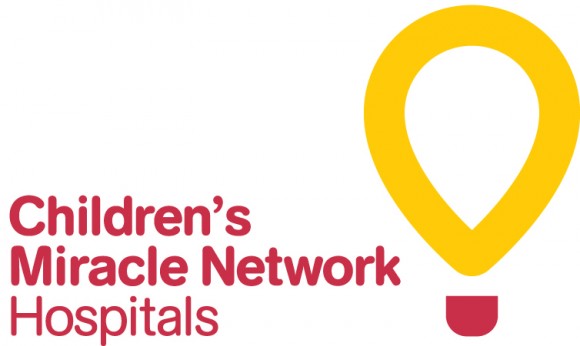 So let's talk about what we are doing this year. The focus is on raising money for a great cause, Children's Miracle Network. With most of Team Soup being active fathers with young children, we think this is an excellent benefactor of our generosity. There is NOTHING we hate more than seeing a sick child, it's absolutely heartbreaking.
I asked local CMNH Director, Michele Adams to tell everyone a little bit about Children's Miracle Network, and what they do. Here's that:
Help as many children as possible by raising funds for children's hospitals.
Keep funds in the community in which they were raised to help local children.
The dollars raised through this fundraiser will help support children and families at Faxton St. Luke's Healthcare. Each year more than 19,000 children come through the doors of Faxton St. Luke's Healthcare to receive life changing and life saving care. Whether it's helping a child heal from asthma or a broken bone or providing our littlest patients with care in our Neonatal Intensive Care Unit the support Faxton St. Luke's receives from our community makes a tremendous difference.
You can learn more about CMNH @ the national website. As you can see in Michele's statement, all funds we raise stay local to our Central New York location, which to be honest.. could use all the help it can get.
Now that you know a little about CMNH, let's talk about what we are giving away to help show our appreciation for your donations (by the way, EVERY bit of what is raised goes directly to CMNH, we make nothing from this).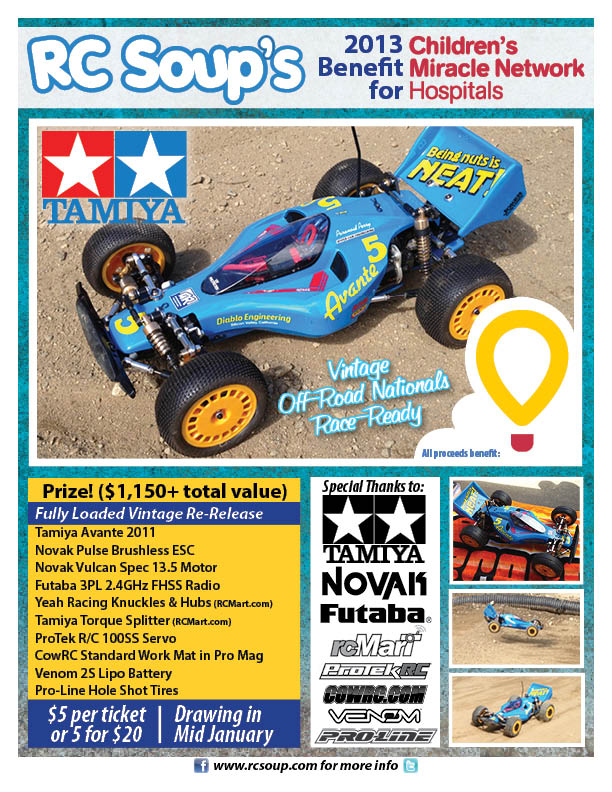 1 Grand Prize ($1,150 value)
Raffle Details:
Tickets are $5 each, or 5 tickets for $20. We will be selling tickets online (below), as well as working with local hobbyshops, and selling in person. Get your order in quick before we sell out! It's an awesome car equipped with top notch gear, $5 for a chance is a no brainer… and it all goes to help kids!
Winning ticket will be drawn in Mid-January 2014 at the Children's Miracle Network office in Faxton-St. Luke's of Utica, NY. We will record the event and post the drawing online in a Winner Announcement post. Winning ticket will be drawn by one of CMN's "Miracle Children". Once a winner is chosen, Children's Miracle Network will mail the car and extras to our winner. The CowRC Mat will be drop shipped to the winner from CowRC.
Ticket Info:
Children's Miracle Network has requested that people pay us for these tickets with Checks or Money Orders made out to "Children's Miracle Network". We will also accept cash, however we do not recommend sending cash in the mail. If you send cash, be aware there is some risk involved and we will not be responsible for lost/stolen mail. We tried paypal/decal sales last year and it worked ok until the last week, when Paypal deemed it against policies and shut down our account. Contact us at rcsoupdotcom@gmail.com if you have specific questions regarding this.
To purchase tickets online:
Here's how this will work. You can buy tickets online using the form below. Once the form is submitted, you will see instructions where to send payment. We will also email those instructions to the address you provide. We are doing it this way so tickets are "reserved" on a first come, first served basis. We cannot have random checks coming in the mail and hope to have tickets left. This way we can "hold" the ticket for you until your payment arrives via snail mail. If payment is not received within 14 days of us sending you our address, your "hold" will be forfeited and released to someone else. Please be prompt in mailing your payment so we can keep things going at a fast pace. Upon receiving payment, we will mark your reservation "paid" in our records and email you your ticket number after we fill out the physical ticket(s) here. Cut-off date for online ticket sales is January 12, 2014. This gives us ample time to receive your payment.
If you wish to buy tickets in person, please visit one of the following:
We will be at several racing events in the time during this promotion. Just some see one of us, we should have tickets (schedule of the events we'll be attending will be posted here soon).
Eligibility:
We'd like this to be US only to help CMNH with shipping costs; however we know we have at least a few international readers. If you would like to participate and are outside the US, please consider shipping costs. We'd like to ask that the winner be responsible for any shipping costs over $40USD if you are outside the United States. If a winner is outside US, they will be contacted after the raffle to arrange additional shipping payment once shipping is quoted. If the winner is local (within 30 miles of Utica, NY), we'd ask they could pick up their package in person from CMNH, or meet a member of Team Soup somewhere. All arrangements will be made via email or phone after raffle ends.
Since this is community driven, for a good cause, and also with the winners drawn by a 3rd party.. we are allowing all previous R/C Soup contributors (other than our 3 founding members, Matt, Jim & Kevin) to be eligible to donate/win as well.
Entries are now closed.
Contact us at rcsoupdotcom@gmail.com if you have specific questions or need further assistance.
*Donations to Children's Miracle Network will go to our local CMNH office in Faxton-St. Luke's of Utica, NY. We'd also like to thank Sherburne News for printing up the paper raffle tickets. They turned out great!
Good luck everyone, and thanks for helping support such a great cause!