So we were lucky enough to get our hands on Axial's new AX10 Deadbolt Ready-to-Run 4wd electric truck. If you missed the press release announcement, check it out here. This is Axial's newest RTR to hit the market. It is part of the AX10 line, which includes this truck's close cousin, the Axial Ridgecrest. The Deadbolt uses the same AR60 OCP-Axles™ that have already been proven on the Axial Wraith™ and uses a tube style chassis. The AX10 is designed to be that entry level backyard crawler, the one that can do a bit of everything.. It's good for light crawling duties but fast enough to not let the average r/c enthusiast get bored.
The description on the Axial product page of this vehicle is as follows:
The AX10™ Deadbolt™ is a highly capable, affordable starting point for anyone. If you are not sure what you want to do and how you want to do it within the various segments of crawling, the AX10™ Deadbolt™ is a highly versatile truck with scale looks, performance driven components and the right amount of speed mixed with technical crawling prowess – all in one rig.
Let's see how that claim holds up when we actually drive it.
But first, we'll do a little unboxing. Below is the box that the Deadbolt comes in. It's sure to attract your eye sitting on the hobbyshop shelf. It really is a good looking kit. In my opinion, much more so that the Ridgecrest. This will appeal to the guys eying the scaler market. The bright orange open cab body is great looking, as are the black wheels and MAXXIS Trepador tires. The driver figure is awesome too. More trucks need to come with them!
So, as we dive into the box we find the manual packet.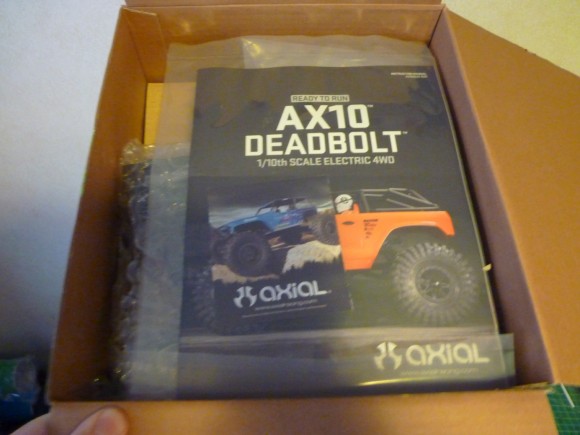 Behind that is a small package with extra parts (shock pieces, driveshafts, the other optional driver heads, etc) as well as a 4 way wrench.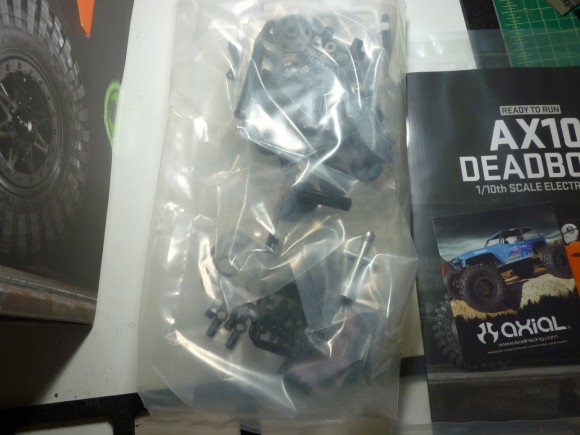 Then we have the Axial AX-3 2.4GHz transmitter. Sealed in a nice protective layer of bubble wrap. Can't wait till my 4 year old finds that, haha.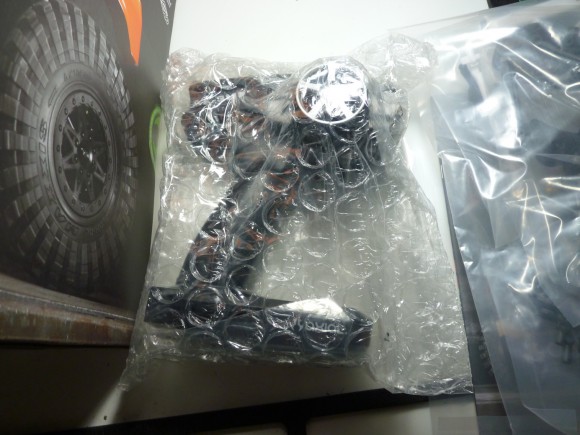 Then finally we pull out the beast, which is harnessed to a cardboard insert with 4 zip ties.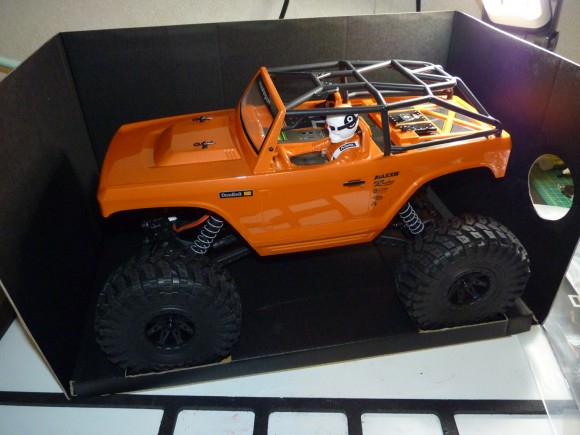 A pair of scissors makes quick work of the zipties, unleashing the truck from it's cardboard prison.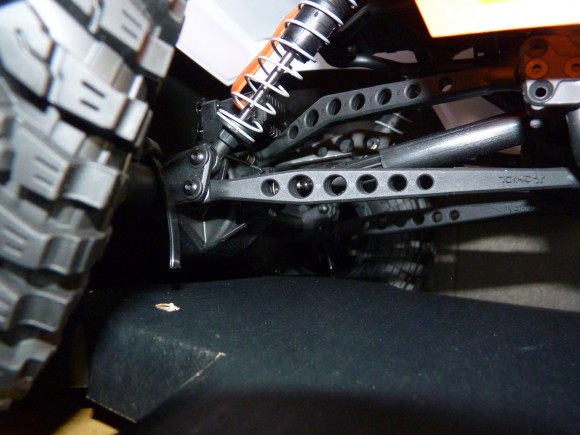 So here's the truck. I'm not one for RTR's, as I normally prefer the kit builds.. but it was pretty fun being able to open the box and have a running car within 5 minutes. I'll let you guys oogle the car for the next few pics. It's definitely got a flare all it's own.
One thing about these tires, they are TALL! This truck has massive ground clearance.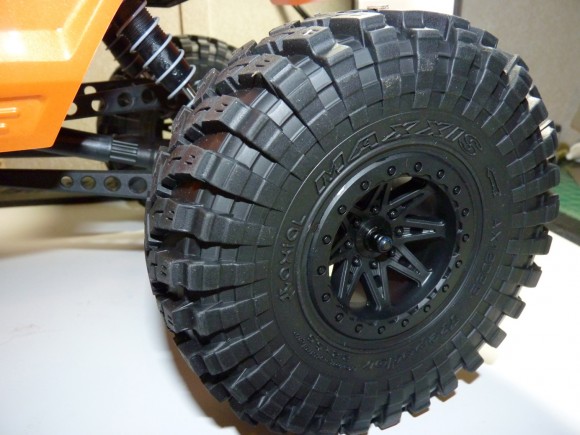 The open-face skull helmet comes on the driver figure in the box, but a motocross and motorsport version of the helmet are included as well.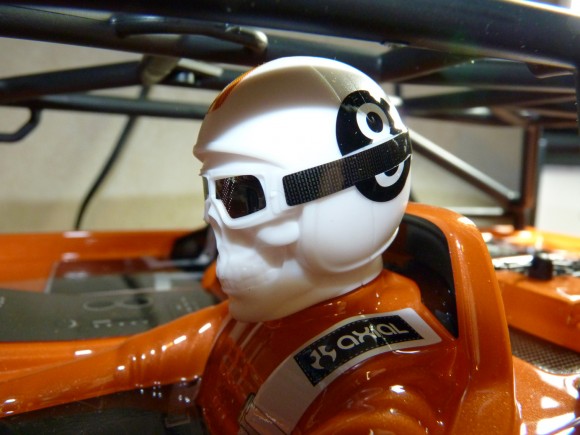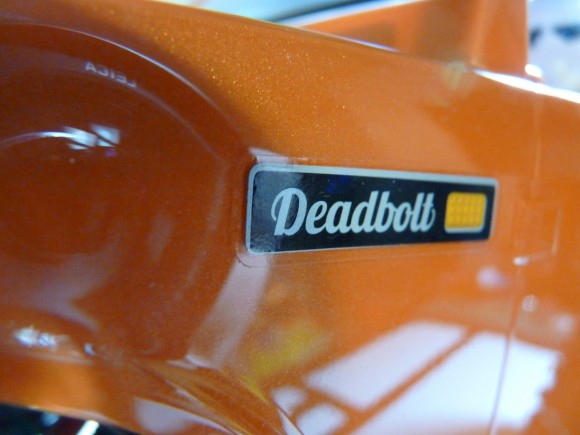 Below we have the axle mounted AS-3 servo. This linkage concerns me a little. It's very soft and seems like it would flex a lot. Maybe that's intentional to relieve stress on the servo? I guess we'll see soon enough.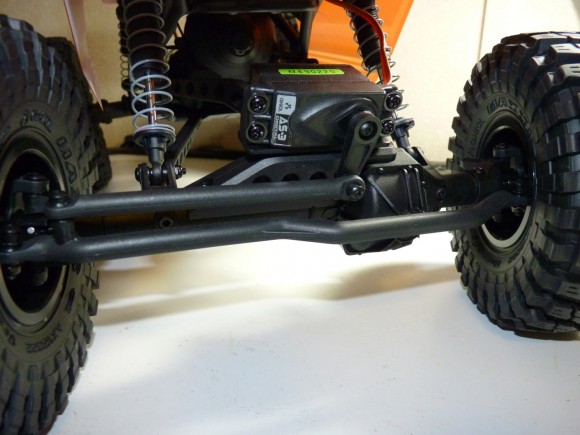 Here's what's underneath that beautiful orange body.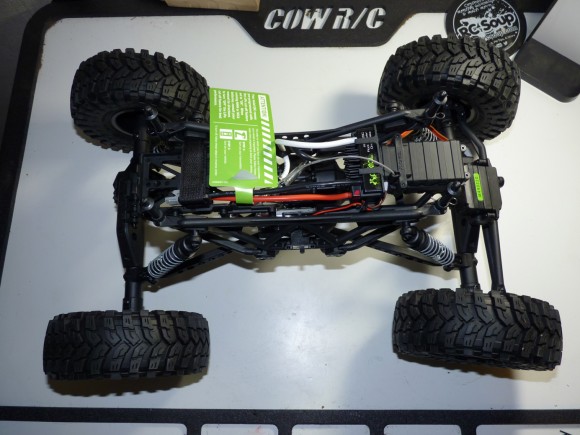 This chassis to me doesn't remind me of a crawler. It reminds me of a monster truck.. and is putting some interesting thoughts in my head as to where I could take this truck when upgrading it later on. The truck ships with a speedy 20T motor, which is pretty fast for anything considered remotely a "crawler". I guess that's where the utilitarian concept comes from. You can go fast with it, but also with a little throttle control, go slow and hit some crawling areas.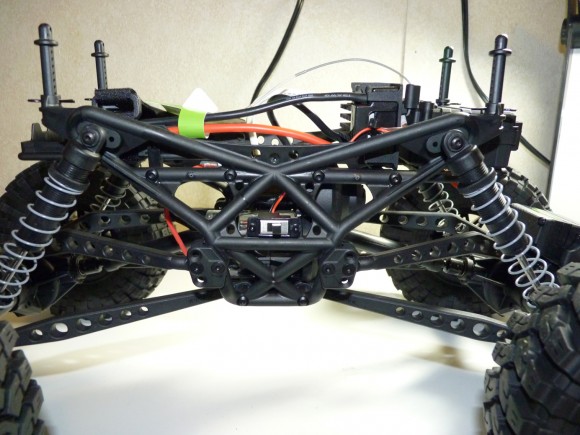 The mandatory 3/4 angle shot.
Some close ups.
For the initial run and review we are using a Venom 4000mah 20C 2S Lipo battery. This is a stick style pack, which replicates the dimensions of the nimh batteries. It has Venom's Universal Plug system on it, and all I needed to do was swap the end and we were all set to plug into the Axial's Tamiya style connector.
Note that the Deadbolt doesn't come with a battery, so you will need either a 6 cell Nimh or 2S Lipo battery to get you going. That also means you'll need a charger if this is your first foray into radio control.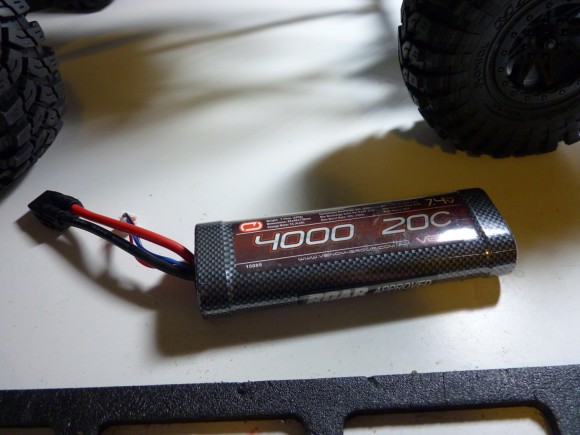 Here it is bolted in over the rear axle. It's not a very heavy pack, so that may hurt the truck's crawling ability, but we'll see. It gets held in with a single velcro strap, and I was able to swap it in and out with the body still on, which is super convenient.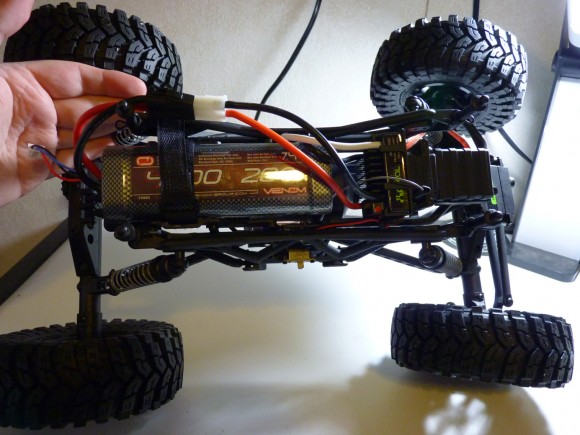 Next we have a closer look at the Axial AX-3 2.4ghz radio. It's a basic system, but certainly good enough to start out with.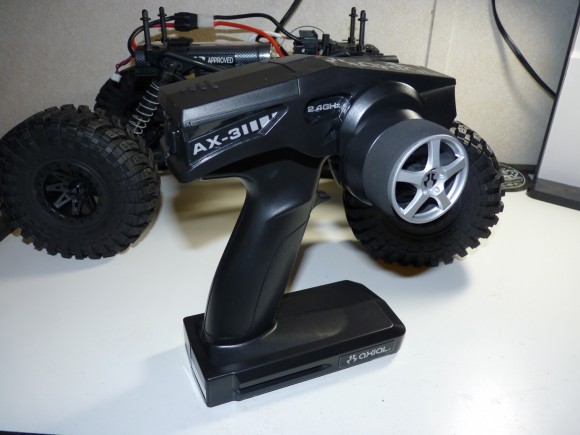 The radio has most of the basic functions such as Throttle and Steering Trim adjustments, Channel reversing, and steering dual rate.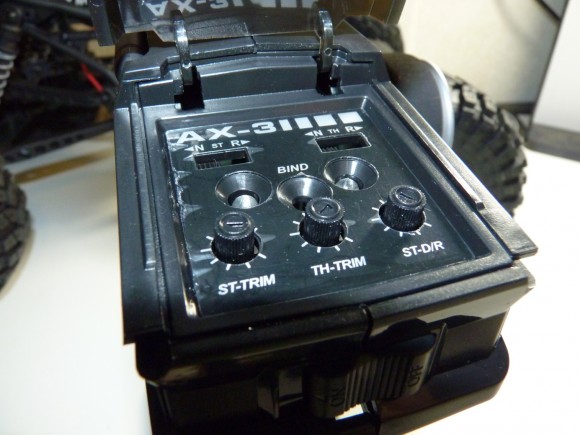 The wheel has a nice soft foam grip. It does slide around a little but is easy enough to pull back to the outside edge of the wheel. If it bothers you enough you could try spot gluing it in a few places or running some tape between the wheel and the grip.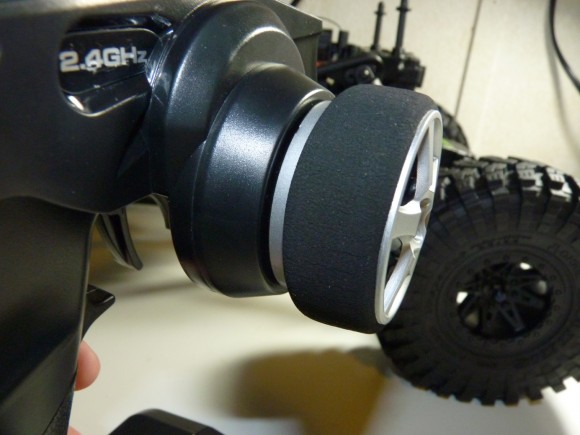 It takes 4 AA batteries (not included).
The radio has 2 LEDs indicating the battery level.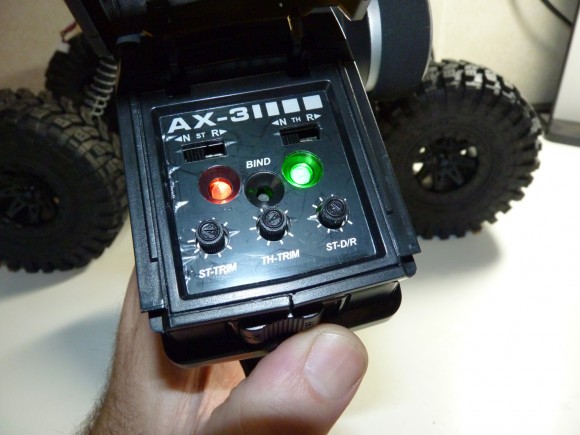 So now with the radio on and the truck charged up and plugged in, we're ready to take it for some test runs. I set out with RC Soup Intern/Photographer Kris Button and we made our way around to different spots, attempting to put the truck thru it's paces. A complete video of the adventure is below.
[youtube]http://www.youtube.com/watch?v=aVBP7g3UbO4[/youtube]
For those that want to read about it, I will describe the test locations below and how it did.
Our first stop was around the high school area. We've used this location before for a few different articles, probably the most memorable being the RJ Speed Digger: Project Overkill. There are tons of areas to run around at the school; endless parking lots, drainage ditches, playgrounds, sports fields, etc.
Our first test was trying to drive this truck on pavement. It did not end so well.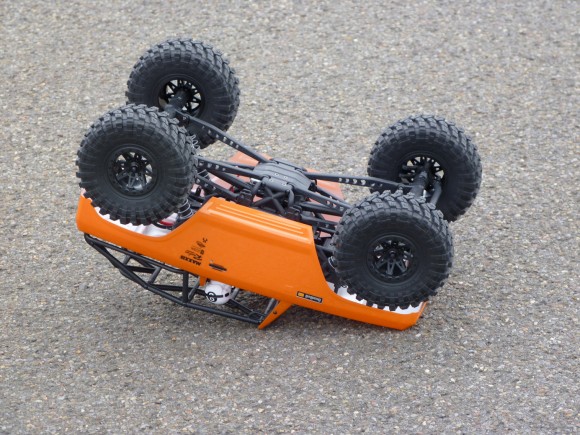 After getting a few up and back runs on the pavement, it was clear that this vehicle does not work well on this surface. It has so much torque, and the weight is so high that all it does is want to wheelie and flip on it's lid. The stock throttle setting on the ESC also has little or no reverse delay and slams from forward to reverse very quickly. This results in an end to end dance on high traction surfaces as seen in the first portion of the video above. The locked diffs don't help the handling out either.. That said.. who buys a crawler/basher truck like this to run it in a parking lot anyways?
We'll take some quick poser shots and move on to a more natural environment.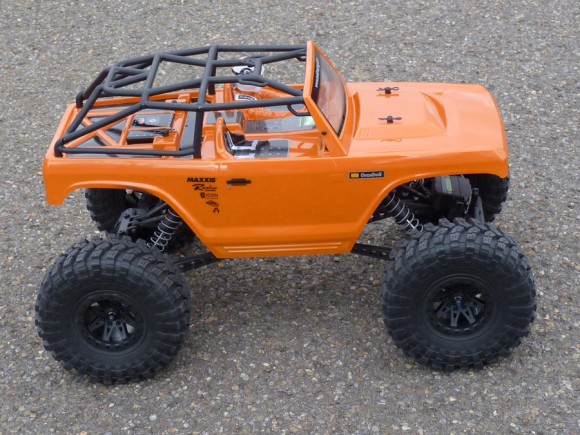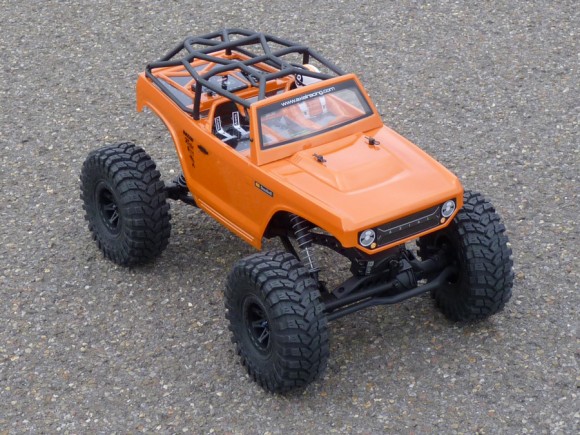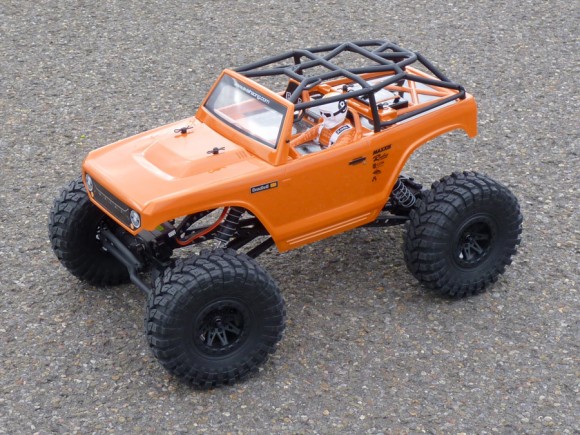 So while still at the school we drove it around some ditches with stones and culvert pipes. It did pretty well. No issue getting over big rocks and it didn't flip as easy in the grass. We started warming up to the areas where this truck will really shine.
So we said the heck with the school.. we need a more "woodsy" running ground for this truck. What better place than NY State Land? We are fortunate enough to be surrounded by tons of state land and forest, perfect for taking the r/c's out on some bike/horse trails.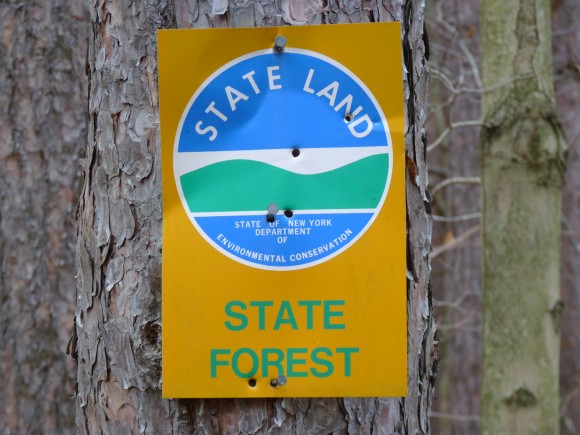 Of course it's November here.. We've had snow this early before but hopefully it stays away for a while. It was still very cold during our test runs, but a nice sunny day. We took the AX10 Deadbolt into the woods and ran it around on some of the leafy trails. It did quite well. A few times it got hung up on small saplings and brush, but thats to be expected when you are trailblazing your own path and not running a groomed course.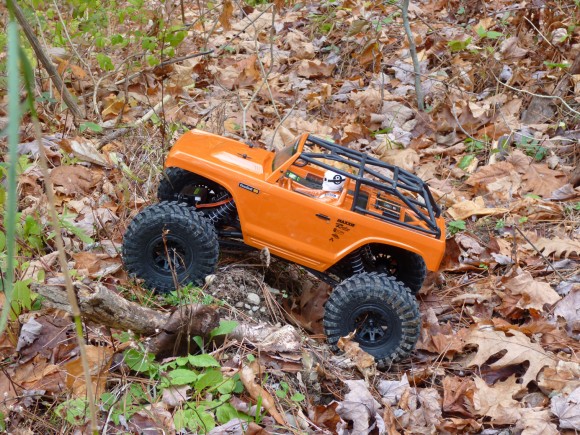 Still in the woods, the Deadbolt handles elevation changes well at slow speed. It handles small inclines and declines very well with the factory set drag brake. Steeper stuff it doesn't do so well on. We'd see a lot of wheelspin and then eventually it would get out of shape and roll over. This could be helped a lot by swapping the battery location to the front of the truck to make it more "crawler". I wish the wheels were beadlocks too, I would add some weight under the foam inserts to make it that much more of a crawling beast. I think with the battery moved and some extra weight, it could do really well out of the box. Simple & cheap mods.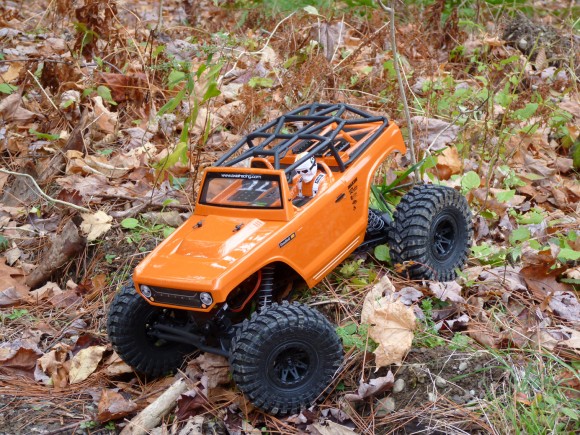 It certainly has the torque and front clearance angles to do some impressive crawling.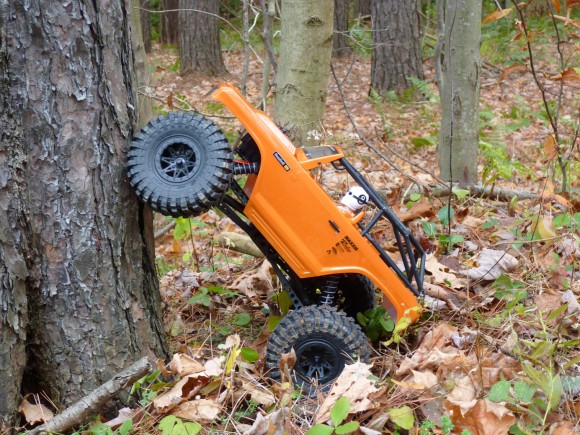 So the next spot that we moved to was an area adjacent to the state land, in the ditch where it was the entrance to an abandoned logging trail. There were some cool rocky areas with some water running down into the ditch. This portion is in the video as well. The truck did well here. Some of the stone piles were a bit too steep to crest over, but if you knew the truck's ability you could attempt to tackle a creative line and make your way around pretty well.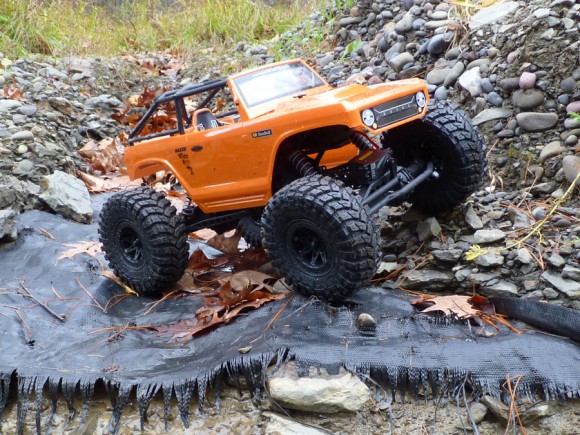 Below is the small watery area we found. The massive tires give the truck ample ground clearance, more than enough to keep the truck above water in this shallow area. When I fist got into crawling I loved to do the water crossings. It was exciting! Now, the Deadbolt is not Water-Proof.. I wouldn't suggest submersion but it should be fine doing the occasional puddle jumping. Always be aware of what you are driving into though.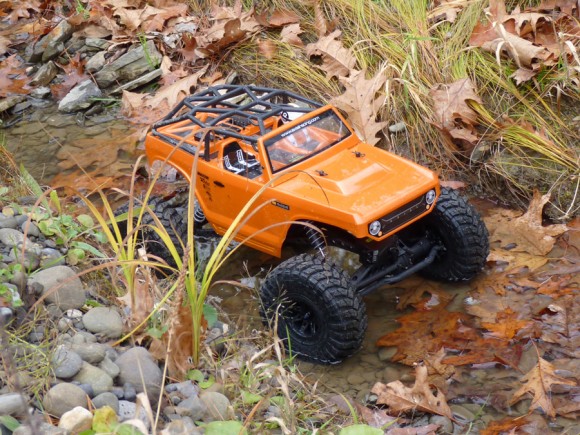 More woods. We found some cool mossy trees to drive around on. In the video we found a couple really decayed stumps to jump off of as well. Fun stuff! This truck is proving the Axial claim right, it truly is an all around "do-it-all" truck. Some light crawling, decent speed, and plenty of suspension make it a very fun backyard basher. It doesn't get stuck easy in leaves or tall grass, and is fast enough to not put you to sleep if you aren't into the super slow crawling scene.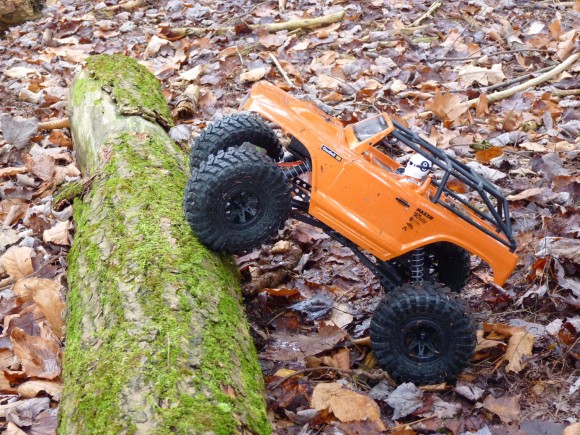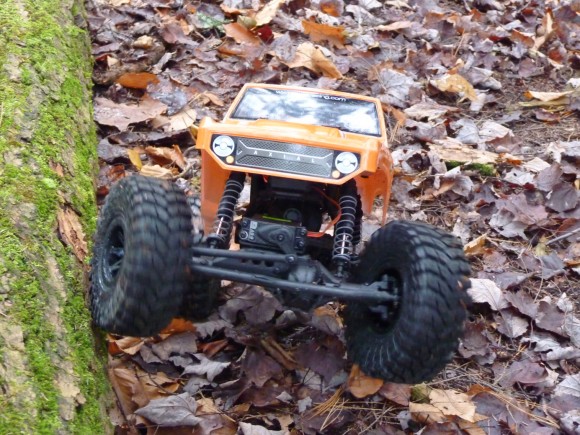 Nothing like a good log crawl.
The AX10 Deadbolt cruises over tree roots with ease.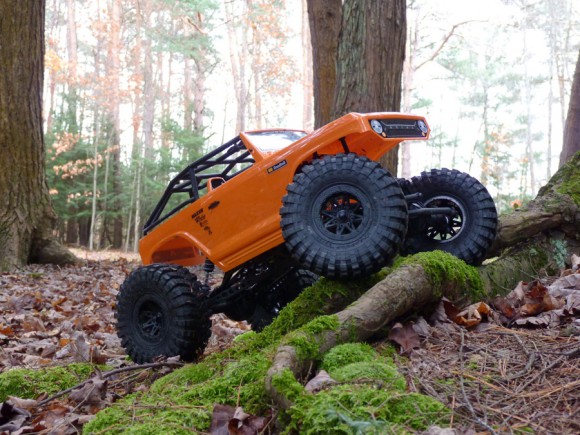 The truck didn't make it up to this concrete bridge base (to a bridge overlooking the local waterfall), but we thought it was a super sweet product shot.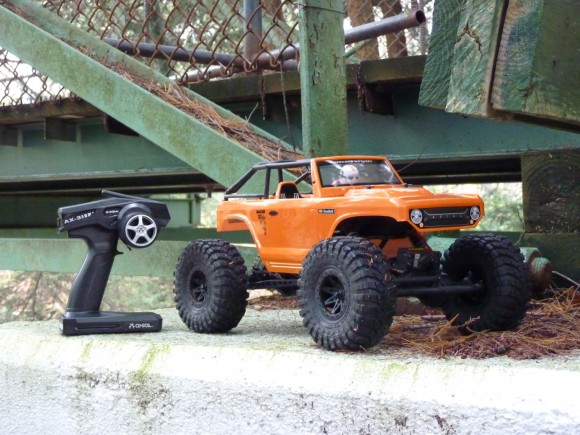 We then took to the road looking for more cool spots to run and shoot. How's this for a view?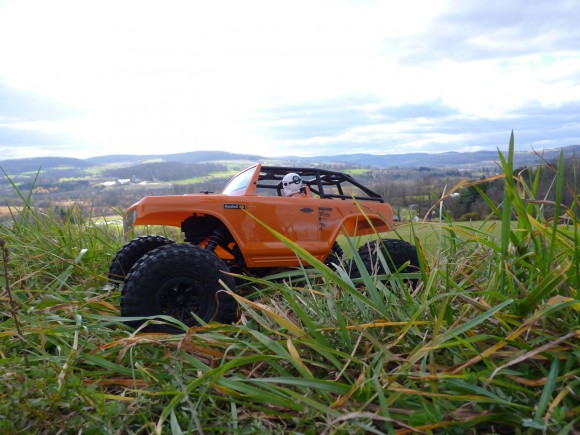 Finally we hit up one of the spots owned by the Township. This area is where they stock pile materials like wood chips, crushed asphalt, and leaves. TOTALLY the type of bashing spot you would want to hit if you owned this truck.
The asphalt pile was like nothing I've ever tried to climb before. It's super hard, and some areas were very steep. With some weight on the axles, I'm sure the Deadbolt would be able to conquer this area with ease. As it sits, it's still a little light and top heavy for major crawling lines. It was still a ton of fun!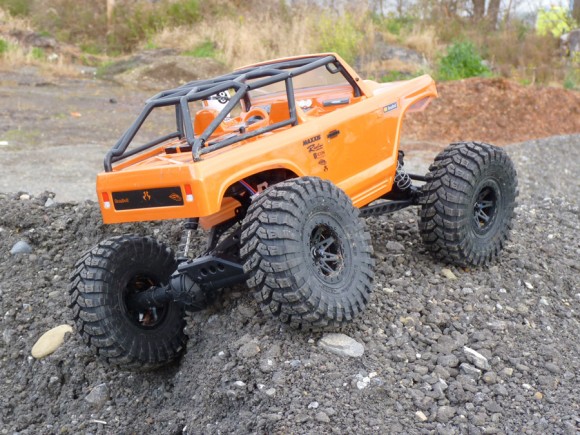 Next we moseyed over to the wood chip pile. It did surprisingly well up this and made it nearly to the top on our first attempt. The base of it had all sorts of small piles that we could catch some good air on as well. I love going fast and catching big air. While the speed on this truck is decent, inside I was screaming for just a little bit more to get bigger air.
Here's another attempt at the asphalt pile. We kept coming back to it because it was so much fun.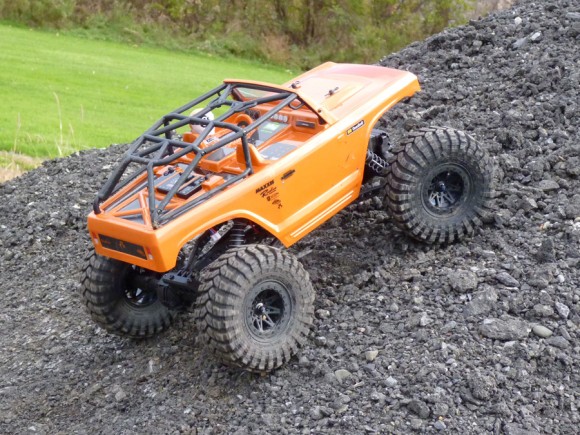 Well, that is until the tires break loose because of lack of weight over the axles.. then it becomes a bit tricky when you get hard on the throttle and start spinning all over the place.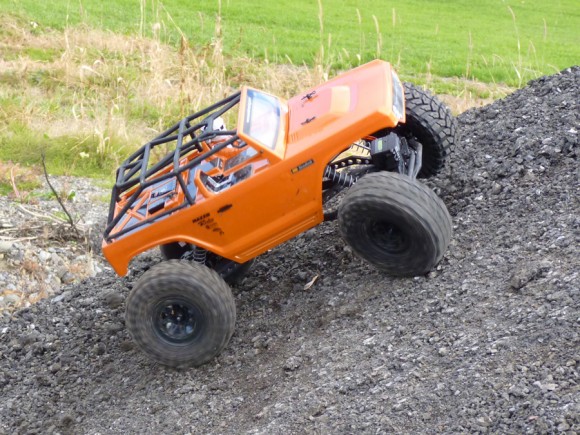 Eventually my attempts all ended the same way, with a finish much like you'll see below.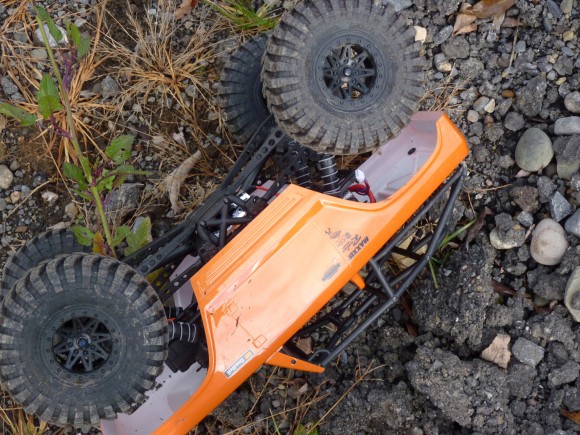 For as much as I flipped the truck and ran it into things, I'm very pleasantly surprised how well it withstood the bashing session. Not one broken part through our entire series of adventures. I was worried about the front steering linkage breaking but that didn't happen either. Upon hard impact it does seem to flex a little, acting as a natural built in servo saver of sorts.
The body and cage came thru relatively unscathed as well. There are a few scrapes here and there, but no cracks or breaks or anything of that sort. Axial used a decent thickness of lexan for this body and it should hold up to a fair amount of abuse.
So, in the end.. what did we think of it you ask? Well wait no further.
Overall, I was impressed the truck. We at RCSoup.com are mostly racers (I'm currently in full-on Carpet Oval mode), but we like to diversify when we can. I have been known to bust out a crawler, monster truck, or r/c puller on occasion. When we first got the truck, I wasn't too sure what to expect. It seemed like the truck that was confused on what it wanted to be. Was it a scaler? No. Was it a crawler? Not really. Was it a general backyard basher? Sure, but what isn't (or couldn't be – they all can be run around the house, even $1,000+ E-buggies).
After reading Axial's intent on the truck, it became clear. "The AX10 is the "Leatherman" of the Axial product line and it's where backyard crawling begins". Basically, it's their Do-It-All truck. A little bit scaler, a little bit crawler, a little bit rock and roll. It's not particularly great at any of these genres of r/c, but it does most of them "good enough" for the average enthusiast. If you want a change of pace from the racing scene, this would be a good start because you can have a solid base to work with, and tweak the truck to your expectations. It certainly has full crawling ability in it's blood and with some modifications (some very easy and cheap), it could be quite capable out of the box. If you wanted to take a more "basher" route, all you really need to do is bolt in a good brushless system and it's sure to pump up the fun factor of this truck in a hurry.
I'm not sure which direction we'll take with ours yet, but keep an eye out for modification articles coming to this truck in the future!
Now for the scores.
| | |
| --- | --- |
| Value | At $329 (at the time of this review) RTR, this is one of the cheaper Axial offerings out there. It's a good bit cheaper than the SCX10 Honcho ($360), the SCX10 Rubico ($380), and the Wraith ($399). It is however $20 more than the similarly equipped Ridgecrest ($309). I think the $20 difference in price against the Ridgecrest is more than worth it for the more scale appearing body and those AWESOME MAXXIS tires. |
| Build Quality | This truck took a licking and kept on kicking. I asked a lot from this truck when I ran it, and not a single item broke. I flipped it, nose dived it, jumped it, rolled it, all under normal usage conditions and she's still practically like new. I'm sure with more run time and wear and tear something will eventually give, but Axial does include a couple spare items with the kit, so kudos for that! |
| Performance | This category is a little harder to judge than the others because the potential is there for it to be much better. We are grading it as it came out of the box. Speed wise I could stand a little more MPH for this to be a fun basher. Stability wise, it could be a little heavier (with wheel weights) and battery placement to be a decent crawler. It is pretty good at doing both though. It's certainly a very good start and you can mod in the direction you want to take it. |
| Durability | I broke nothing on our run. It held up great and kept asking for more. The nice thing is that there are ENDLESS amounts of upgrades you can do to this truck since it shares the AR60 OCP-Axles with the wildly popular Axial Wraith. |
| Would I buy again? | Yes I would! This truck has brought out the basher in me once again. I forgot how satisfying it is to just take a truck into the woods and have fun with it. Being a racer, it's a nice change of pace from some of the bickering and politics that comes with racing.. It's nice to just go out and have fun with no stress. |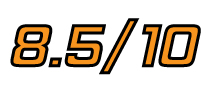 Overall I give the Axial AX10 Deadbolt an 8.5 out of 10. It's a great buy at under $350 RTR. It gets you into the entry level crawling scene fast with little extra to buy starting out. You can always upgrade any weak parts you may encounter down the road with a number of option parts out there.
The main reason for the score is it's versatility. It's an ok crawler (could be better with some tweaking), and a pretty fun "Do-It-All" truck that you can just take into the woods or local trail system and just tear up the dirt, crawl over logs, jump stumps and terrorize small woodland creatures (we'd never endorse that of course). It's a very good entry into the world of solid axle "scale" type trucks.
Keep an eye out for future articles using this truck as we will be modding it to our liking in the future.