Alright folks, this has been a long time in the making. I'm FINALLY getting around to posting it. With all the parts gathering, this build has been a tremendous undertaking locating everything. As you may know from the initial announcement post, and the update, this truck will be going with us (Team Soup) to iHobby 2012 / Clodapalooza / High Voltage Monster Truck Championships in October. Once it returns from that event, it will be in our 2012 Charity Raffle benefitting Children's Miracle Network. We might actually be selling raffle tickets @ iHobby if we get all the other builds done in time.
Before I get too far, I want to thank the folks that made this possible:
Axles: Tamiya Super Clod Buster – Tamiya USA
Chassis: ZRP Diablo – Zyck Racing Products
Shocks: Pro-Line Power Stroke 3.5″ (Slash Front) – Pro-Line Racing
Wheels: Tamiya Chrome Clod Wheels – Vinyl7
Tires: RC4WD Rumble tires – RC4WD
Motors: Reedy 4900kv Brushless – Reedy
ESC(s): Associated XP SC700-BL's – Team Associated
Servo: Savox SC1258TG – Savox
Radio: Futaba 4PL – Futaba
Bearings: Team Fast Eddy Metal Shielded – Team Fast Eddy
Body: Donated by Michigan Monsters of RC Club
Paint Work: Slipstream Graphics
Misc: Wheel Wideners from RC4WD, Kimbrough HD Servo Saver, Racer's Edge Glitch Cap
That's a TON of stuff. I really cannot thank those who donated to this enough. There is no question that this is the Grand Daddy of this year's raffle. This is a clod racer's ideal truck, with some of the most sought after equipment installed on it. I can't wait to see how it does in competition.
I'll get right into it. Here's a shot of all the parts on my table. It barely all fits!!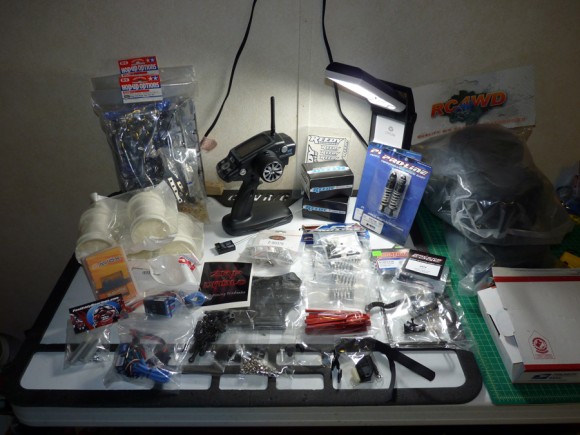 Here you can see the Savox 1258TG, the Associated XP700 ESC's (the clod is dual motored, and therefore needs 2 full brushless systems). Also in there is the Fast Eddy Bearing kit (metal shielded).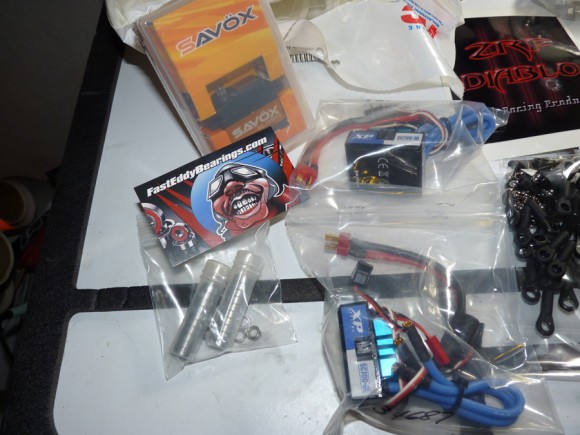 Here we have most of the ZRP Diablo parts. Not pictured is the screw bag and sway bars.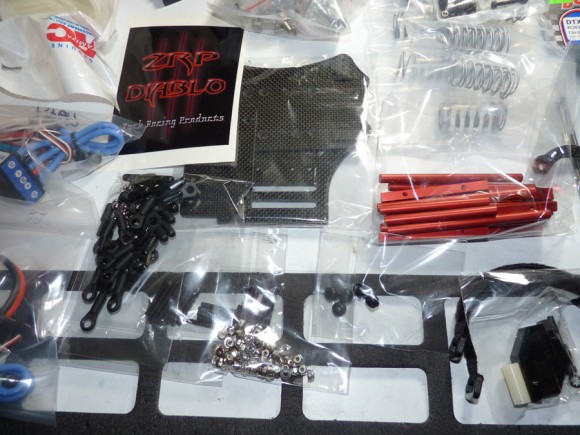 Now we have the Reedy 4900kv brushless motors, the Pro-Line Power Stroke shocks with Universal Mounting kit and Tuning Spring kits. For this truck we are using 2 pairs of FRONT shocks, as the ZRP chassis is designed for shorter shocks. You can also see the Racer's Edge Glitch Cap and the RC4WD aluminum wheel wideners.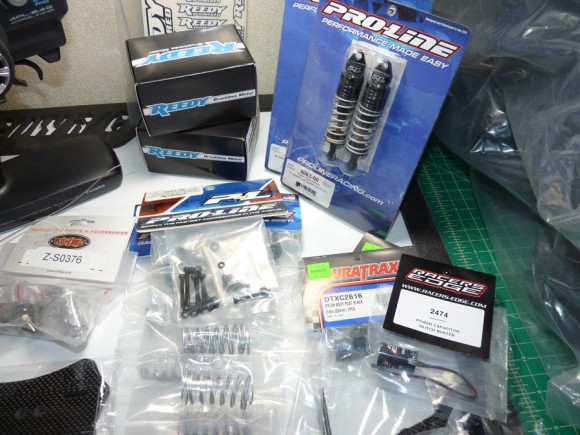 The Futaba 4PL will be controlling this beast with it's super reliable S-FHSS 2.4ghz technology.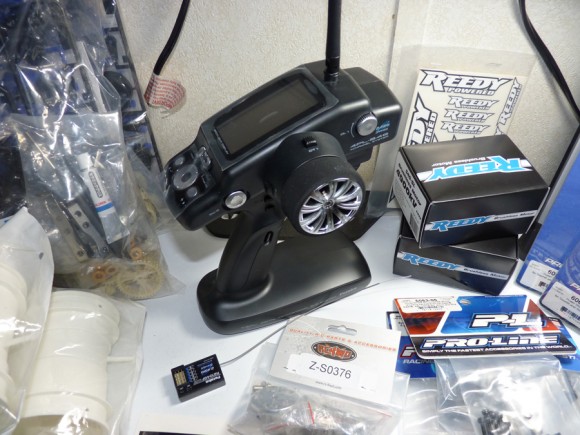 Then we of course have the heart and sole of the truck… the Tamiya Clodbuster axle kits. We didn't end up using the white wheels pictured. Instead I traded with Matt and his Stock Clod build, because the Chrome wheels suit this truck better, and these white ones will suit his build better.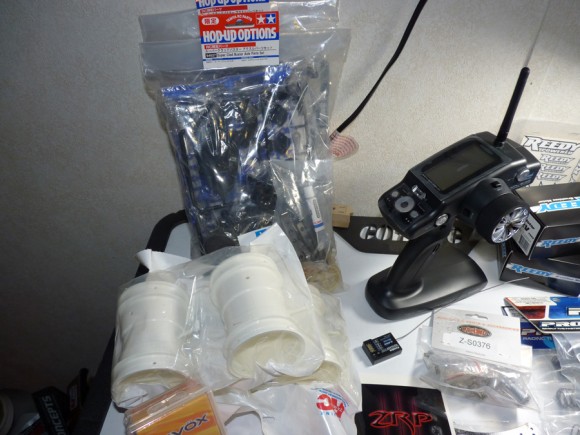 Lastly we have the RC4WD Rumble tires. These are MEATY!