This year I decided it was time to jump into the ever growing 1/8 Electric Buggy class. I could have gone with one of the more mainstream rides, but when I saw the Caster Racing EX1.5R I was intrigued. First of all I wanted a kit. I enjoy building my cars first, because it makes it much easier to repair should they break. You put the thing together, you should know how to take it apart.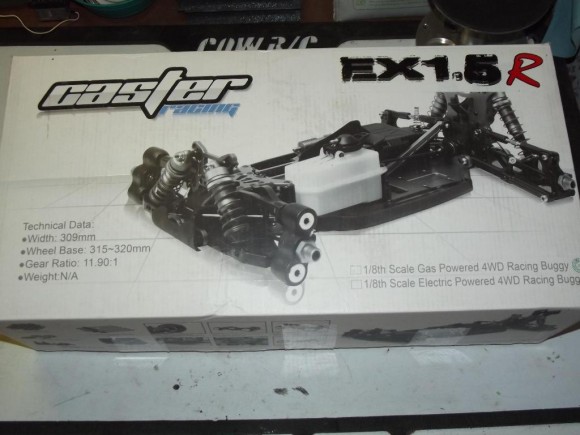 There are a few 1/8 Electric Buggies available as kits. What really drew my attention to this buggy though was the battery layout. In Electric buggy in my area, they run 4S batteries. 4S batteries can get kind of heavy. Most buggies have the battery tray to one side or the other, which puts all the weight to one side. Really not much more you can do than that. Or is there?
The Caster EX1.5R uses a dual 2S setup, whereas you wire two 2S Lipos in series, thus achieving your nominal 14.8 volts. They situated the battery trays so that there is one on either side of the center-line. The thought here is that it will give you better weight distribution, which should help performance. We'll find out soon enough if that is the case, for now let's build this bad boy!!
As is typical with a kit, the parts for the EX1.5R are broken down into bags, which presumably you work your way through as you progress through the book. The "Pro" Kit offers some upgrades over the standard RTR EX-1. We'll mention them as we progress through the build.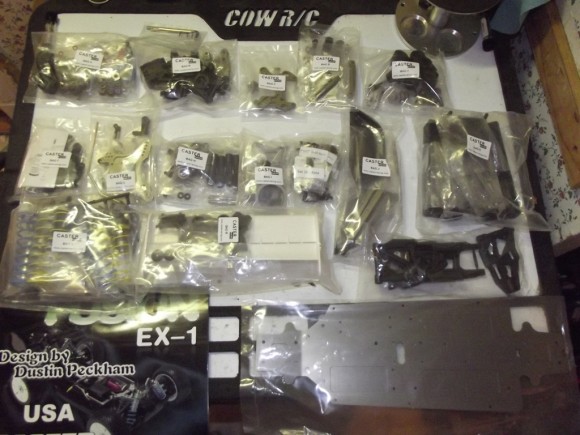 The Caster kit comes with a full compliment of ball bearings, but we went to Fast Eddy for an upgrade. They sent us what we needed for the kit, all can be had for under $25. Very worth it in my opinion. Lets jump into bag A, which contains differential parts.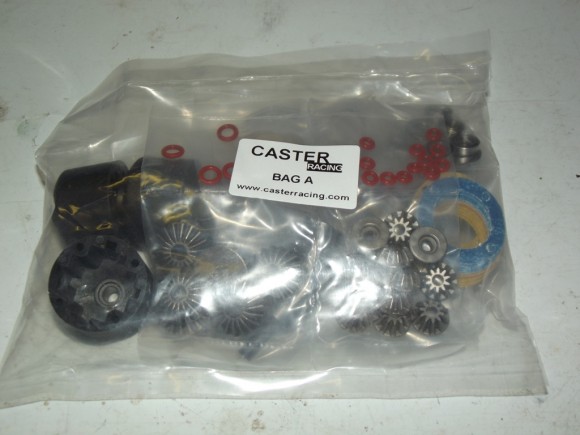 Bag A contains everything we'll need to build all three Diffs, as well as the bearings for the entire kit. Those got tossed aside right away in favor of the bearings we got from Fast Eddy.