The High Voltage Monster Truck Championships were held at the iHobby Expo 2012 in Cleveland, OH. It's been a long road to this event for us here at RC Soup. Earlier in the year we decided we'd be attending this unique event with the help of Tamiya USA. They provided us with the base for 2 unique trucks that we built, specifically to compete here. These trucks are now up for grabs in our Children's Miracle Network Benefit. To learn a little more about them, you can view some of our earlier announcement posts.
Road to Clodapalooza : Official Announcement
Mod Clodbuster Parts Gathering
Stock Clodbuster Parts Gathering
Anyways, there was a lot to this event. First of all, hats off to Bari Musawwir & Eric Krush, and the whole team for organizing this thing. It must have been a massive undertaking. A major part of this competition was the Clodapalooza class. This was aimed to be a huge gathering of Clodbuster owners, marking Tamiya's 25th anniversary of this amazing truck. It's been in production almost all of those years, making it the longest running production r/c out there (as far as I'm aware). Other classes were added to build up the event such as Retro Challenge, Twin Force vs. TXT, Ground Pounder vs. WheelyKing, and the Traxxas Replica Monster Jam class. All had their own set of rules.
Having been in the R/C Monster Truck community for around 13 years (on RCMT.net), I've talked to MANY of these Clod racers online for years. I've never made it out to any of the other racing events before though, so this was my first time meeting many fellow RCMT'ers including our newest addition to Team Soup, Joseph Chuhak. It was awesome meeting everyone and putting faces to screen names I've seen for so long, especially Mr. Nick McCoy (aka Orange Pedeanaut), Mo, Jerry Matoon, Mike Eaton, and everyone else. Everyone was very friendly and we had a great time!
So, what is this event you ask? Well, it is essentially Replica style Monster Jam racing. They use a light tree like in drag racing. On green, it's a head to head race over crush cars, a sharp hairpin turn, a blazing fast straight away, then a large sweeping turn into the final jump and the finish line. Each race only lasted between 7-10 seconds. There are rules where you can be disqualified, such as leaving the staging gate early, crossing the center strip, or hitting the timing system. Failure to put both front tires up over the ramps or hitting a cone resulted in a 1 second penalty. It is single elimination, bracket style racing.
We arrived to iHobby Friday morning and set up our pits, then meandered through the show floor. There was no racing Friday and nobody was allowed on the race track. We could however mess around on the demo track to make sure our trucks were in order. We made sure to do that, because for instance, the Mod Clod had never been driven before this event. Below is a shot of the two tracks.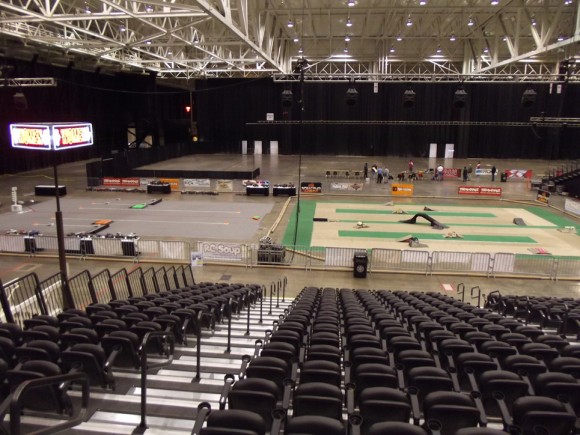 Demo track is green/tan. This was used to test and mess around to entertain onlookers throughout the weekend.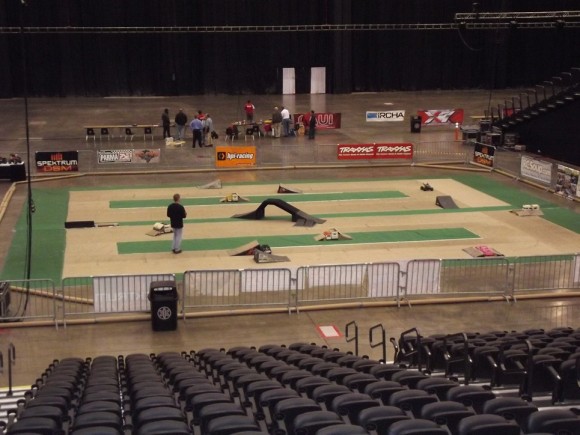 This is the race track. This carpet actually belongs to Joseph Chuhak, and is the same carpet used in his Michigan Monsters of R/C events.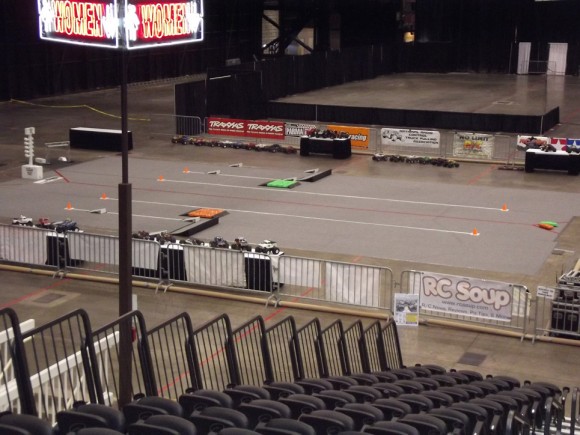 On Saturday, the Parma guys came over for the Parma Show and Shine Concourse judging. They voted on the best looking trucks in all classes. They cast their ballots and we weren't told who won until Sunday after all the racing was over. Way to build the suspense!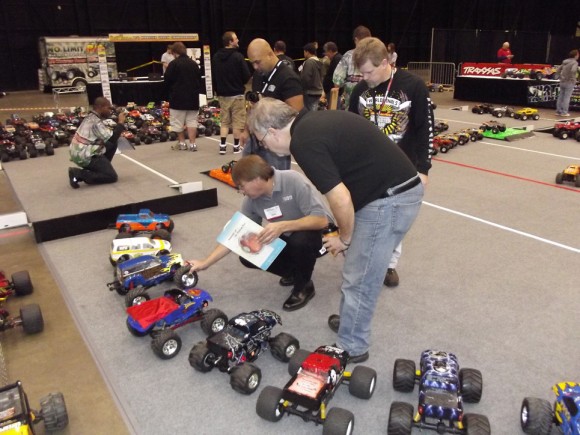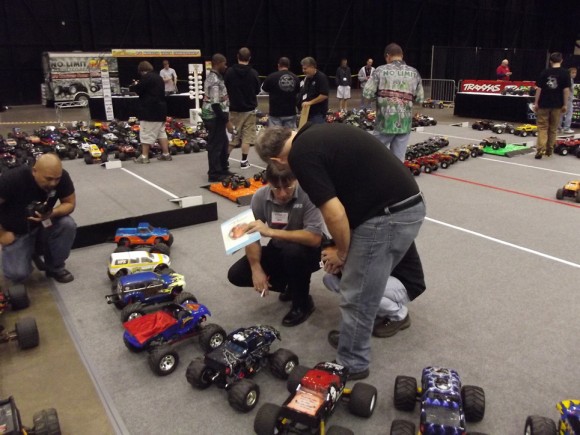 I really do not envy them for this. There were WAY too many sweet trucks to just pick one.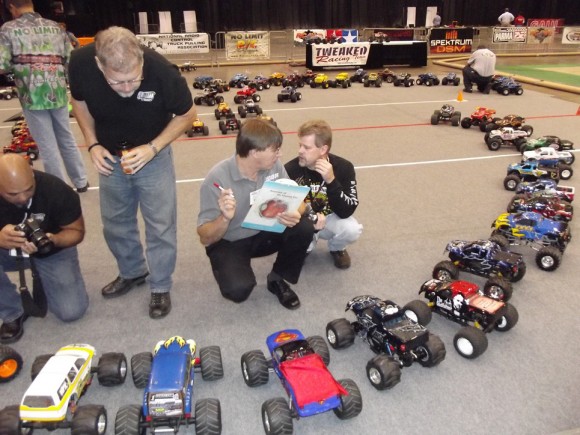 After all the trucks were judged (they were grouped by class), we pulled everything off of the track that wasn't a Clodbuster and stuck all the Clods in a group. It is insanely hard to portray the sheer amount of clods that were here. There was a total of 155!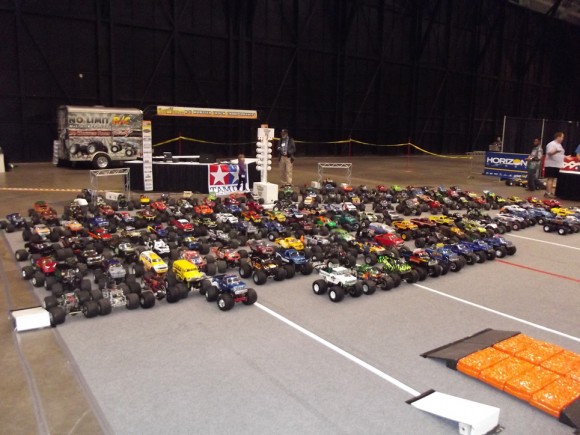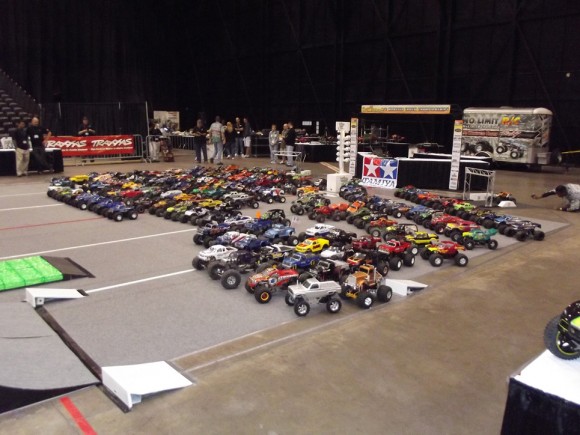 We then had as many racers as we could wrangle up stand behind the gaggle of trucks for a group photo.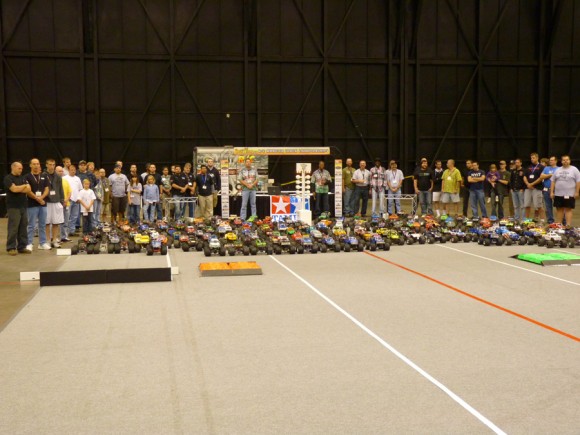 Here is a video of the racing action, if you don't have time to check out all the pics that are in the following pages.
[youtube]http://www.youtube.com/watch?v=jSbsIp0c1Ew[/youtube]
I'm giving you fair warning. The next page has a METRIC TON of photos. I took a shot of virtually every truck there. If you have a slow connection, beware. If you want to skip it, Page 3 has more event photos that aren't just of all the trucks sitting to be judged.